Unless you've been living under a rock for the past 6 months, you can't have failed to notice that tonight is The Rock n Roll Bride PARRRTAAAY. Oh sweet baby Jesus (thanks for my new favourite non-cuss Jasmine. Gareth said I've been swearing too much recently…whoops.)
Aaaaanyway, I am so excited. Nervous but bloody bloody excited. As you can imagine today I'm a little on the busy side organising party 'stuff' so they'll only be one post today…but it's a gooden and it means you get Thursday Treats a little earlier in the day than usual…woo-to-the-hoo!
If you're coming to the party I can't wait to see you all later and drink some of these…
Menu designed by Lucy Ledger Designs
And if you're not, I hope these treats will go some way towards satisfying you…
♥ Cara + Dean's Chic Viceroy Elopement
♥ A Chic, Unique & Oh So Creative Rainbow Wedding – Oh hell yes! Adore this…
♥ NYC Bridal Market has been on this week, so blog-land has been filled with beautiful new wedding dresses. Completely Unveiled has done the best selection in my opinion. I am particularly swooning over the tulle-infused Marchesa Fall 2011 collection.
♥ Tattoo Etiquette: The Guide to Not Being a Douche – funny and true…sometimes we just don't want to talk about it…
♥ Rebecca + Derek's Fun Bicycle Wedding
♥ Safari themed forest wedding
♥ Oooh new e-courses from my girl Elsie & co. –  Style Your Space E-Course – I could totally do with this. My house is not so stylish…(yet!) and Dream Job E-Course
♥ The Four Os: a Four-Step Guide to Successful Blogging – this is brilliant. Again, I wish I wrote it.
♥ WIN two ticked to Alter-ed – a vintage tea party of a wedding fair and I'll see you there.
♥ Crafty Backyard Engagement Session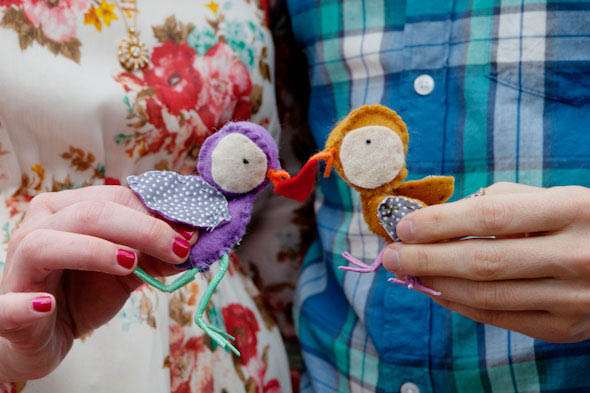 Photography Credit: Sweet Monday Photography
♥ La Carmina is having an Iron Fist clothing auction with all proceeds going to Japan – look fab and rock out for a good cause!
♥ Shoe Lust Shoe Lust Shoe Lust Shoe Lust Shoe Lust Shoe Lust – totally-perfect-potential-wedding-day-shoes alert!
♥ Let's Rock n Roll (video hotness)
♥ Nick & Anhly – Happy 10 year Anniversary!
♥ Jillan + Jed's Natural History Museum Wedding
♥ What's Your Bridesmaid Style?
♥ Royal Wedding Inspired Shoot with Ivy & Aster
♥ Royal wedding: Designer makes 'couldn't care less' mug
♥ Michael & Tim at The Ace Hotel
♥ OMG Bowie Bride's wedding video. Eff YES! (you can see their full wedding in all it's awesomeness on Rock n Roll Bride here)
HEROES – HITCHFEST 2010! from Jocelyn Kelvin on Vimeo.
♥ If you're in Brighton, you've got to check out Brighton Bridal Boot Fayre, a brand new type of wedding fair. The idea is that people will come together to buy and sell their used wedding 'bits'. Anything and everything from wedding dresses, bridesmaid dresses, shoes, decorations, accessories, stationery items, jewellery and games will be on offer for some fantastic prices!
An area to sell your own items will cost you just £5 and tickets to attend are only £2! If you are interested in booking selling spot, drop Emily & Charlie an email to brightonbridalbootfayre@hotmail.co.uk