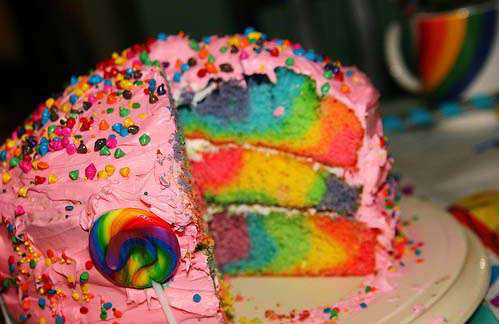 Credit: stOOpidgErL via f-yeah cute food. There's no other reason for this photos than it makes me happieeeee! In fact it reminds me of the food in the food fight in Hook! YUM.
So it turns out that a Rock n Roll ring was just what you Rock n Roll Brides were in need of! With over 120 entries a random selection was really the only way to pick the winner and keep it fair. I'm delighted to announce that the winner is…

Congratulations Lou Liddy! I'll be emailing you soon as to get your shipping info! If you weren't lucky enough to win this fab ring but you'd still like to purchase some Memento Mori Jewellery, drop Simon an email to mementomori_jewellery@hotmail.com for a catalogue or call him on 07834 155289.
So…In need of more treats?
♥ Christina Hendricks for Vivienne Westwood – and the new jewellery line is amaaazing too!
♥ Offbeat New York City Wedding

♥ Alison & Irene's breathtaking, modern, hip wedding
♥ Black Swan Inspiration
♥ "Wife Dressing"
♥ The Beautiful and the Damned – Gorgeous New shoot for Joanne Fleming Design
♥ "I Re-do": The Story of Why We Had to Get Married Again. In Vegas. – and this is why Bowie Bride is BAD ASS.