With Christmas fast approaching I asked wedding blogger & wedding stylist (and Rock n Roll Bride guest writer regular) Charley of London Bride, to come up with some suitably festive treats for you this week. 'Tis the season after all!
Rockin' Robin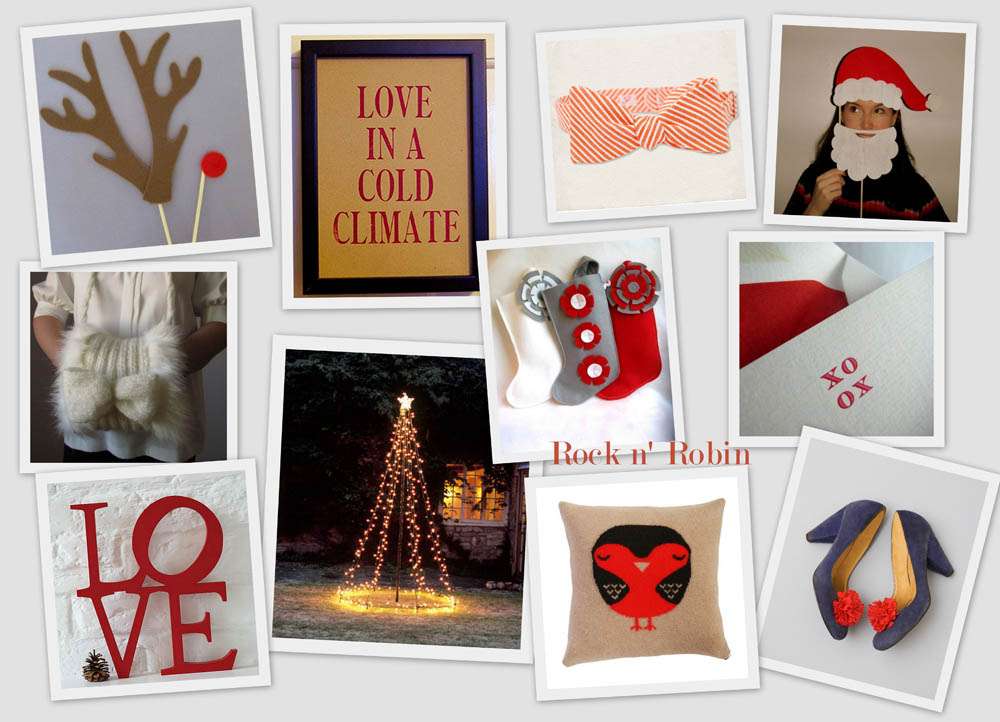 I love the fact that Christmas is a fantastic excuse to shop! It's also a time to go crazy on the decorations – especially for weddings, but here's a Rock n Robin list to make sure you do it in style.  
♥ Poor old Rudolph didn't have as much fun as you will with this kit posing for pics.
Maro Kits at Etsy – $7.95
♥ Oh how true is this poster right now! Warm up the atmosphere but hanging it above a fireplace.
Thursday Press – £35
♥ Christmas is a time to smarten up, so make sure your fella is tied up in a bow like this.
♥ Ho ho ho, guests will be saying ha ha ha when playing with these santa sticks.
♥ Who needs mistletoe? Give kisses as thanks with these loveable notecards.
♥ Make them feel at home, and hang up stockings for guests or as gifts for your bridal party. 
♥ Keep yours (and his!) hands snug in this furry muff with adorable bow.
♥ This piece gives a new meaning to 'love letters' but as if you needed to spell it out…
♥ He's the light of your life but so will this tree be! Would look super cute in an outdoor courtyard.
♥ This rock n robin will be a lovely addition to some cosy sofas for chill out time
♥ A cheap and cheerful way to add a bit of elf-ness to your shoes – pom poms!
Charley x
Check out more of Charley's style and wedding tips over at her blog
London Bride