Dena & Patrick's wedding is certainly Rock n Roll to the max! I adore her cute shoes that show off her gorgeous foot tattoos  (I'm so shallow) and that fabulous dress which was Madison by Priscilla of Boston "It had a belt and pockets!" Dana told me " so I just HAD to have it! I even kept my iphone in my pocket and snapped photos with it during the day" The bridesmaids matched the yellow and grey theme by wearing various grey dresses from Alfred Angelo. The pair were married in the oldest catholic church in Philadelphia (Old St. Joseph's) and had their reception at an old bank that was the Philadelphia Real World House which has now been turned into an art gallery called Trust House.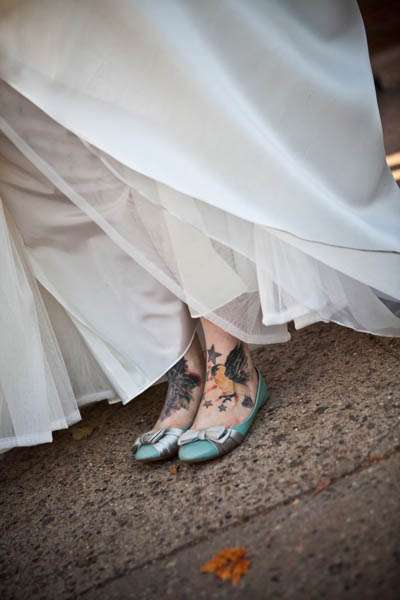 My favourite part of Dena's email to me was her 'wedding highlights' so I wanted to share them with you
♥ Taking my bridal portraits in the burial ground where Ben Franklin and several other founding fathers are buried. It is traditionally good luck for brides to throw a penny on Ben's grave for prosperity!
♥ Taking a taxi to the church which was 4 blocks from the hotel where i got ready and mom freaking out
♥ The art in the gallery. It was a total surprise because they had just hung a brand new show that week.
♥ There was an amazing portraits of a nude Kim Kardasian upstairs and a painted version of Lindsay Lohan's mug shot. Our family both young and old loved it and thought it was so us!
♥ Also being a bride who rocks glasses! 
♥ Ending the night with a group singalong to queen!!
Thanks to Dena & Patrick for sharing their wedding – I am smitten indeed
Credit: Sarah Miller Photography