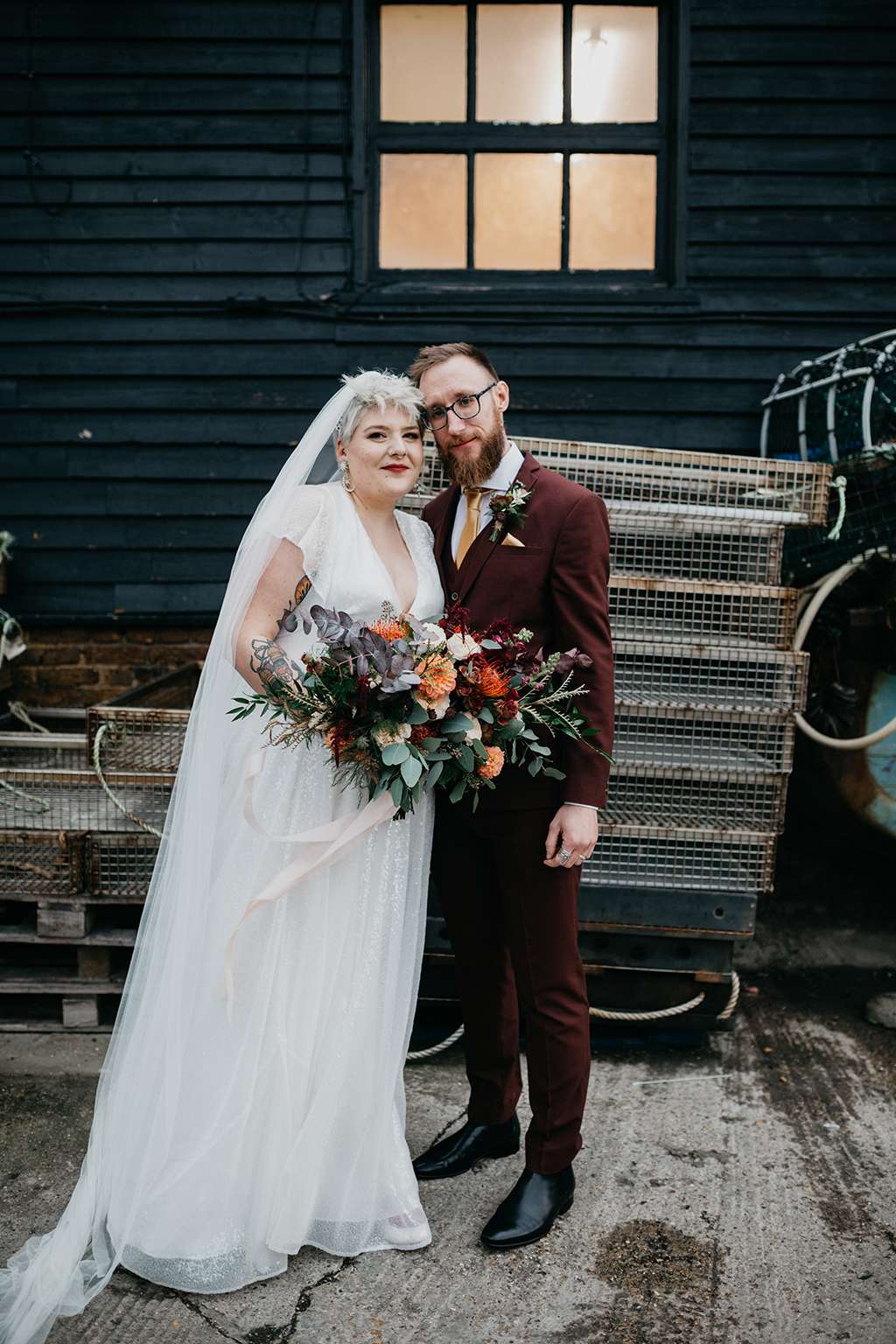 Although Kate and James kept traditional elements in their day, they did so in their style. As they both love autumn, it was the perfect season for their celebration to be held at East Quay Venue in Whitstable.
Kate handmade pretty much everything they used to decorate the venue, which made it very personal to them, and they incorporated their favourite musical influences as their love of which brought them together, too!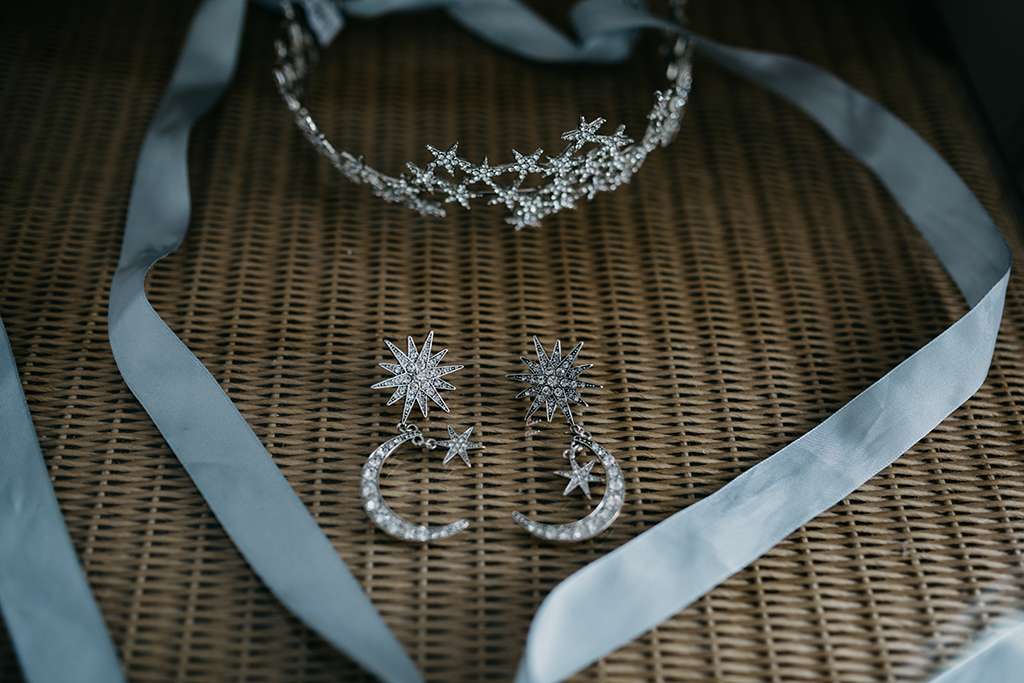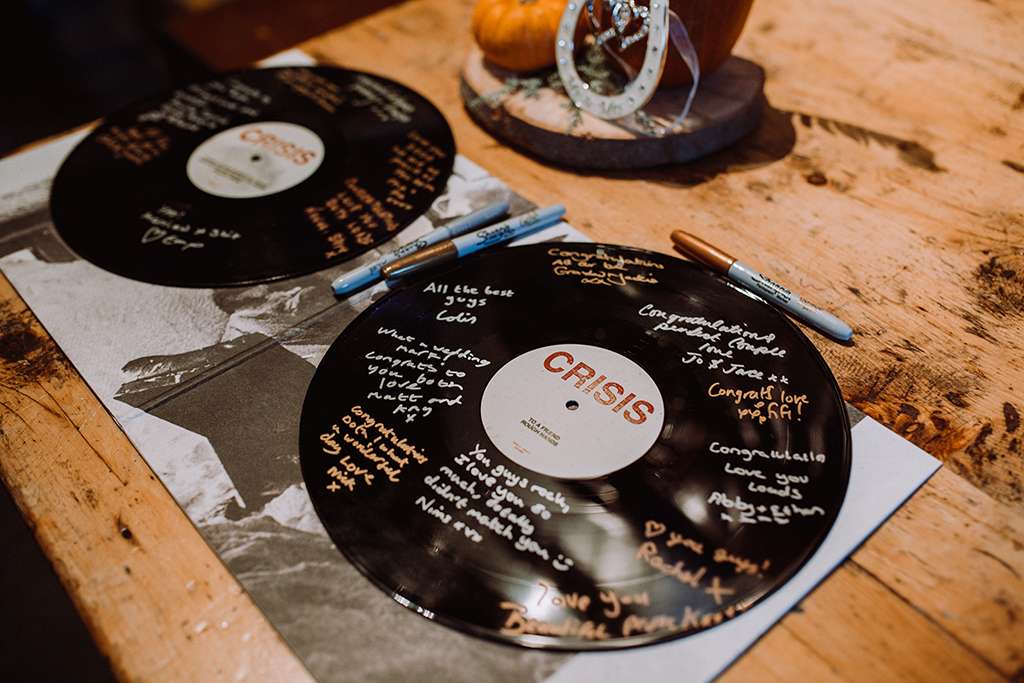 Kate created faux floral hoops for all the bridesmaids, as well as faux flower centrepieces in vintage glass bottles that they had collected from various seaside holidays – in them were the table names which were vinyl records as a nod to their love of music. The table names were romantic quotes from geeky or 80's movies.
As an artworker, Kate also made all the stationery and table plan with faux greenery and for the aisle she decorated lanterns with faux greenery, mini pumpkins and log slabs. She made a light-up 'Hell Yeah' sign for the dance floor, and their guest book was an Alexisonfire vinyl record as they where the first band they discovered which they had a mutual love for.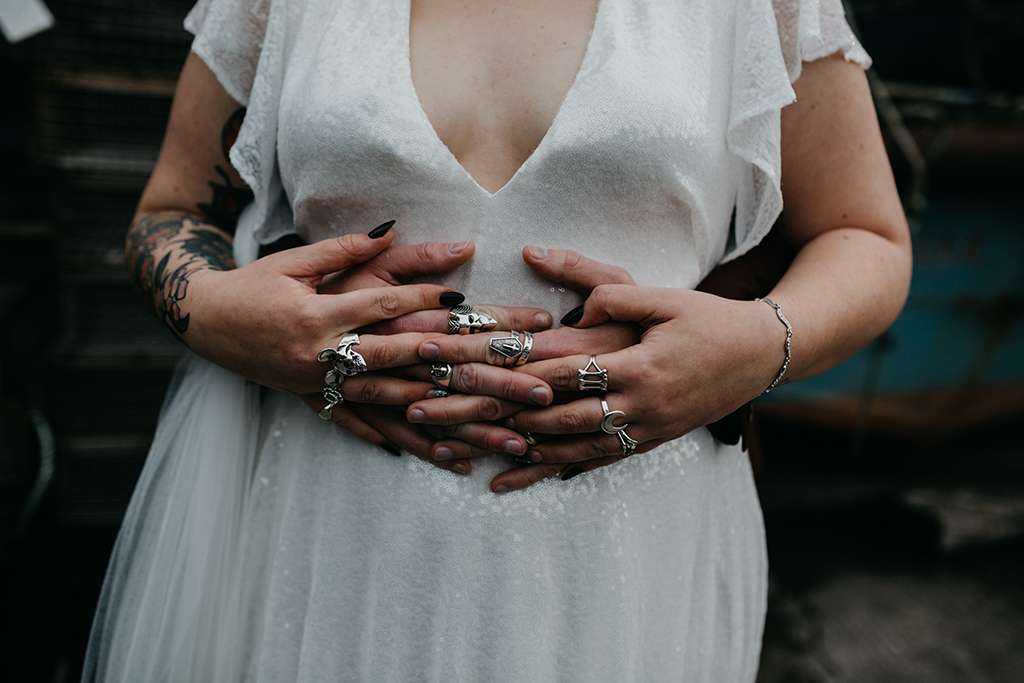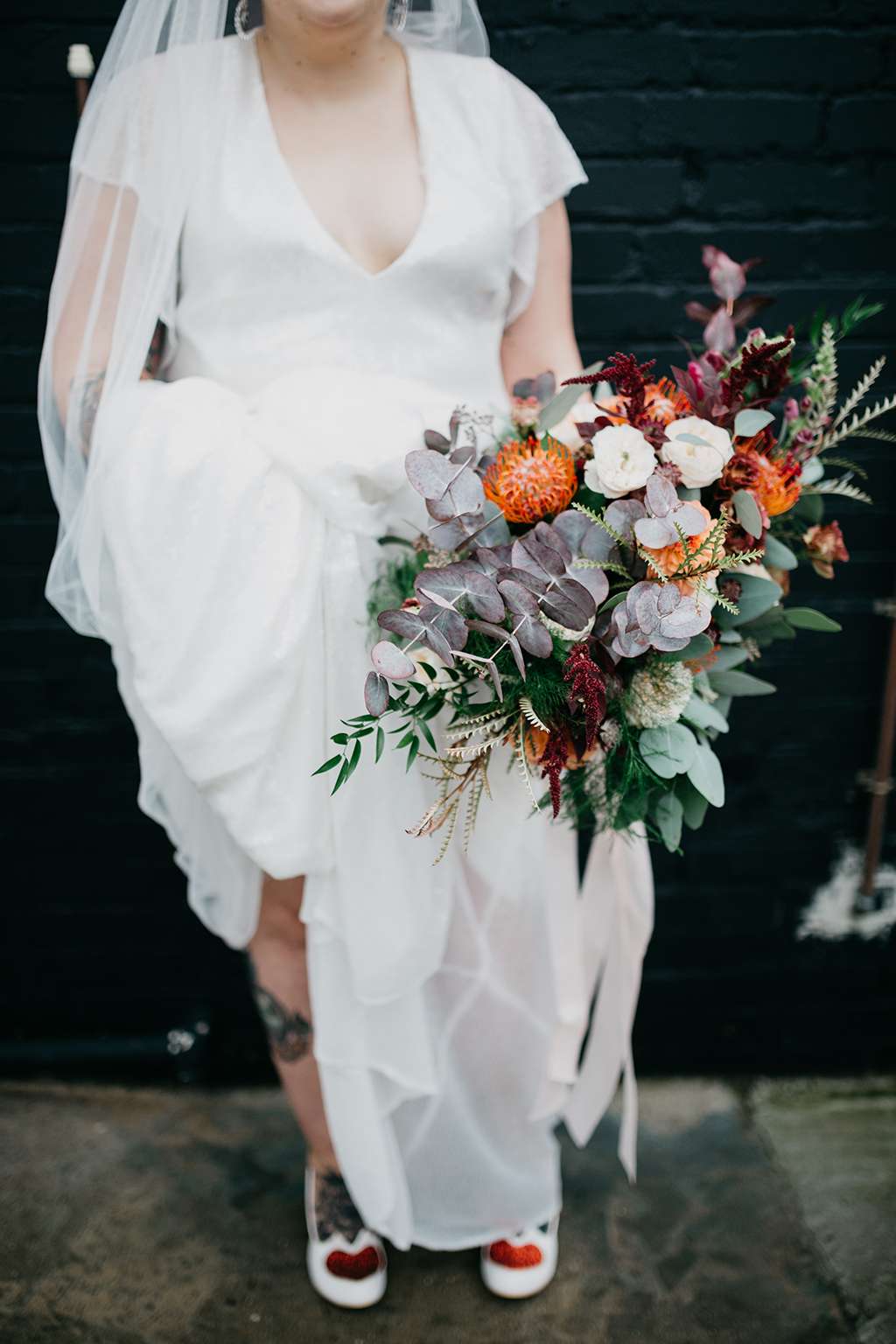 Kate's outfit was built around a Crown and Glory star halo crown that her Nanny had bought for her not long after the couple became engaged. It accentuated her sequin dress from Story of My Dress perfectly. "I was a bit nervous about trying on dresses being plus-sized clothes shopping is not usually fun. But Cara who owns the shop and Gill the dressmaker made me feel safe, relaxed, and comfortable every time. On the day I felt like a queen in that gown and veil!"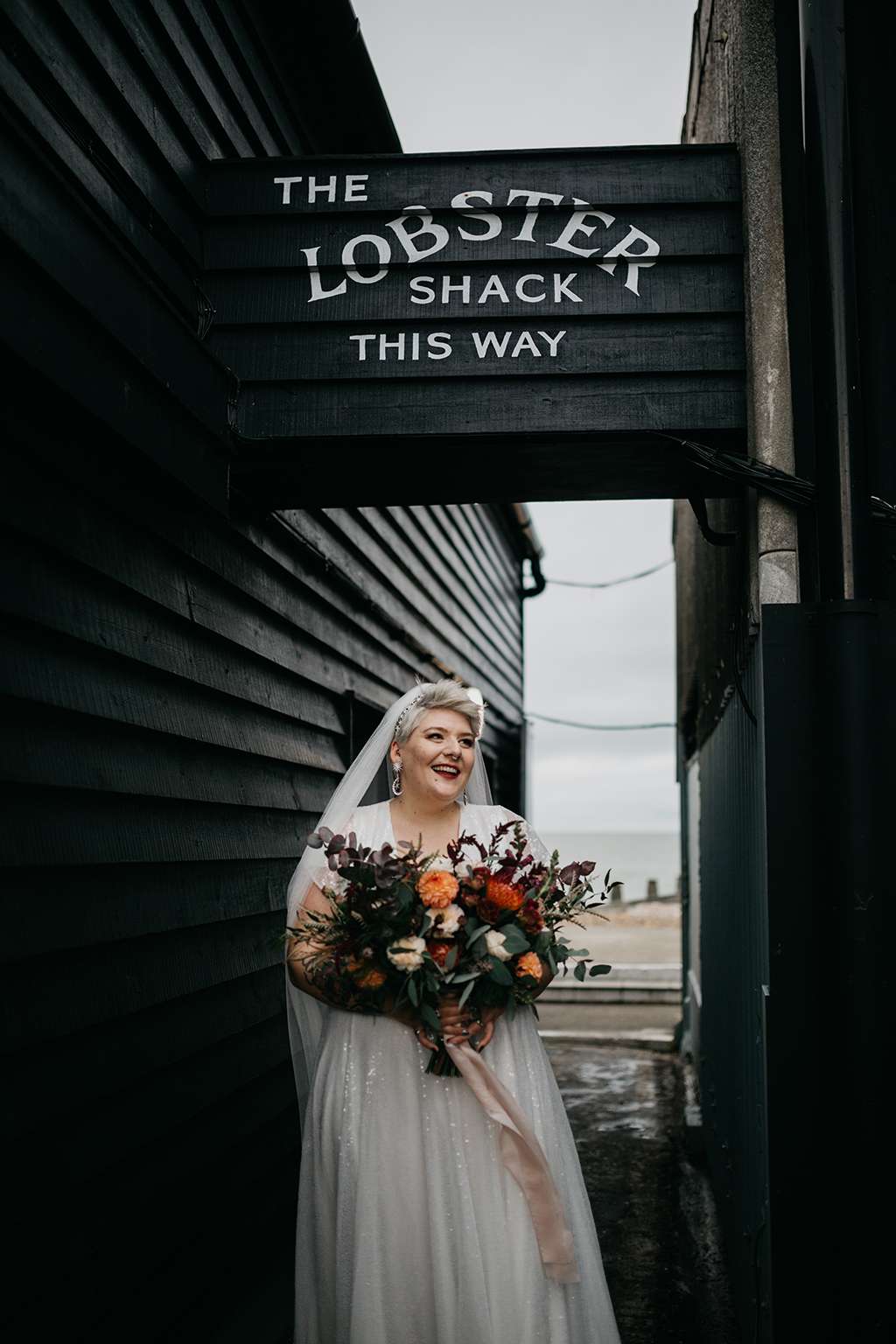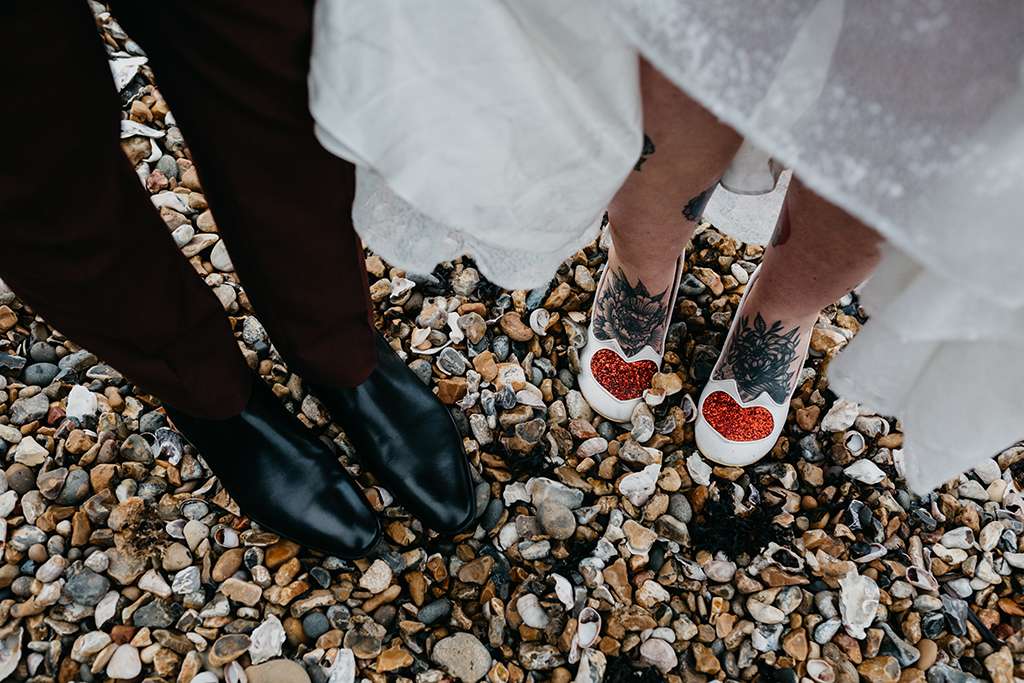 Their ceremony was intimate, with only their closest friends and family present on the mezzanine level of venue, overlooking the sea. "We had lanterns with led candles and little pumpkins decorating the aisle to add to the romantic feel. My Pa walked me up the stairs and into the room, where my mum was waiting to walk me the rest of the way."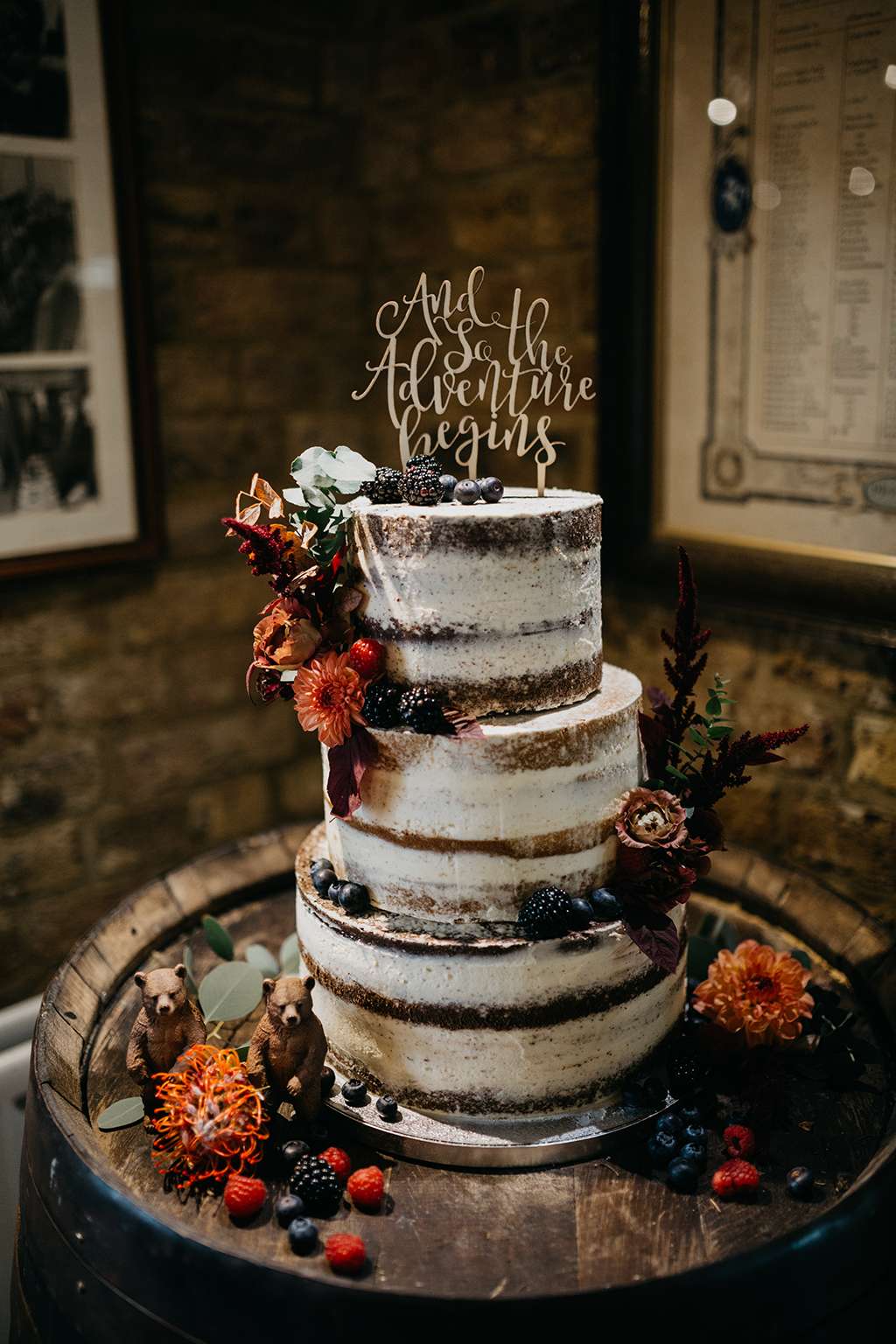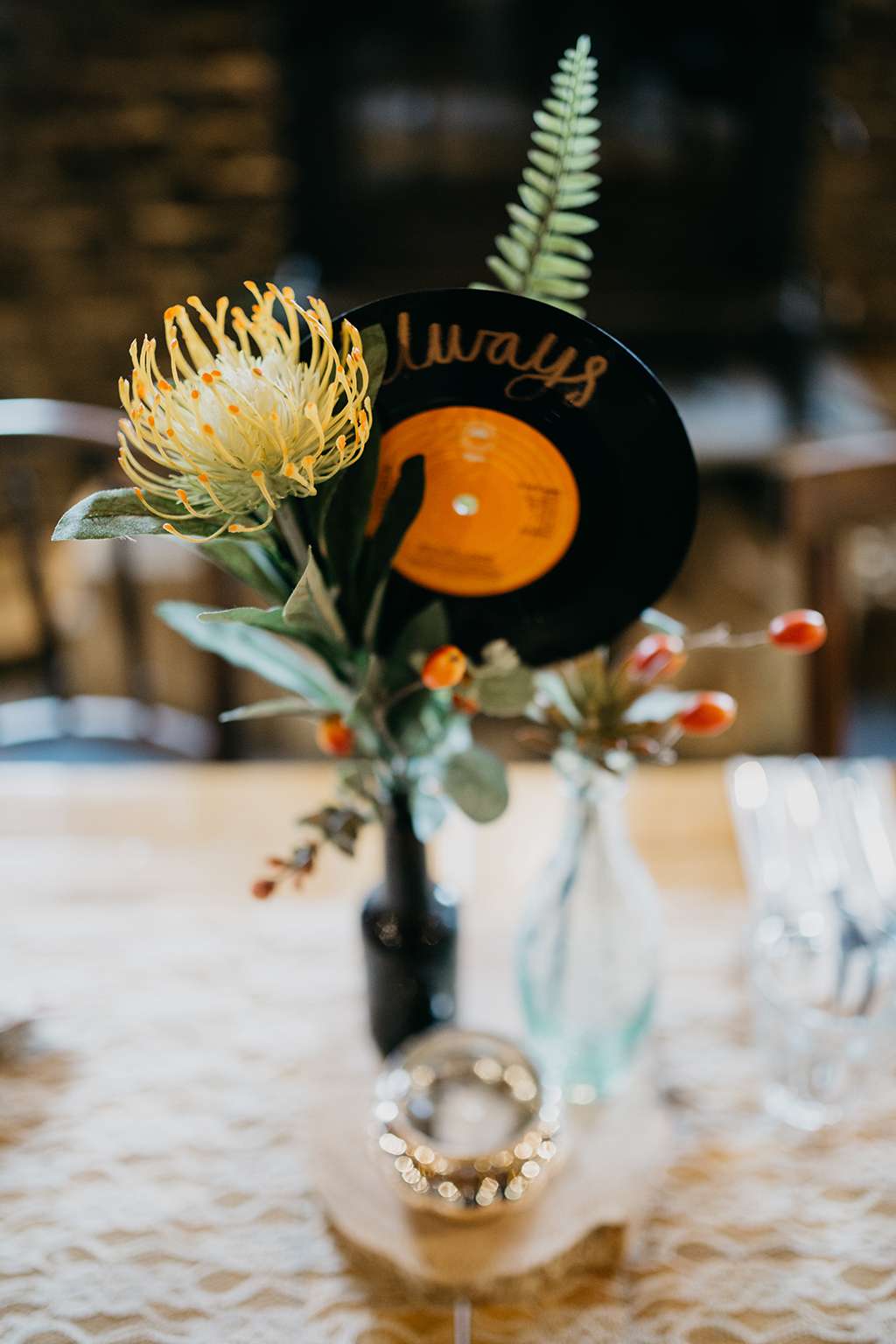 "As I came up the aisle our nephew shouted 'MOO', my family's nickname for me, which made me laugh as I was a ball of nerves. We had two bridesmaids read for us, one from The Amber Spyglass by Phillip Pullman a favourite of mine, and one from Stardust by Neil Gaiman which we both love. We wrote our own promises, so even though we had a registry style ceremony we had a chance to add our own elements in there that we wanted to say to each other."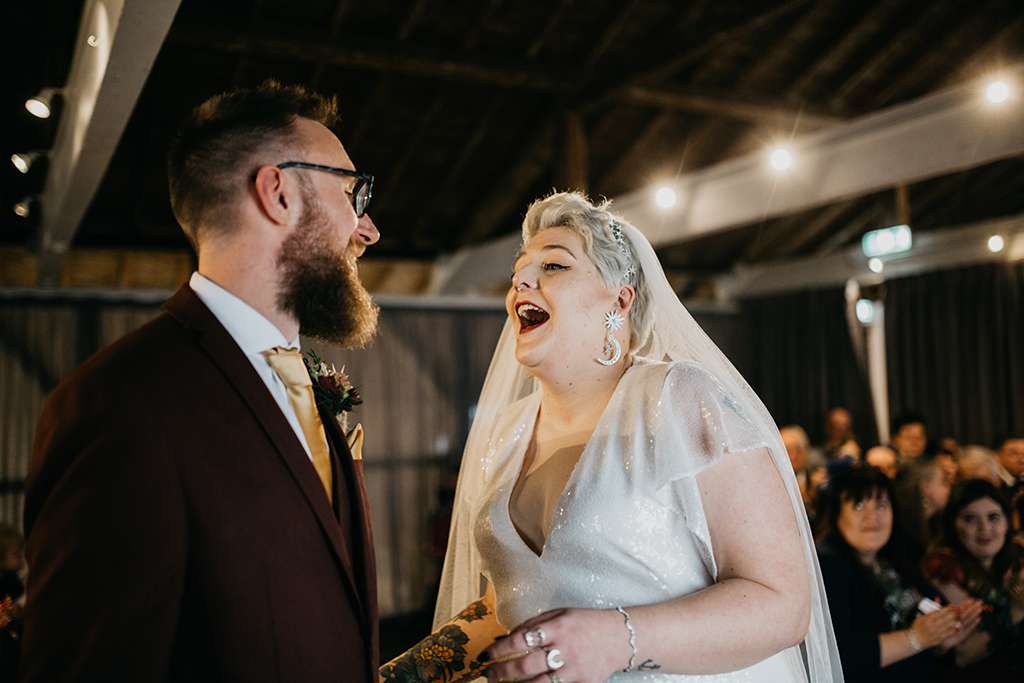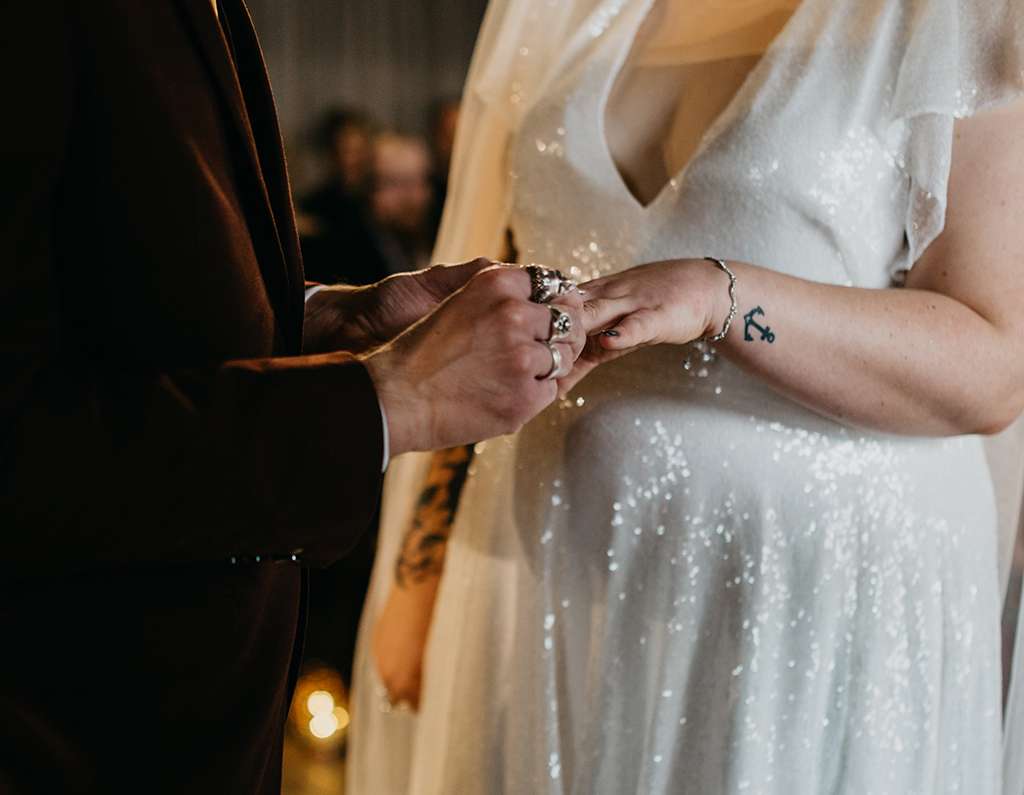 As live music is so important to the couple, they knew they wanted a live band for their reception. The Redfords performed as an acoustic duo during the ceremony, even learning a version of Africa by Toto as a surprise for James which he loved. In the evening they played a whole host of covers as a full band, along with a hat and wig box which was a huge hit with the guests!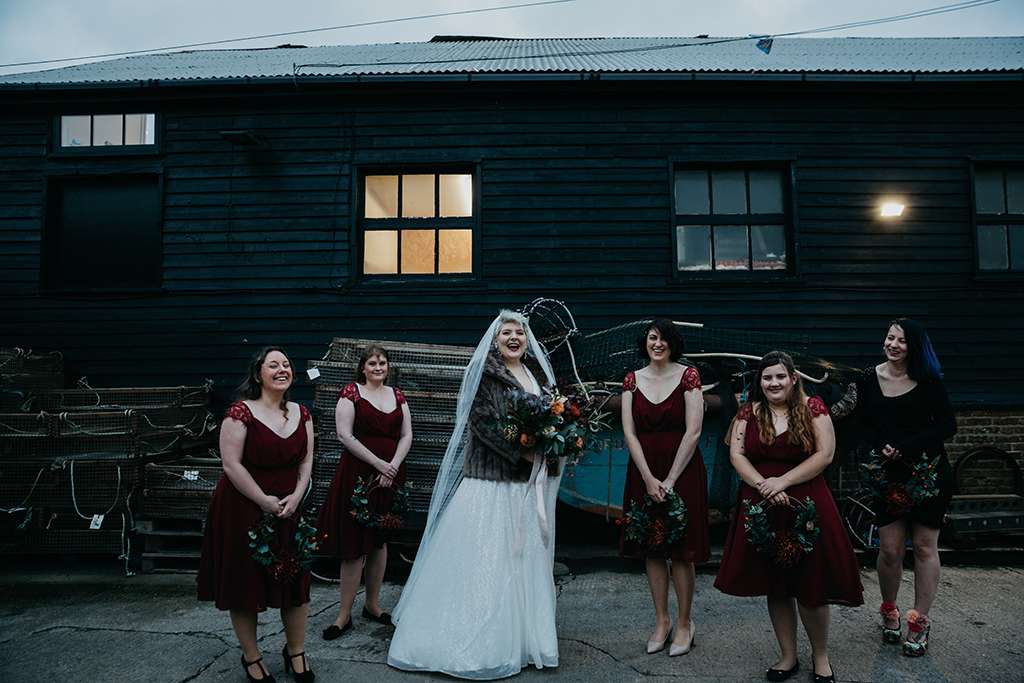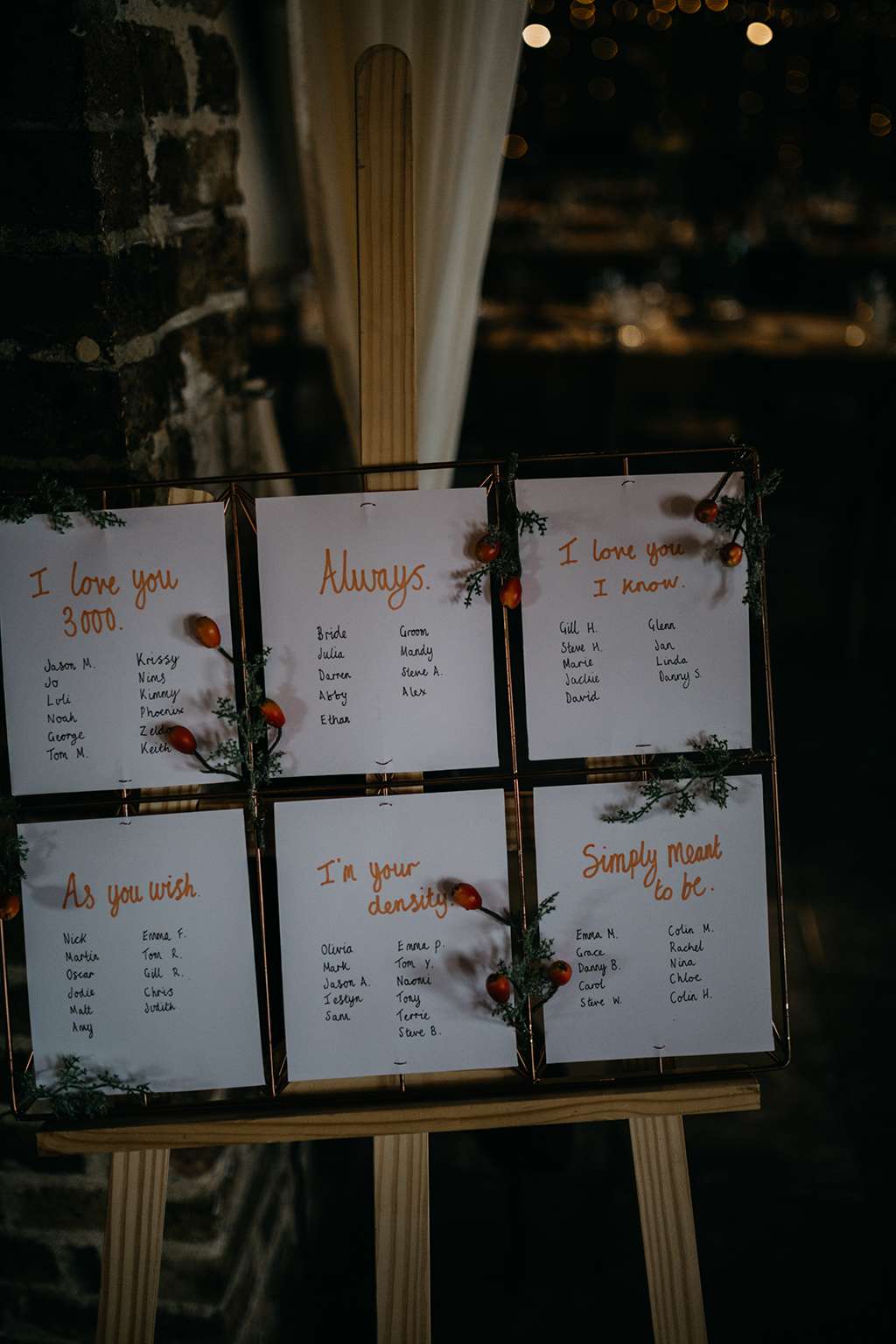 While they didn't have a budget per se, Kate and James kept in mind their priorities and had an idea of what they felt comfortable spending in certain areas. The biggest expense was the venue, but it included all the catering – boxed seaside meals like fish and chips – and corkage, so it was really a bargain. They saved money by getting married out of season, getting James' and the bridesmaids outfits on the highstreet, and by doing so much decor themselves. "I just wish we'd foreseen how much space all the DIY would take up in our small flat!" laughed the bride.