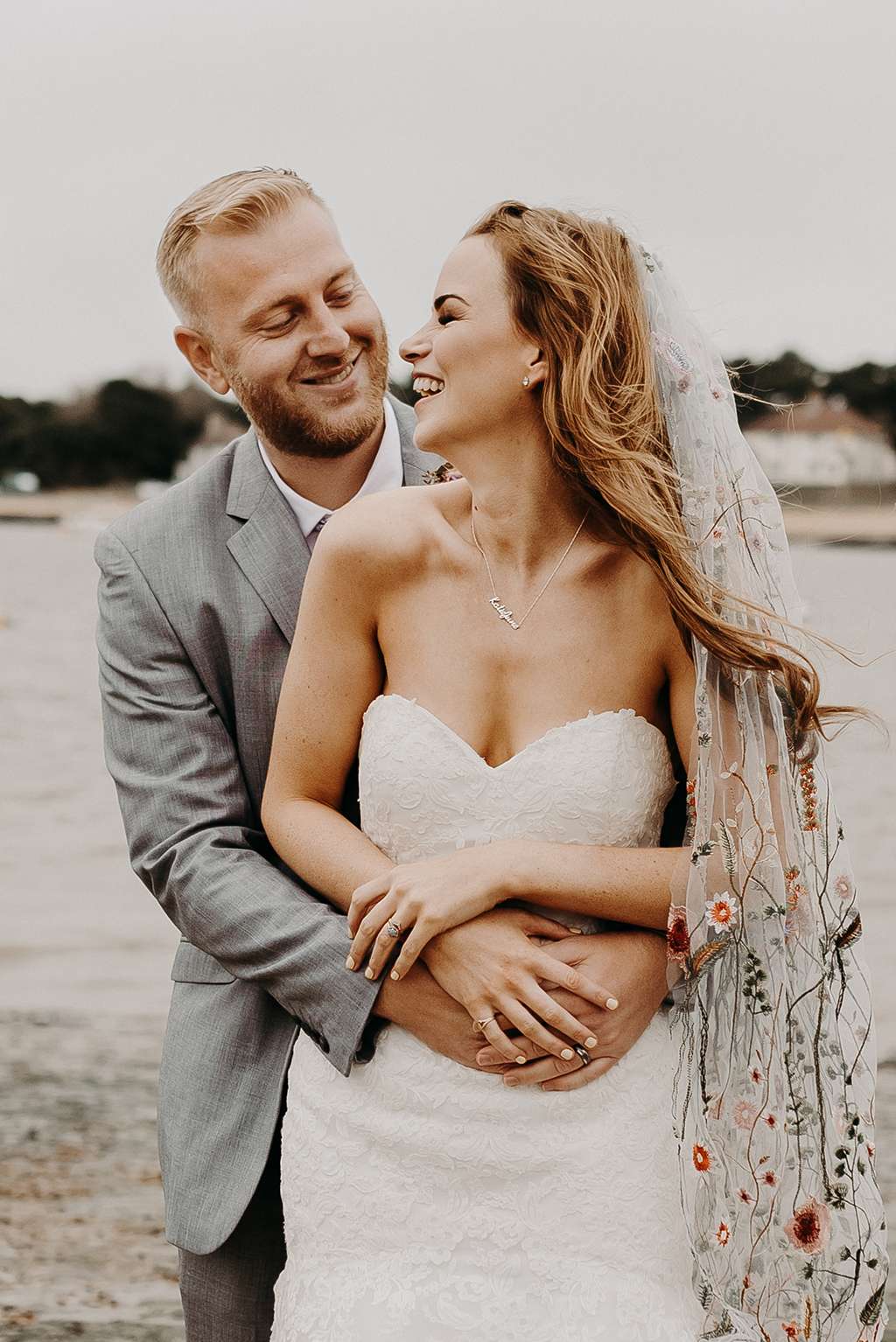 Adam and Katie met when Katie's friend swiped right for him on her behalf on Tinder. "I turned up to our first date wearing pom-pom shoes, a pineapple shaped handbag and a striped pinafore dress – I wanted to be clear on what he was letting himself in for!" laughed Katie. When it came to planning their wedding, they used just one form of inspiration; Rock n Roll Bride magazine, of course!
"I actively avoided Pinterest and other wedding magazines as I didn't want to replicate anything anyone else had done before, but Rock n Roll Bride gave me the reassurance to just do us! I wanted our day to reflect everything Adam and I loved, and really encourage the fun in it all!"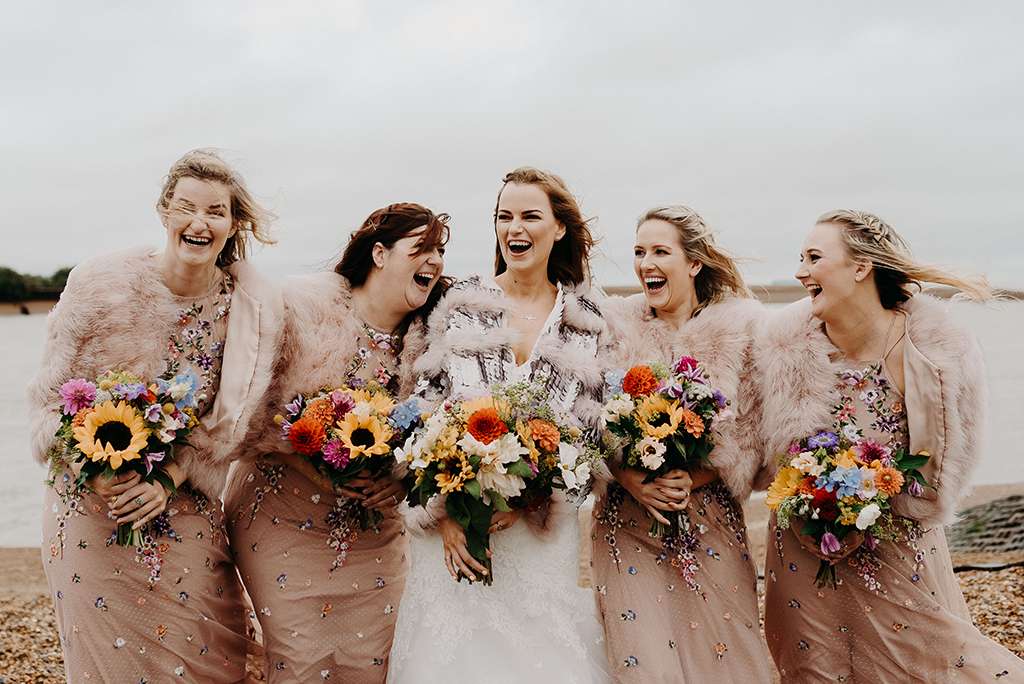 Their starting point was their love for Felixstowe and the seaside, which developed into a crazy, carnival and funfair themed extravaganza. There we no rules, if they saw something they liked, they bought it – inflatable dinosaur, check! Winnie the Pooh Balloon, check! Ice cream honeycombs, check! Inflatable seagulls – double check!!
"When we were decorating the venue, I kept yelling to everyone 'remember – unicorn vomit is the vibe!'" laughed Katie. "As my dad put up the hundredth lantern he tentatively suggested that that might be enough, and my reply was 'it will never be enough; more, more, more!"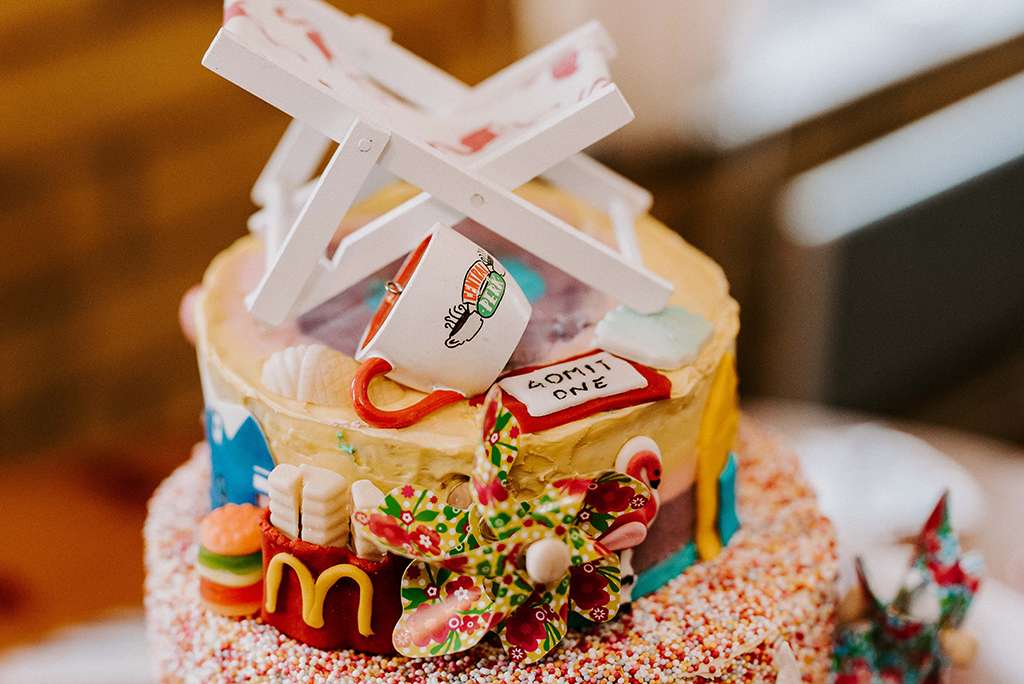 As well as decorating their venue to look like the inside of Katie's brain, they threw tradition out the window for other aspects of their day too – it just didn't occur to them to do anything for convention's sake, and just wanted to share the things they love with all the amazing people in their lives! This meant Jagerbombs for speeches, bingo, beer pong and carnival games as entertainment and a pimp your own burger bar for late-night food.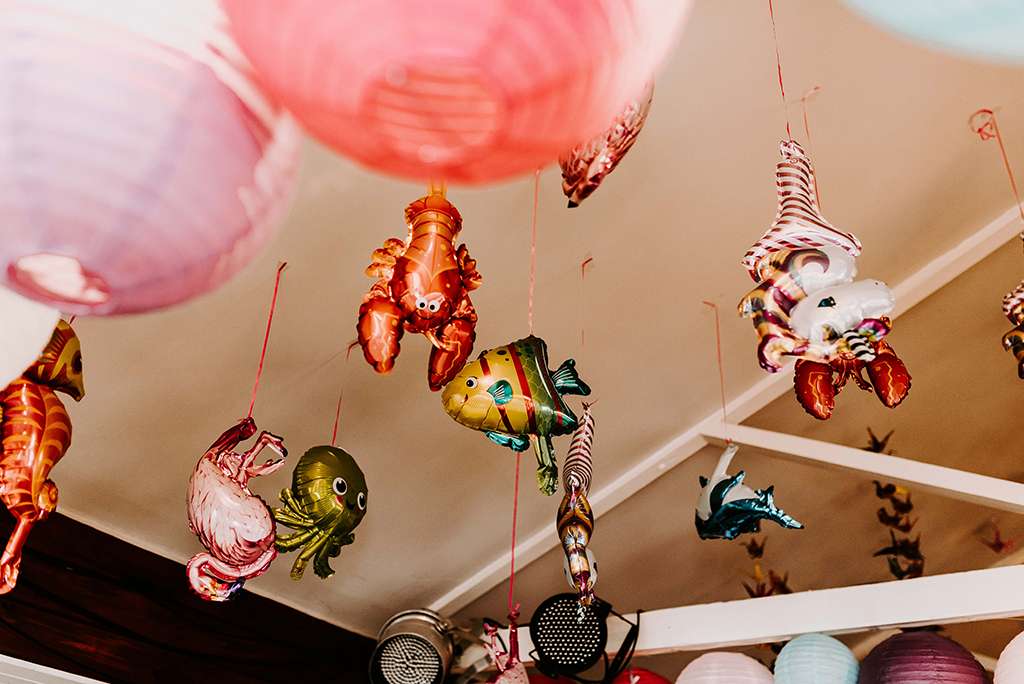 Even the most traditional part of their day, their church ceremony, they managed to personalise down the the nth degree. Katie walked down the aisle to Suddenly by Angry Anderson (a nod to one of their fave TV shows, Gavin and Stacey). They had readings from Winnie the Pooh and Love Actually. They chose to have their mums as witnesses, as a way of including them in their ceremony, and had a mixture of traditional and fun hymns, One More Step Along The World I Go being a particular lighthearted highlight for the couple. It all made for a thoroughly modern service.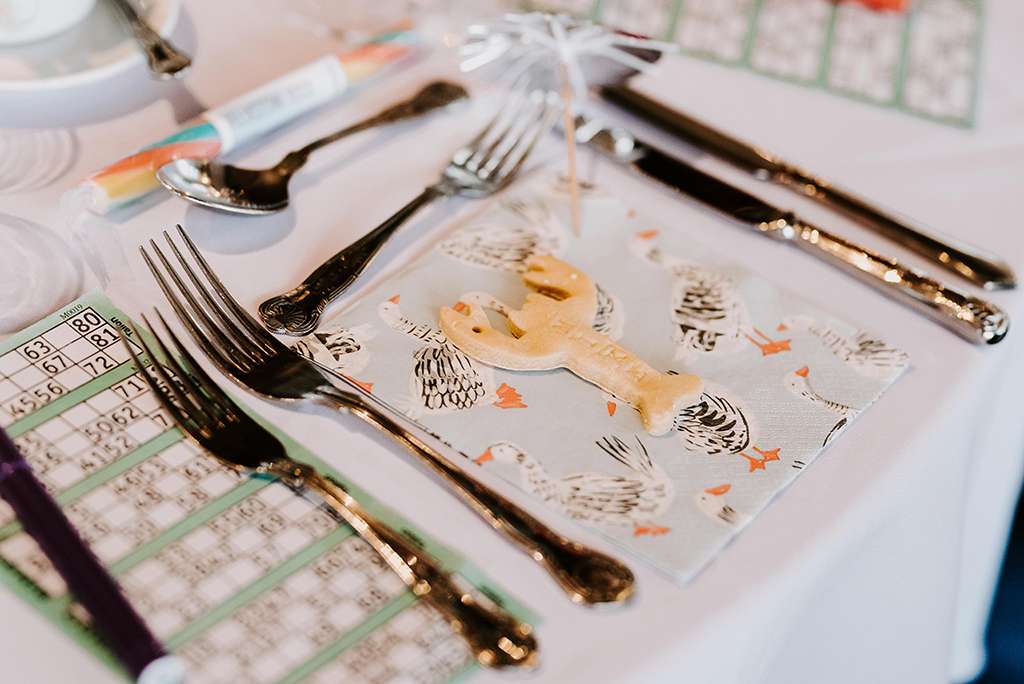 While the bulk of their £13k budget was spent on the venue and the food, it was super important to Katie and Adam that they had everyone for their wedding breakfast that they wanted to; their guest list started at 80 but grew to over 100. Also, as they had 11 groomsmen, suiting them was a considerable expense, but they wanted to support the local community so they bought them locally instead of online or hiring, and it ended up being a great thank you present for them to keep and wear again and again.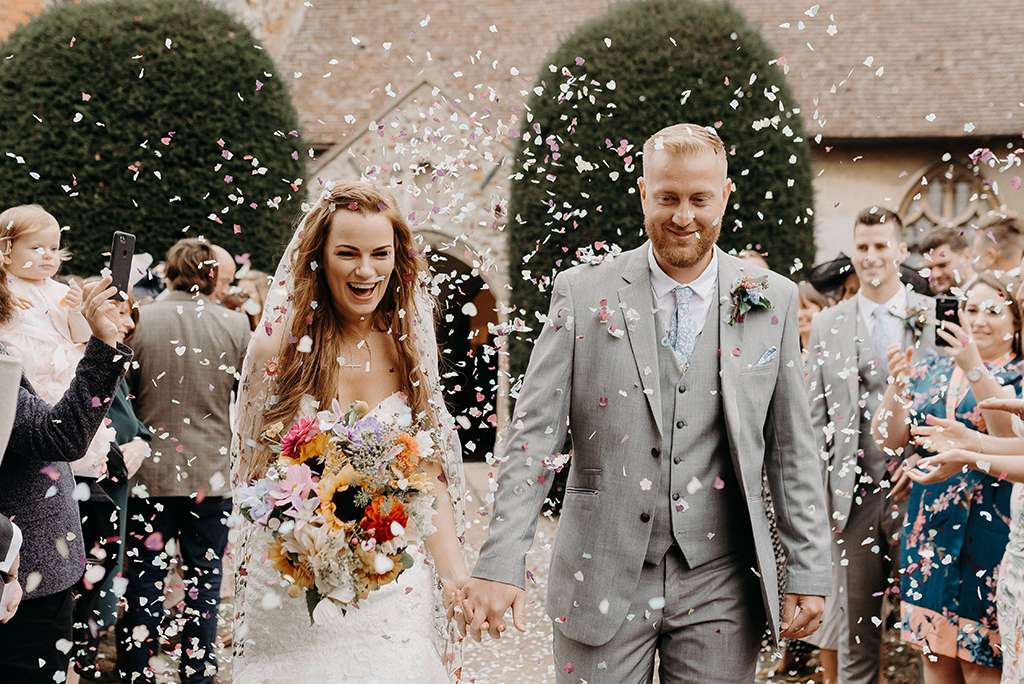 The couple saved money by DIYing all their decorations and games – scouring boot sales, eBay, junk shops, charity shops and auctions for their props. They also painstakingly handmade 100 salt-dough hearts and lobsters (as a nod to another fave show, Friends) as name cards, stringing them with ribbon so they could be used as Christmas decorations, so they also doubled as favours. They had some serious breakages by the time they'd arrived at the venue though, so ended up still making them at 10pm the night before the wedding. "Everything was pretty fraught at that point!" remembered Katie.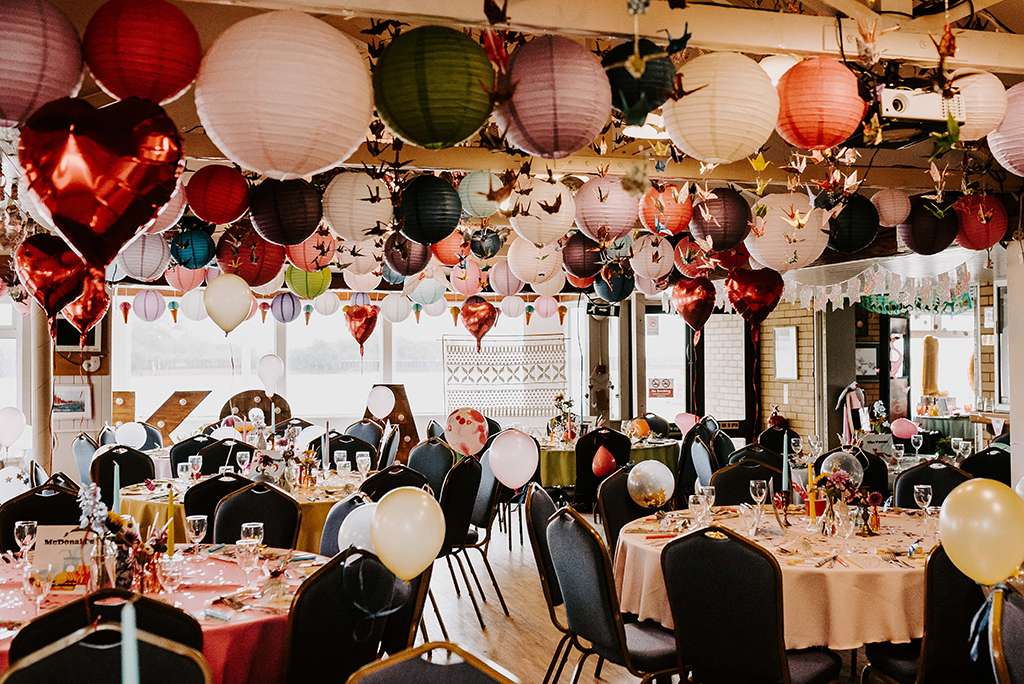 "It's all part of the journey and the memories, though, so while of course there were hard parts, we believe that working hard in anything in life is what delivers amazing results. I truly believe all our hard work delivered the most perfect day for us and wouldn't change a thing!"