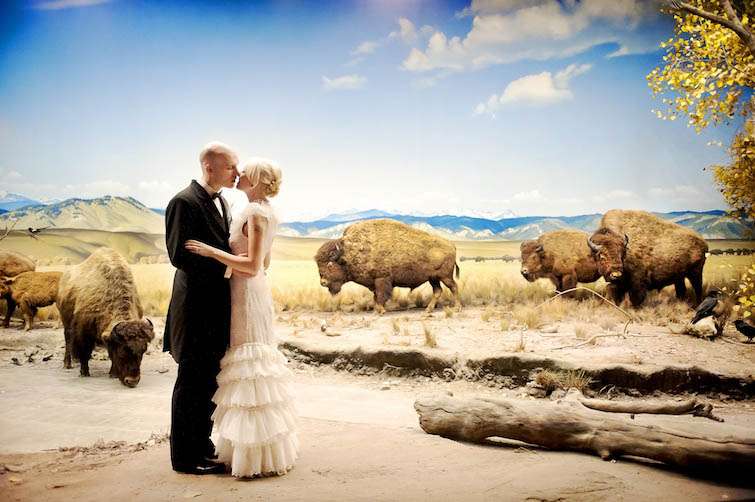 Unusual venues such as museums will make a really fun and different wedding!
When it comes to planning your wedding, the venue is usually the first major decision you need to make. Not only is it often the biggest expense, but it is difficult to plan anything else until this is sorted out.
The first thing you need to determine is where in the world you want to get married. If you are both from, and still live in, the same town as all your friends and family then this is a pretty easy task, but if your family and friends are more spread out it can be a harder choice.
It is my personal opinion that you should make things as easy as possible for your guests. A destination wedding may sound wonderful and romantic (throwing the honeymoon in with the wedding, yes please!) but they can often be very stressful and expensive for guests. If you want all your friends and family to be able to attend, then jetting off to the Bahamas might not be your best option.
There are a myriad of things to consider when it comes to picking your wedding venue. Do you want to have your ceremony and reception in the same place? What style of wedding are you having and what kind of venue would be suitable? How much can you afford? Do you want to invite children? Do you want a place that offers packages or one that it a lot more flexible? Do you want to bring in your own caterers and supply your own booze? What's the weather going to be like? Is an outdoor ceremony possible?
It's easier said than done but try not to get stressed out. Yes, it can all feel very overwhelming but you can do it. My first recommendation would be to look on a venue listings website. There are lots of them around but I recently used Coco Wedding Venues to search for a venue for an event and it was great. They had some really cool and quirky places listed and you can search by style of wedding or location. Another good one is Funky Weddings.
Also have a search through the real weddings on this blog! You can use the search bar at the top of the site to search things like 'urban', 'pub', 'farm', 'festival' (or whatever you like) and see what comes up. Each venue is listed and linked to in the Supporting Cast section at the bottom of the wedding gallery.
Finding the right venue is often really tricky, and for me was the least fun part of planning our wedding. In fact our original venue cancelled on us three months beforehand! PANIC STATIONS!  It actually worked out fine, and we managed to find a much nicer place in the end although I wouldn't recommend it!
It's worth noting though that if you do book somewhere last minute you're in a much better position to negotiate on the price. The manager may well be more flexible because it's unlikely that they're going to get another enquiry at such short notice, and they'd probably rather have slightly cheaper booking than no booking at all.