Hello Kat and Anna
I'm getting married in October and have two of the loveliest, super helpful bridesmaids (as well as a lovely, super helpful bridesman (has anyone come up with a better term for a male bridesmaid yet?!)) I have been searching all over for a present for the girls (I think the boy is sorted). I would love to get them a necklace or bracelet, but would be open to other ideas. I have been looking all over but nothing has caught my eye yet. I'd like something pretty but not too girly, and fun but not too crazy ironic – does that make sense? I can spend about £50 ($80) per person (but I could be persuaded to go a little higher).
Any suggestions would hugely helpful!
Ray
♥  ♥  ♥
Dear Ray,
Ahh yes the pretty things. I am too trying to figure out what I should buy for my girls.  They are all so different with different likes and dislikes and so I can totally sympathise with your plight. 
So first I looked for classic prettiness but with a modern edge.  I happen to adore this pretty necklace.  I just don't think you can go wrong with such a simple yet chic piece.  If I were to receive this I would be wearing it for years.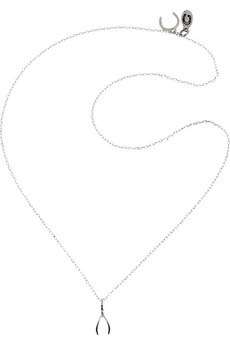 Sterling silver wishbone necklace, £60 from Net-a-Porter
I am not sure why I love rings so much at the moment.  Maybe because I see so many pictures of beautiful wedding and engagement rings.  I know it is "trendy" to love thin bands but I happen to think that they suit most fingers and are a delightfully pretty way of saying thank you. A simple first letter of their name is such a touching memento. Although I am a heart fanatic and will probably have to buy myself a couple of these too!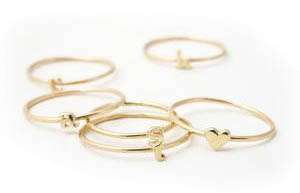 Alphabet Rings, $88 from catbird