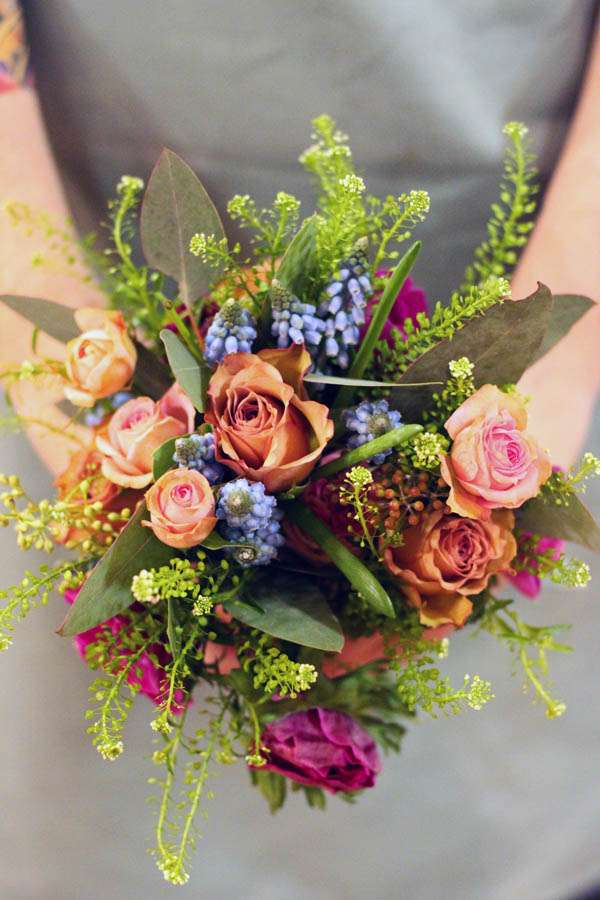 Hello! New feature alert everybody!
Last week I was invited to visit The Green Parlour, located in Pangbourne, nr Reading, Berkshire. The flower shop is owned by a girl I actually went to school with, Emma Sampson. Having not seen her for 10 years (!) and having a bit of a penchant for pretty blooms, I jumped at the chance to go and have a play. The idea was to do some quick DIY tutorials to show you all how to make your own bouquets, buttonholes and finally a cute flower crown. However much gossip and laughter meant that the photographs I took weren't the best to illustrate what we did! Whoops…
Emma has written up a very helpful step by step guide for the bouquet and the buttonhole though so I do hope you enjoy these despite my rubbish photos. Why not have a go yourself? (and send me your photos afterwards too please!)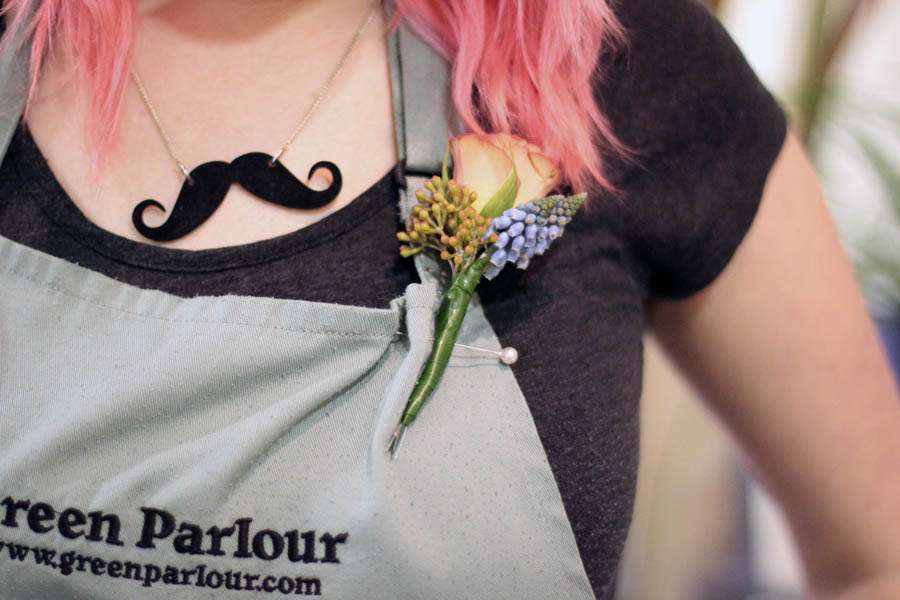 I was also so in love with my flower crown. I'm very sad that it died. I might have to invest in a faux flower crown (WhichGoose on etsy have some amaaazing ones!) so I can feel like a festival hippy chick on a daily basis.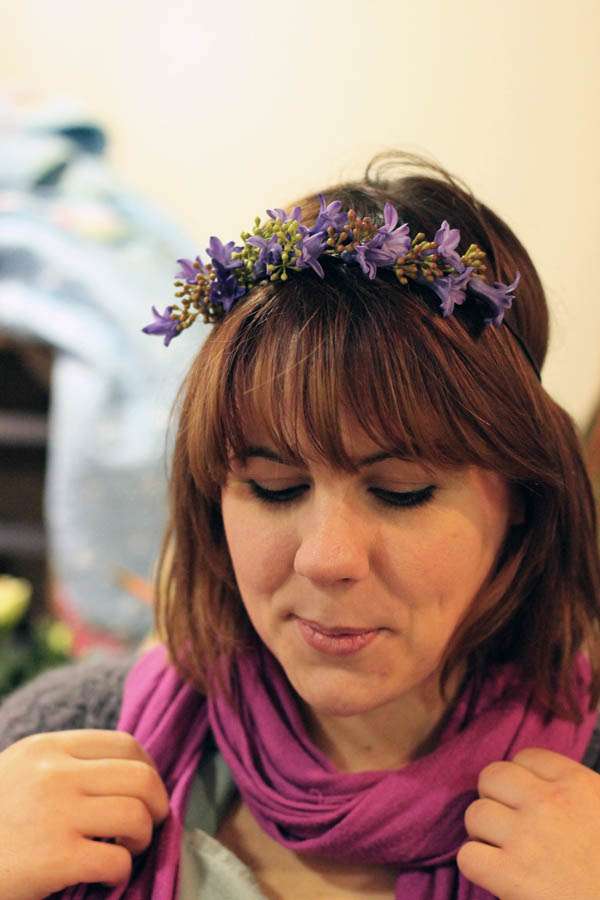 A rustic & vintage inspired bouquet
Flowers used for the bouquet
♥ Pepita spray roses
♥ Hypnose roses
♥ Anemones
♥ Thlaspi (also known as field penny cress or in our shop Mr. funky funky)
♥ Populus eucalyptus (we used the leaves and the berries)
♥ Muscari (aka grape hyacinths)
You will need
♥ Scissors
♥ Flowers
♥ Ribbon, lace, material
♥ Pin or a brooch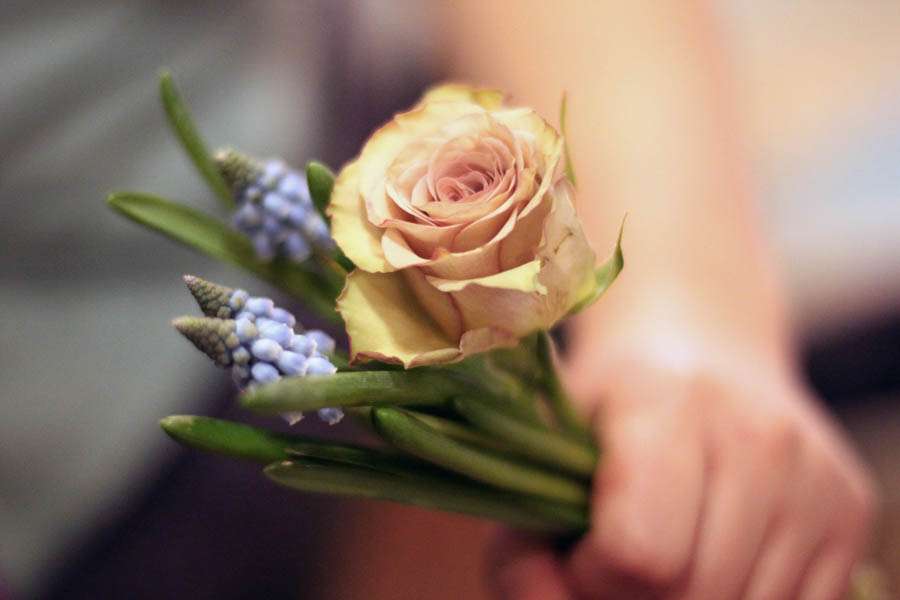 1. First things first, make sure all the roses are de-thorned otherwise you may end up with a few bouquet battle scars.
2. I always like to use a rose at the centre of my bouquet as it gives a really lovely focus point as you look at the bouquet from above. We chose to use Pepita spray roses as our first and central flower to give a lovely relaxed dome.
3. Hold the central rose in your non-writing hand about 10cm down from the flower head.
4. We wanted something garden inspired and surrounded the rose with Thlaspi (the green fluffy stuff) you don't need the whole stem, break bits off and en-circle the central rose – it doesn't have to be too neat, as long as its about the same height as your central flower.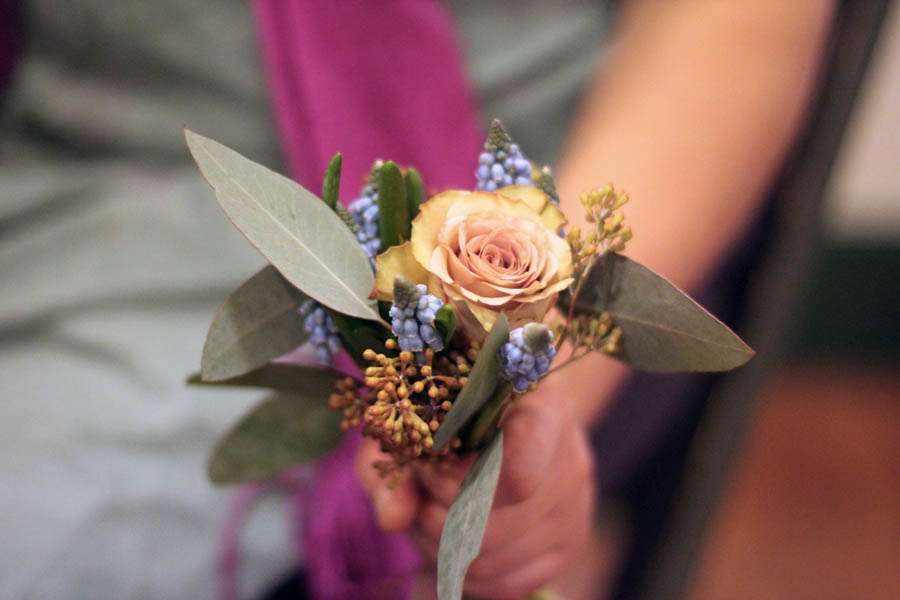 5. I couldn't resist the Muscari (the blue buds) for the next bit – they smell just like sweets – just in the same way that we put the Thlaspi around the rose you want to do the same with the muscari so that there is a little ring of the blue flowers poking out in all directions.
6. Now to really start to create a 'dome' take 3 Hypnose roses and place around the muscari at a slightly lower height – this will make a triangle around the bouquet and you can fill in the gaps with any type of foliage you like – we went for Populus eucalyptus for its amazing berries.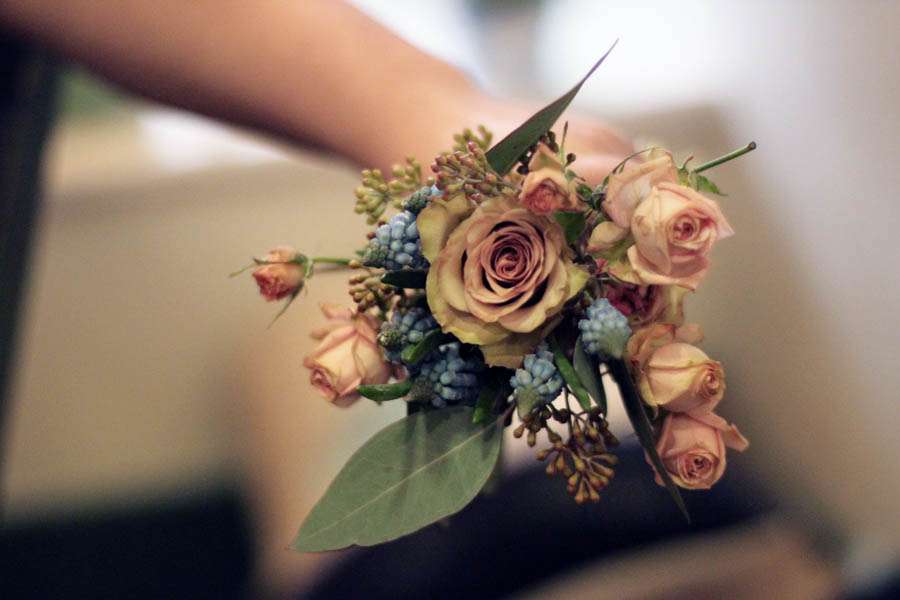 7.    Carry on the same steps as above, slightly lowering the level of your flowers and adding in anemones, more roses, anything you fancy, until they almost touch your hand.
8. Have someone on hand to help you tie your bouquet together – a standard garden twine is just perfect for this job!
9. Choose your ribbon – I especially love the lace look at the moment – and wrap around your bouquet attach bows, more ribbon, buttons, old brooches anything you like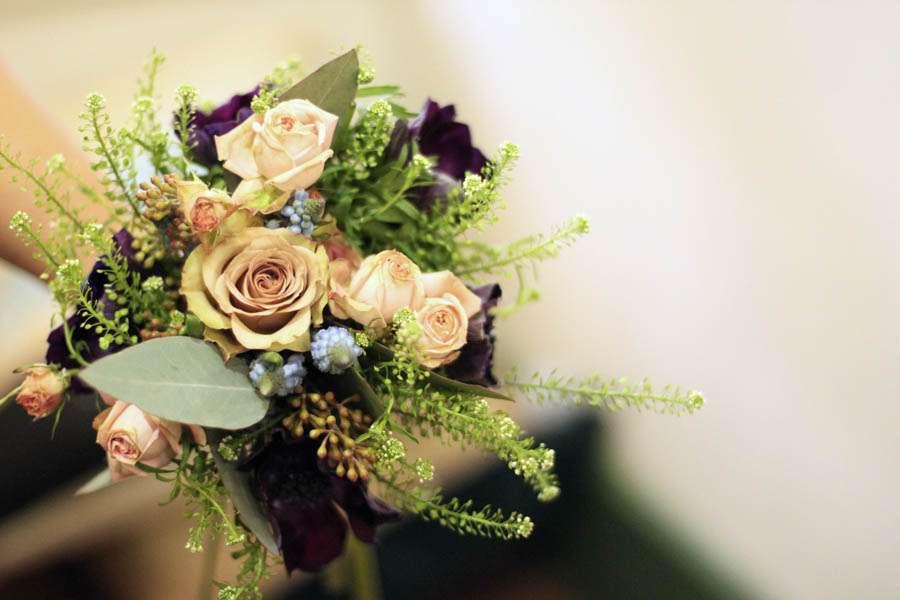 10. Voila! Get someone else to hold the bouquet so you can see how lovely it looks – pop in a vase ready for your big day.