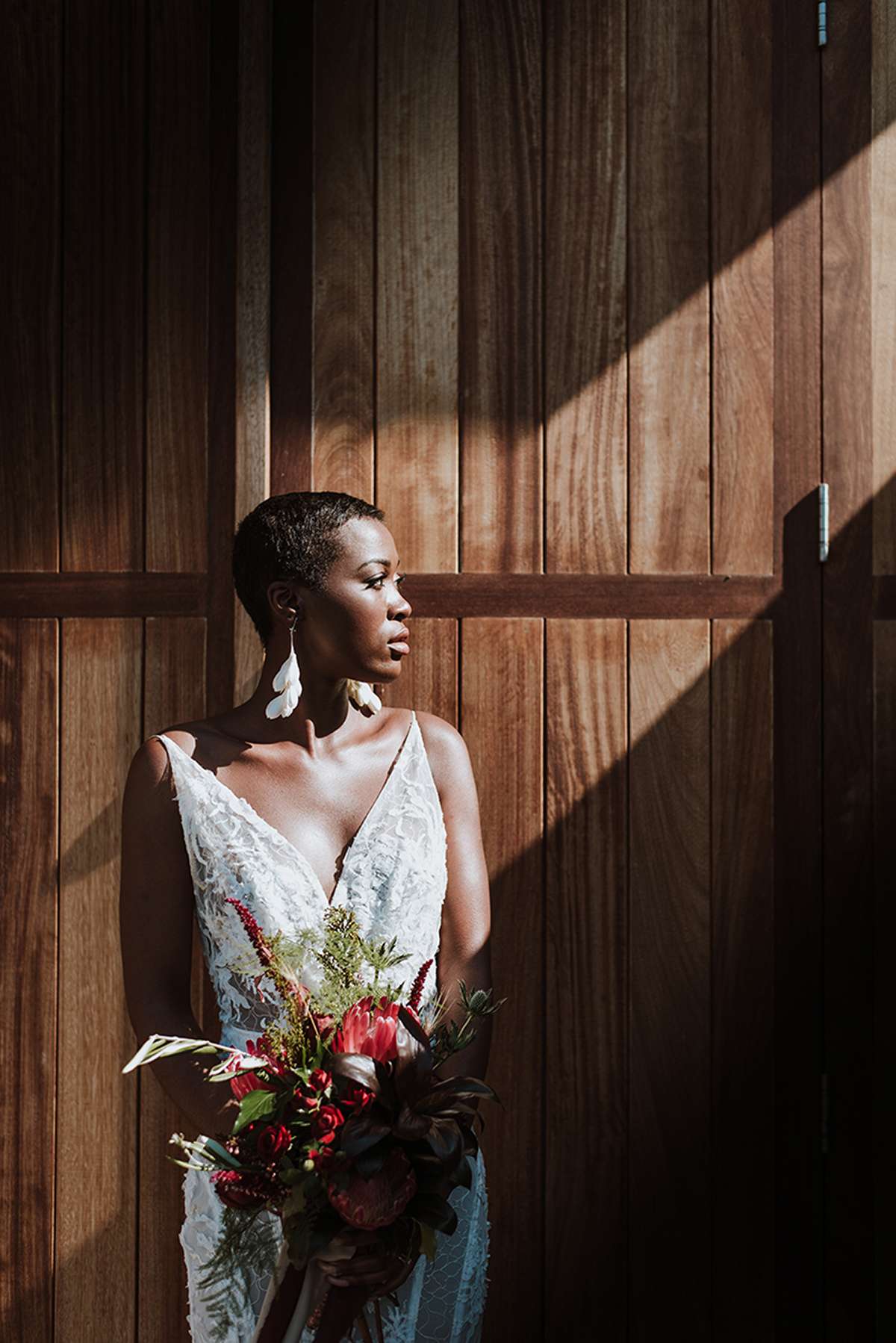 If there's one thing we know to be true in wedding world '19, it's that engaged couples are looking to save as much money as they possibly can. In fact, some reports coming though at the moment state that the £25k 'average' wedding budget that's thrown around by the media may have in fact decreased to something much closer to £12k in the last year or so (thanks Brexit, thanks Trump).
However, what that doesn't mean is that 2019 couples want their budget savvy weddings to look cheap, far from it in fact. Rock n Roll brides in particular are, if anything, becoming even more creative and experimental with how they pull off a killer wedding on a budget. Today, our friends at Most Curious Wedding Fair are here to tell you how to do it.
More and more nowadays, couples are opting for a smaller, more refined wedding rather than the opulent and (dare I say?) over the top caricatures of what weddings may have once been. Often this goes hand-in-hand with having a smaller budget, but not always; if you want an intimate pub reception rather than a stately home bash, we totally feel you.
However, with that lower-key wedding plan comes the high-key worry that it won't look or feel luxurious on the day. I'm here today to show you how you can have a wedding day that remains low-key but still looks luxe. I've spoken to some of the exhibitors at Most Curious Wedding Fair (who you can meet in the flesh at our March fair in Shoreditch) for their advice on getting minimal design and maximum impact.
Re-frame your focus
Amy Meadows Events suggests re-framing your focus from the beginning. "When you are mood-boarding for your wedding, rather than imagining what it looks like, and the specifics of what you want to see, think about how you want to feel on the day, and importantly how you want your guests to feel. What kind of experience are you creating for them, and yourself? When you re-frame your expectations to be focused on feelings rather than visuals, it allows you to think more creatively."
Valentina from The Stars Inside agrees, saying "Luxe doesn't mean everything is ostentatiously expensive – it means the elements you've chosen to include are high quality and personal to you. It's walking into a room and feeling the details, without even realising you're noticing them."
The great upside to this is that it also helps avoid TPO (total Pinterest overwhelm). "The thing about planning a low key, super-stylish, luxe wedding is to focus on what really matters to you both as a couple and then invest in these core elements, rather than trying to do everything that you see on Pinterest – hooray!" Olivia from Patchwork says.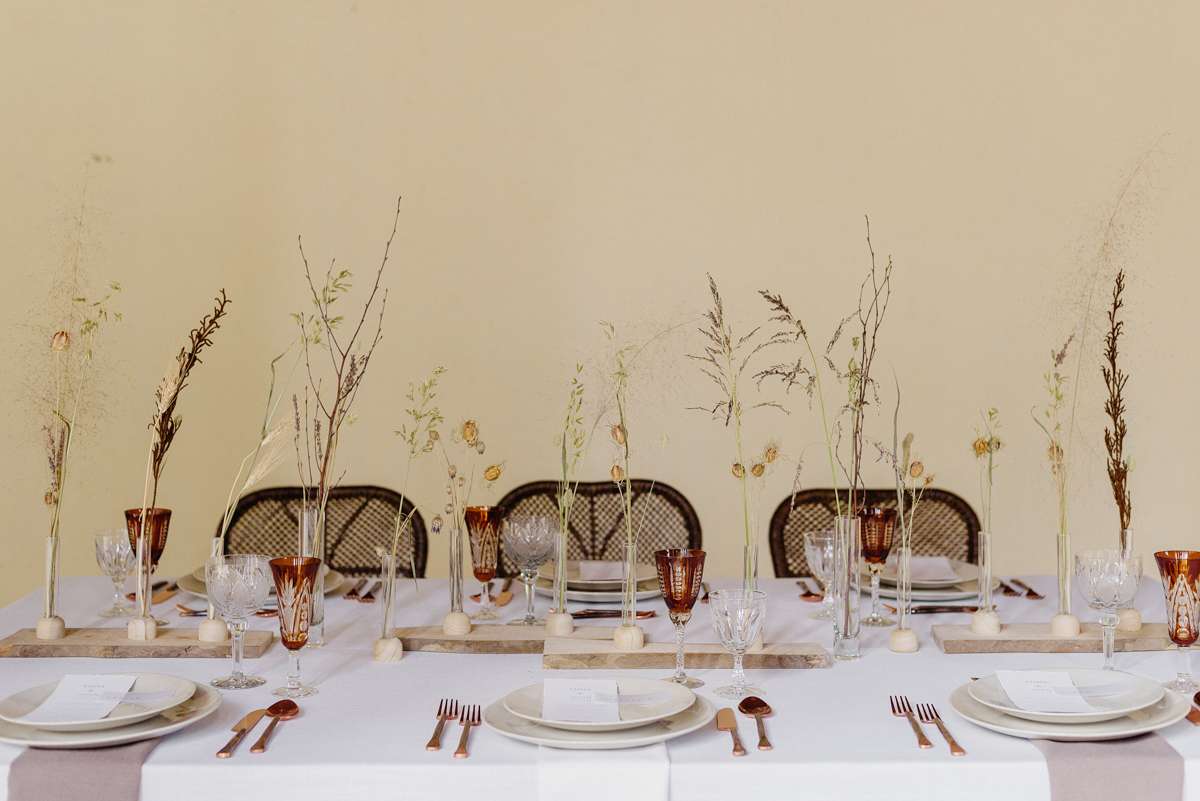 Think about the details that matter to YOU
Ann-Marie from AM Faulkner – milliner extraordinaire, Most Curious team member and divine 2018 bride – did this for her wedding last summer. "I live by the motto 'the devil is in the detail' so tried to apply this to the wedding. Little things like making sure you have more than enough food and drink, a hand written thank you card which can double up as a place name, and all of this styled to perfection.
You can also be clever and allocate budget from things you have saved on, for little luxuries that make all the difference. For example, as we got married outdoors in Scotland our venue was free. So, we chose a ridiculous spot on the banks of a loch and chartered a little boat to get all our guests there! In the grand scheme of things, the boat wasn't very expensive, but it made our guests feel so special and added that luxe element."
Think about colours and textures
This focus on low-key luxe means honing in on textures and colours to create the overall mood. To do this, Liz from Flower and Fern says "We always use plant dyed, hand torn silk ribbons which are understated and natural to compliment the bouquets, and table flowers look stunning with single stems in vases mixed in with larger bowl centrepieces against a modern tablescape design."
Ami, of Lo and Behold Bespoke, advises carefully selected and well-placed items, such as interesting shaped bottles, to make your tables pop without popping the seams of your purse.
Megan from Blossom and Crumb also suggests focusing on flavours with your cake, if that's somewhere you're looking to keep minimal. "Choose a cake maker with an interesting menu and select some unusual flavours or ones that are really personal to you so that even if you keep the design on the outside relatively simple the cake still feels really special on the inside."
She also makes the very good point that keeping some more 'traditional' elements of a wedding, like the cake-cutting, but updating them with a modern twist, will help low-key events still retain that essential wedding-ness. That is, of course, only if said tradition appeals to you…