Whatever kind of wedding you choose to have, the food and drink are in prime position to make or break the day. Not only will they help to set the tone, they'll bring people together and fuel those bodies for dancing into the wee hours! The food and drink can take up a huge chunk of the budget so it's important to make wise choices.
Catering
Here are a few things you need to consider when making decisions about what kind of food to serve:
What kind of food do you really like to eat? These days traditional wedding breakfasts are almost a thing of the past, especially for alternative couples, so the world really is your delicious oyster when choosing what to serve! Obviously you want everyone to enjoy the food, but this is also a time to please yourselves.
I've been to fully a vegetarian wedding, and even though I'm not a veggie myself, I loved the experience. It's something that defines the couple so I loved that they stuck to their guns and didn't feel like they had to serve meat just to please everybody else. This is not the time to worry that your great aunt might not enjoy your favourite food, this is your day so your taste buds should dictate the menu!
If you're on a budget, consider having a buffet (or BBQ if the weather is nice). The wedding buffet used to have quite derogatory connotations (soggy sandwiches, frozen volovants and lank sausage rolls anybody?) but these days more and more couples are opting for this idea – and doing it in style! With a little bit of forward planning and imagination, a buffet meal can be both delicious and cool.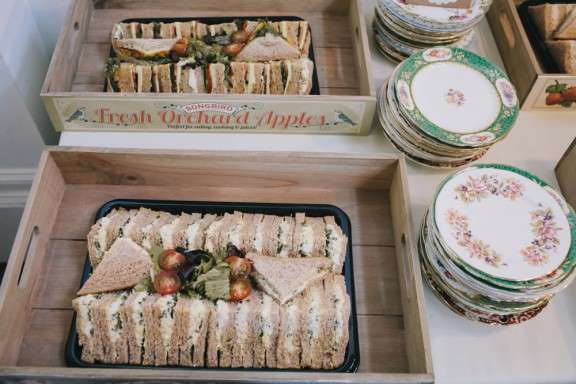 Wedding catering doesn't have to be all about a three-course sit down meal. There are many catering companies offering really unique options such as portable woodfire pizza kitchens, taco trucks and baked potato bars. And don't forget about dessert too. How about an ice cream trike, a candyfloss vendor or a candy apple station?! My friend London Bride did an amazing blog post on some of the coolest options in the UK so be sure to have a nosey and her suggestions.
Think seasonally. Just like with flowers, food that's in season will be much more delicious, fresh and affordable than anything that has to be shipped in overseas. Also consider sourcing your ingredients locally if you'd like to support growers and producers in your area. Farmers markets and local independent restaurants are a GREAT place to start!
If you really want to save money, how about having pot-luck catering? Instead of gifts, ask your guests to bring their signature dish. This will make for a yummy and truly unique culinary experience!