It was a hotly contested battle but I'm pleased to announce that after 20,000 votes (!) that the next Rock n Roll Bride intern is…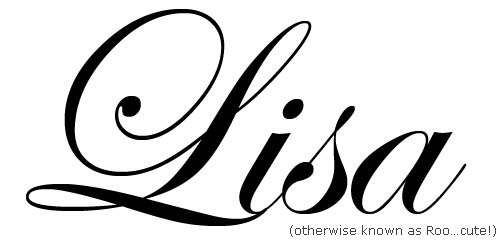 Congratulations Miss Roo, I very much look forward to getting to know you and sharing your (sure to be) awesome wedding planning story with the readers of Rock n Roll Bride.
Roo & her fiance Lamb are right at the beginning of their wedding planning so I know we're going to have loads of good stuff to read about! I have to say I'm super excited to see which suppliers they book and all the awesome DIY projects that I'm sure they're going to get stuck into too…
Roo & I are actually going to meet in actual real life on Wednesday too (and I'm bringing a photographer friend with me to capture it.) I'm so excited!! From what I know about her so far I think she's all kinds of awesome and we're going to be BFF's for sure.
Roo will be writing a monthly column for the blog (for now…maybe more if y'all want it or she comes up with any extra ideas!) which will be posted on the first Monday of each month…and as today is the 1st August I thought I'd throw her in at the deep end by sharing her first post right now.
We are also yet to come up with a nice catchy title for Roo's posts…like how Alice became Alice in Weddingland…Can you help? Comment below if you've got any bright ideas. My idea of "Roo says I Do" made even me want to die inside with it's cheesiness.

Welly, welly, well. When I sat and wrote my application to Kat a few weeks ago, I of course had hoped, but certainly not expected to be sat addressing you all now as her brand new intern. Lamb actually asked me, "aren't you excited to have your words and thoughts read by thousands of people?" Let me tell you, the only word for it is ludicrous. Last week's voting process was both stomach churning and exhilarating, and I'm certain that I've accrued several more grey hairs than usual (plus, it wreaked havoc with my quitting-smoking regime).  Besides reading some fabulous words of support from total strangers here on the blog (thank you, each one of you, you gave my ego a fantastic boost) my favourite part of last week by far was getting to "meet" and have a natter with some really outstanding individuals. To name them outright would merely omit the many other outstanding individuals who took the time to read and vote for my application, so I hope my powers of e-telepathy are working today and that you simply know who you are.
Of course, I simply must extend my gratitude first and foremost for Kat. When we heard that the voting had ended, I wrote my immediate impressions on the whole experience to date over at my blog. There, I expressed being humbled by everyone who had faith in me and the vision that Lamb and I have for our wedding; that warm, fuzzy feeling started with Kat from the moment she shortlisted me, and has been an unstoppably-spreading force ever since. I am excited by the prospect of making a new friend in my new "boss", and by all the doors, windows and cat-flaps of opportunity she could open up for me as I share this dizzying experience with you.
All that remains for me to do is give you a little heads-up on my not-so-distant future posts, and introduce our story properly.