I actually saw Rosie & James' wedding in the archives of Adam, of Viva Wedding Photography's, own blog. I dropped him a line to say I was sure another wedding blogger must have featured it when he first published the photos, but just on the off-chance…and to my utter surprise he said they hadn't! I have to say, I was thrilled. This wedding has a serious amount of cuteness. The wedding may have taken place in 2009, but it's still hella inspirational!
The laid-back wedding was held in West Hill Hall, Brighton. "They're a funny little village hall, in the middle of the city," Rosie told me. "They put on riot grrrl shows and underground music events in between yoga classes and coffee mornings. They didn't have a licence to hold the ceremony but we persuaded them to apply for one so that we could do the whole event in one venue. We paid for the license ourselves, but it was still cheaper than hiring a proper wedding venue, and the hall hold onto the licence for 3 years so hopefully lots of other people can have cheap weddings there too."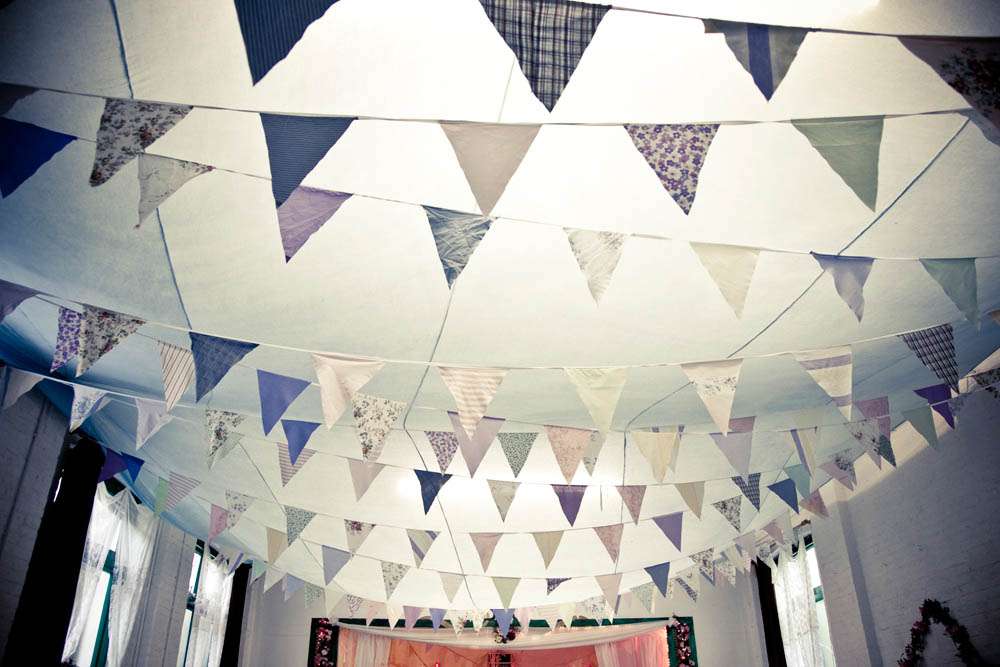 The couple wanted to do things on a budget and the bride wore a dress which she'd bought 10 years prior for just £20! Her headpiece was a battered Victorian orange blossom headpiece from eBay, which she re-gilded, covered with antique milliner's flowers and attached a Victorian tambour lace veil to it. "I had a secondhand 70s dress that I'd never worn. My look has never been groomed and minimal so I embellished it by sewing on as much extra stuff as I could – we called it Bridal Buckaroo. There was loads of Victorian and Edwardian lace and antique enamelled buttons from eBay. It was held together with safety pins inside because I didn't have time to finish it. In my head it was going to be an amazing confection of perfect seams and antique silk but I was so busy making bunting and tablecloths that I didn't start the dress until a few days before the wedding so it looks a bit rough round the edges. I also made Edwardian silk underwear out of old bits of lace and trimmed it with antique ombre ribbon rosettes, and repaired a broken Victorian corset. I was still sewing it altogether an hour before the wedding."
The wedding party also wore homemade and thrifted outfits. The bride's niece had an Edwardian white lawn dress with crocheted lace panels from eBay and the adult bridesmaids had homemade cotton dresses which the bride made, "They weren't my best work!" she laughed.
DIY was also a huge part of the wedding – from the cake, made by a friend, and the flowers collected the morning of the wedding from a local flower stall, the couple managed to pull off a lot themselves. They also made their own stationery, the inspiration of which was an old piece of sheet music called 'Wedding Of The Rose' that Rosie found in Oxfam then scanned and made the invites from the pattern.
The catering was helped along by friends and family as well. They asked everyone to bring their favourite picnic food to share instead of gifts. "We had an incredible buffet with vintage china, we had so much leftover food that we took it on our honeymoon and had sausage rolls and cakes every day for lunch. We barely had chance to eat anything at the wedding but the leftovers were great!"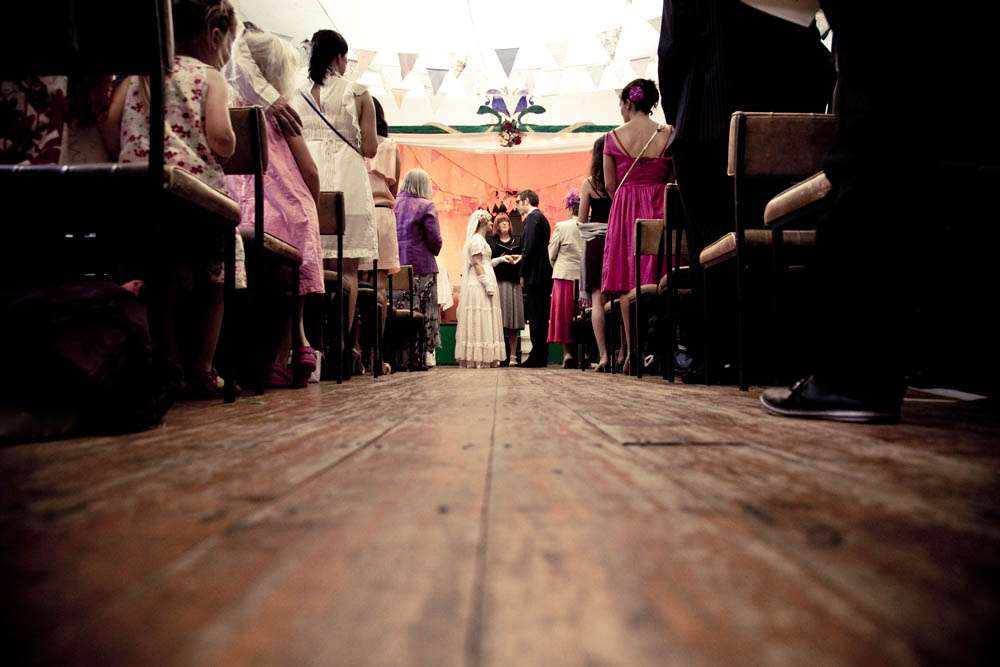 To decorate the hall, the couple spent months trawling eBay, charity shops and jumble sales. "We collected net curtains, fake flowers, old sheets and bits of china and cutlery," Rosie continued. "We dyed the sheets for tablecloths, made patchwork net curtain drapes to disguise the less attractive corners of the hall, did tacky flower arrangements in old Royal Wedding mugs and I handmade 400m of bunting from old clothes and scraps of fabric."
"I also wanted to find a way to use lots of bits of old ribbon and haberdashery my Granny had given me, so really my inspiration came from finding strange old things and working out how to incorporate them. I had Charles Dickens' Miss Havisham at the back of my mind – the dusty, rotten lace and cobwebs (probably a bit of my teen goth resurfacing). Almost everything we used at the wedding was secondhand. Someone else got married with our wedding rings, and someone else had worn my veil and used the cake knife. I really like the idea of stuff having a life and a story before it comes to you."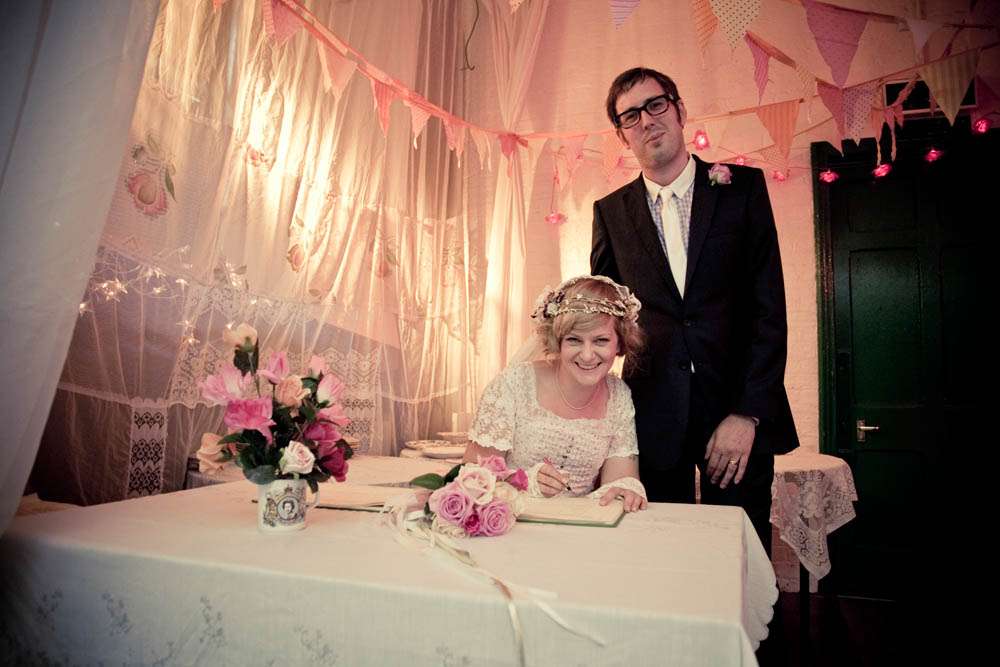 "We didn't care about making sure our table confetti matched the hired Rolls Royce, we just wanted an old-school wedding in the village hall, with loads to drink and plenty of foolishness. We both love car boot sales and charity shops, and I've always made my own clothes and things out of secondhand tat. I don't believe in buying something new when you can make it yourself, or get a more interesting version secondhand. Loads of the stuff we used was past its best, and it was nice to resurrect it and give it a new purpose. Also, on a practical level, we thought it would be madness to spend £20,000 we didn't have on a luxury wedding package when we should be saving up for a house deposit."