Wedding photographer David McNeil and I have been friends for a long time, waaaay before I started my blog or he started shooting weddings. We worked together at the shopping channel and having someone, basically alongside me for the whole time I've run my business, has been pretty amazing. We've advised each other (David is notoriously brilliant at advice!) and seen each other grow into our businesses and make a success of our passions. It's been pretty magical really.
We've shot together, we've traveled to Vegas together and we've learnt a serious amount of stuff about this crazy little industry of ours together. So, who better to interview this week than the man that I've seen start from diddly squat and grow into his business like a complete and utter pro?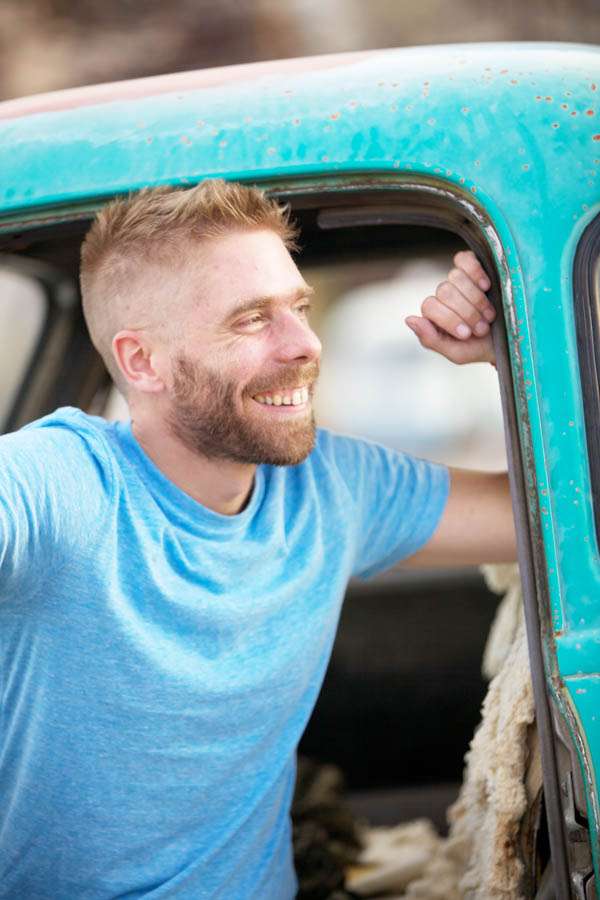 Photography Credit: Devlin Photos
So David, can you tell us who you are and what you do? How did you get started as a wedding photographer and what stage of your business are you at now?
Hello Green Room readers!  First of all I'm so honoured you asked me to be part of The Inspirations series.  You've featured so many amazing people that it's extremely exciting to be included amongst them.  First and foremost I'm a wedding photographer shooting weddings all over the UK (and some further afield!) but during the week, when I'm not editing or designing albums, I teach photography workshops with The Trained Eye.
At high school I loved art, and wanted to be an artist.  There was one problem though, I could not draw or paint to save myself.  My art teacher didn't see that as too big a problem and encouraged me to pick up a camera, get in the dark room and see if photography was the outlet for me.  I spent many Friday afternoons processing my film and there my love of photography was born.  I studied photography at college for a year before embarking on a university degree in Film, TV, and Theatre Studies.  Slowly my camera began gathering dust…
Then, after my move to London to take up a job at shopping channel bid tv (I believe you are aware of that particular channel Kat!?) I stupidly left the front door of my house open and was burgled.  Amongst other things, my Pentax SLR was stolen so I replaced it with a dSLR, embraced digital, found flickr, learned Photoshop and eventually started taking portraits of colleagues who worked at bid tv.
Around the time I started wanting to take things further and start shooting weddings, a brown haired girl I worked with called Kat Williams was planning her wedding, and had one of those wedding blog thingys some brides document their progress with.  She became the perfect muse for me to start taking wedding orientated images and as she morphed into Rock n Roll Bride, so too my business started to take off at the same time.   Eventually I left my job and so, here we are today!
What inspires you as a photographer, a businessman and a person?
Gosh – where to begin..!  One of the reasons I chose wedding photography as my business is that I grew so bored of shooting inanimate objects.  I wanted to shoot people and I guess what inspires me is finding out about people and understanding them, and their relationship through the camera.  Shooting models is easy, but finding the true beauty inside someone who doesn't have their image taken every day is really what motivates me.  The feeling I have when I find that perfect spot of light, and I am able to find real happiness in someone's eyes is one of the most satisfying parts of our job.
Photography is about freezing time and I feel so privileged I turn up at a wedding with my camera and record one of the most significant days in someones life for them.  Knowing that my images will be looked at for years, and become a part of the family history is awe-inspiring when you think about it.
As a business, my main inspiration is to keep on being able to do a job that lets me keep control of my life.  I'm not here to make a fast-buck or churn out weddings like a conveyor belt.  I'm lucky that, after 4 years of working hard, I can start to see the real lifestyle benefits of being a self-employed wedding photographer.  I'm always looking at ways to use my time efficiently so I never let my business get me down or overwhelm me.
Equal in weight to being the best wedding photographer I can possibly be, is being in a position to travel and see all the world has to offer.  I'm now able to take months off in the winter and pursue that dream.   It's something that wouldn't have been possible in my old job, and something I am so grateful for and never take for granted.
Your images are very distinctive – fun, fresh and vibrant! I could imagine this isn't something that 'just happens' when you meet a couple and put them in front of your camera…
Thank you!  I love working with couples who are all of those things which naturally helps my images to reflect that a lot.  One of the most difficult aspects when training new photographers is helping them understand that yes, it's so important to have great technical knowledge of your camera but that often it's that little spark that your personality brings to the image that turns it into something really special.
I think the most important way of bringing out the fun side of people is simply to be fun yourself.  I never try and hide behind the camera, and am constantly engaging with my couples.  I'm genuinely interested in them, and really, really want to capture how special their relationship is in the photographs.  If you're not naturally interested in people I imagine it must be a horrendously difficult job to do.  Turning up at a shoot or a wedding, and being able to connect so quickly with people you have barely met requires confidence and empathy in equal measures.