Just a little note to let you all know, I'll be switching over the majority of my coverage of The Blogcademy to The Green Room from now on. The reason being that I anticipate that these posts will be of most interest to the people reading the business and personal updates on my blog rather than the weddings. So make sure you're checking in here regularly if this kind of stuff floats your boat.
Portland & Los Angeles venues
Plenty has been going on behind the turquoise curtain since London. We did a soft launch of our next cities last month so the eager ones amongst you could plan ahead and now we're able to finally share all the nitty gritty details, starting with the most important thing – the venues!
I'm thrilled to let you all know that the Portland event will be taking place at the uber cool The Cleaners at Ace Hotel (and there's a photo booth in the lobby!) with the LA leg going down at Beachwood Studios slap bang in the middle of Hollywood. Oh yes, I can't wait to get me some of that Californian sunshine!
I'm also super duper head over heels excited that the always epic Made U Look Photography will be joining us in Portland to shoot the workshop and generally hang out with us all weekend. Y'all have to meet these ladies, they are seriously inspiring. If you are interested in film and experimental photography they really are the best of the best. We love them.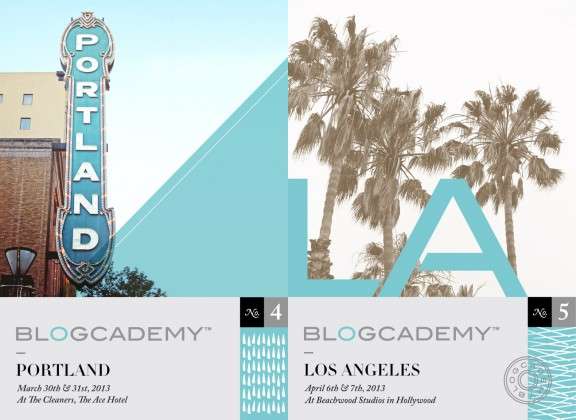 Curriculum changes
In other news, after some feedback from past Blogcadets, we've decided to switch up some parts of the curriculum for upcoming workshops. First off, we called upon Richard Wakefield of FX Films to shoot Lisa Devlin's photography talk in London so that we can offer it with your ticket purchase – you'll receive the password and can watch the video as many times as you'd like. Lisa is an award-winning photographer and has a lot packed into her talks and this will benefit you since some of the technical info can take a few viewings to get down.