Katy and Mark are my new best friends. No, but in all seriousness, their wedding looks like SO MUCH FUN and I think you're going to fall in love with them instantly. With a loose theme of colour and fun, a focus on it being a carbfest (we're talking fish and chips for and then Dominos later on) and eclectic and wonderful decor, it's a super beautiful and inspiring day by all accounts.
"We didn't necessarily have a set theme," Katy says, "but I guess if I were to name one, it would be colour. We just did what we wanted, with no set theme or real formalities (bar the ceremony)!"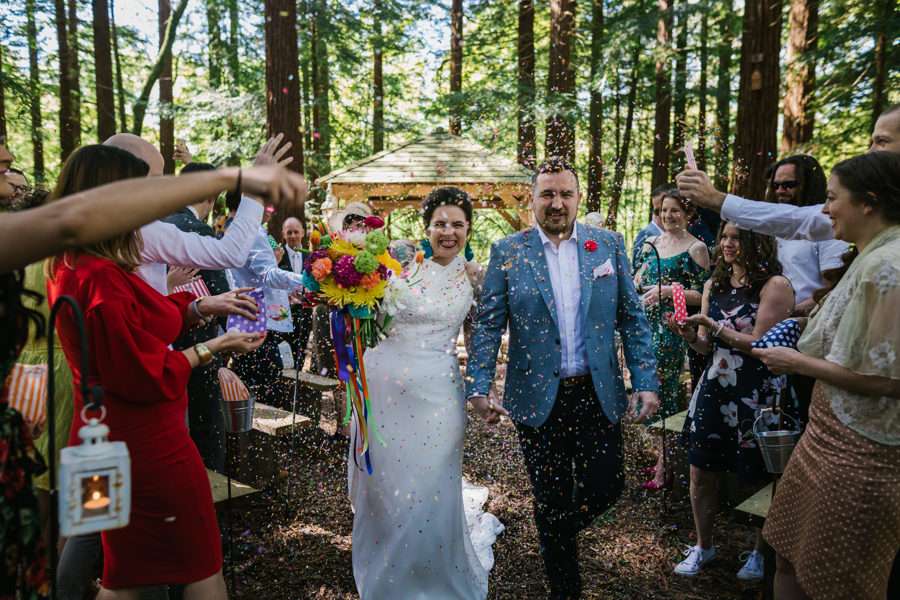 As Katy has worked in the wedding industry for most of her life, she had a head start on the planning. "I would say that it is amazing how quickly your budget/imagination can run away with you! When we first started planning we did get carried away and it started to resemble a fun fair – yes, with a waltzer and everything – but that didn't really sit well with our budget. So we started again and stuck to what we needed and what we wanted it to be about: Our close friends and family and food, of course –  lots of carbs! It was a total carb fest!" They ordered yummy finger food from M&S, had a fish and chip van for their main food and ordered Dominos pizza for their evening buffet.