Head designer of Rock n Roll Bride magazine, Shauna of We are Branch, just sent me through the first round of layouts for the new issue of Rock n Roll Bride magazine and I am dying. Glitter fonts and drop caps? Yes, yes, so much yes!
I thought I'd take this opportunity to not only share a few sneaks with you (I just can't keep them to myself) but to also let any of you with wedding businesses know that the deadline for advertisement bookings for this issue is THIS FRIDAY (10th).
If you are passionately running your alternative wedding business but struggling to get the clients you really want, then Rock n Roll Bride magazine can help!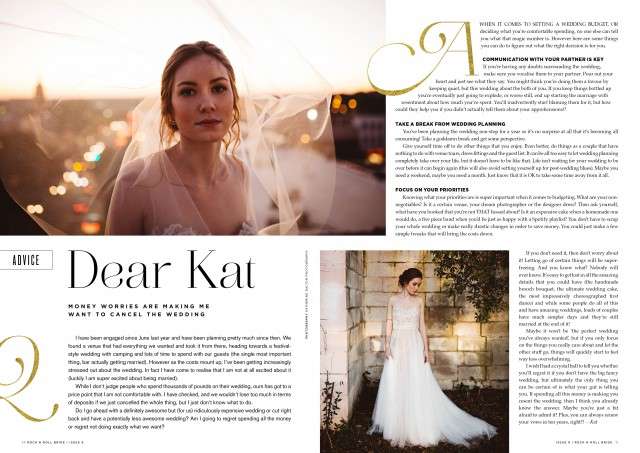 It's all very well and good me telling you how ace the magazine is, but I decided to ask the members of the Rock n Roll Bride Facebook group what they really thought of it. Their comments have made my heart explode with love and pride.
"I was struggling with wedding planning, every magazine had the same old stuff in and it just wasn't 'us'. We needed something where it was OK to be different and quirky at your wedding at that is exactly what the Rock n Roll Bride magazine is! My fella even reads it, and he loves how it's much more relatable to us and what we want at our wedding. We love the ideas and all of the different styles!" – Claire
"Besides having gorgeous content with drool-worthy graphics and page layouts, Rock n Roll Bride magazine has helped my self esteem. I see so many gorgeous brides of different shapes and sizes and I now see that losing tonnes of weight for my wedding should not be what I am focusing on! I adore the body positivity, and its helped me to grow and become more body positive myself. Besides this, it has helped me to become so much more relaxed about wedding planning and to enjoy it rather than to stress! I do think its one of the realest, most down to Earth and beautiful wedding magazines around!" – Charlotte
"An important part of planning our wedding was to use independent artists and retailers to provide us with those bits that make your wedding a little bit different. Rock n Roll Bride has not only inspiration for how to make things yourself, but includes many independent business owners who are living out their dream and put their heart and soul into everything they create. Without the magazine (and Facebook group) I wouldn't have found most of the people involved in making our wedding super unique!" – Chrissie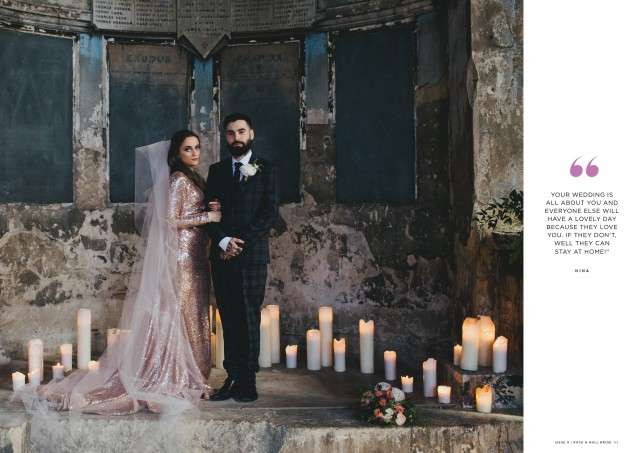 "Rock n Roll Bride has been essential in planning our wedding. Me and my partner are the complete opposite of 'contemporary' and when I heard of this magazine our prayers had been answered! We've managed to have the wedding we want from inspiration from REAL weddings that are in the magazine and on the blog. I've got every copy and when I'm stuck on an idea it's my first port of call. Honestly, Kat, we as your readers are forever in your debt for giving us the stepping stones in empowering ourselves to have the wedding WE WANT." – Yasmin
"Rock n Roll Bride is the only magazine that encourages couples to be authentic and really think about what is truly important to them and their marriage. Its a message of hope, and a fantastic community of people supporting one another. The diversity and the realness of each article and each feature really gives me and many others so much hope. Hands down the very best thing to read when planning your big day." – Amie
"Rock n Roll Bride is a magazine that really captures the diversity of brides (and grooms) today. There are so many ideas that you just wouldn't find in any other magazine. Rock n Roll Bride showed us that you don't have to settle for what is popular, traditional or 'normal' and if want something uniquely you, you can always do it yourself." – David
"I love that the weddings are achievable! You read about all these amazing individual weddings and feel really inspired. So many different ideas from all different types of people. I found my caterers from a feature in Rock n Roll Bride too!" – Charlene