For many couples, the idea of hosting their wedding in the winter is a really romantic one. A cosy day filled with log fires, twinkly fairy lights and hot chocolate, what's not to love? Not to mention the fact that you'll probably save a ton of money with off-season deals! But have you given much thought to how your photos are going to turn out? A winter wedding means less light and if you've been carefully curated inspiration boards with images of couples in summer fields or backlit with pretty sunsets during 'golden hour' (just as the sun goes down where the light is oh so perfectly pretty!) then you might be in for a bit of a shock.
Make sure you are looking for realistic inspiration for your winter wedding photographs by looking at photos that were actually taken in winter and in a similar location to yours. There is no point pinning pictures of a couple frolicking around the Las Vegas desert or casually strolling along the beach in California if you're getting married in Milton Keynes in December!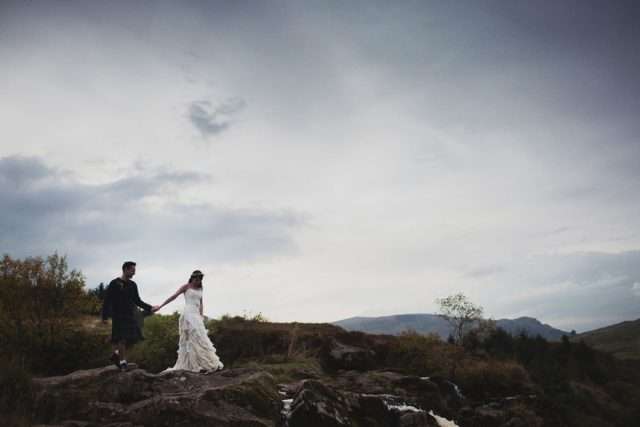 If you are having an indoor winter wedding, earn bonus points with your photographer by considering the lighting inside your venue. From a photography point of view, downlights and uplights are a real nightmare. They both create pools of incredibly bright light and if you're standing under them you're going to get really ugly shadows under your eyes and nose. If your venue has directional lighting that's fine, but I wouldn't recommend having the key moments (ceremony, speeches) with them right behind you. 
Late afternoon winter light can be very pretty, but the sun goes down quickly. Be optimistic in your planning process and set aside some time for your portraits. If you are getting married in the late afternoon, by the time it comes to doing your formal pictures, it will be dark. Any ceremony after 2pm really limits what can be done afterwards. In the depths of winter it starts getting dark as early as 3pm in some places, so make sure you remember that if you're doing the bulk of your planning over the summer when it's light until 10pm!