My plan was to have my top 5 posts from each month in this list, however after going through the archives I realised there was some stuff I simply couldn't leave out…so I broke my own rule and added in some extras. Seriously, if you're bored during this weird Crimbo Limbo week (what is it with the week between Christmas and new year? Time just seems to sloooow down) then go check out August – October's blog posts in particular. There is so many awesome weddings over there (if I do say so myself.)
July to December all up in your area…
July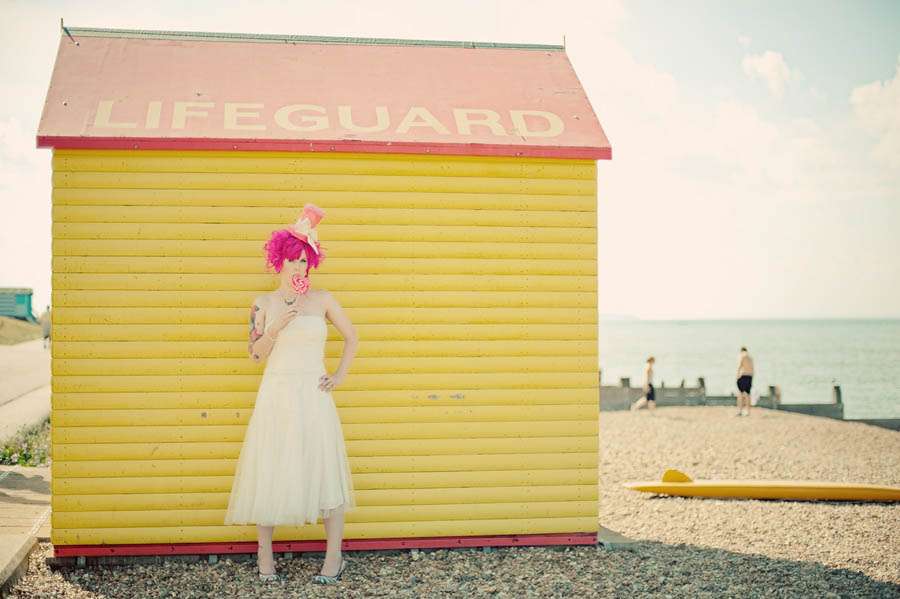 A Sunday Kind of Love – Unveiled
In July I was asked to speak at Unveiled – a conference for photographers – all about blogging, social media and doing things 'differently' in business. To say I was terrified is an understatement. I'd never done public speaking before and I was scared! However everyone there was super lovely and interested in what I had to say – plus I made some new friends while I was there! Bonus.
Mad Hatter Rock n Roll Bride ~ Candy Floss, Beach Huts & The Great British Seaside
For my summer photo shoot I enlisted the help of some girlfriends and we headed to Whitstable beach for a day of frolicking in the sun! The shoot was even published in Photo Pro Magazine – the power of working together and networking huh?! (pictured above)
Roll Up, Roll Up for Vishaka & Dean's Incredible Circus-Inspired Wedding!
Vishaka & Dean had a fabulously styled circus wedding. The decor and detail ideas really made this day stand out.
The MOST INCREDIBLE Alice in Wonderland Wedding Ever. FACT.
The title speaks for itself on this one. Alice weddings went mental this year and this one was my favourite of them all.
"I Can Make That!" – Roni & Dave's Awesome, Diy, Homespun Cute-Fest Wedding
The power of DIY! Do it yourself weddings are more common place than ever, however Roni & Dave's homespun, homemade wedding was one of the most beautiful.
August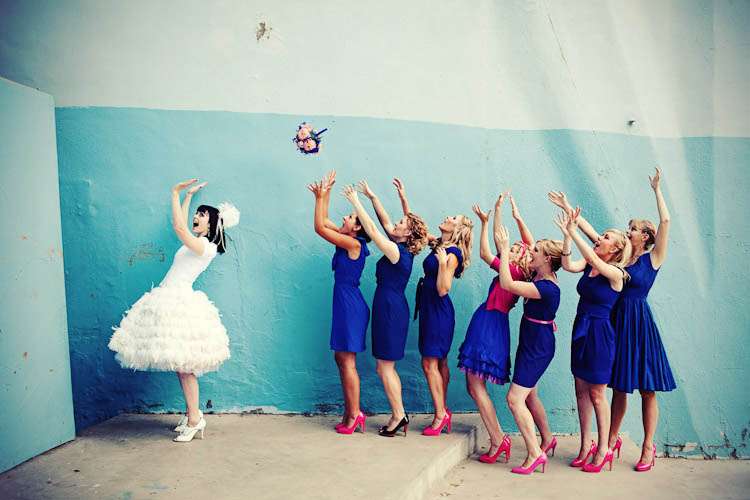 How to… Get the Best from your Wedding Photographer
Photographer David McNeil popped by to give you all some tips on how to get the very best wedding photographs out there.
What Exactly IS a Rock n Roll Wedding?
I often get asked how I choose the weddings to publish on Rock n Roll Bride. I have always stood by the fact that being a Rock n Roll Bride is not about having the most alternative or out-there wedding in the world. It's about planning a wedding that is a reflection of you and your partner and not what the wedding industry tells you to! In this post I explained my ideas a little further.
An Alexander McQueen Inspiration
This utterly stunning Mormon, South African wedding blew me away. (pictured above)
A Cotton Candy Sweet, Truly Scrumptious Brighton Wedding
Ant & Clare's sugary sweet Brighton elopement made my heart a-flutter…and Clare's  customised vintage dress and DIY shoes were like no other!
Rock n Roll Hearts & Paper Cranes – Lauren & JP's Perfectly Rockin' Wedding
Lauren & Jp's wedding and wedding video caused a bit on controversy over on her own blog (seriously, have people got nothing better to do?)  but their wedding was certainly one of my favourites of the year.
The first of many! I've organised industry get together's in the past but this party was noting short of epic! So popular was my little meet in fact that I had to start turning people away because the venue wasn't big enough! Over 100 of you turned up to eat cupcakes, drink cocktails and mingle with the Rock n Roll glitterati…and yes there will be another next year…with a bigger venue!
How to…Have a Perfectly Imperfect Wedding/Life
One of my favourite and most honest personal posts of the year. Sick of feeling like a failure as a person because my life didn't reflect the lives I saw of others online, I wanted to lay my heart of the line and share my feeling with you. I was more than thrilled with the response from you lot, a the fact that I'm actually not alone in feeling like this!
September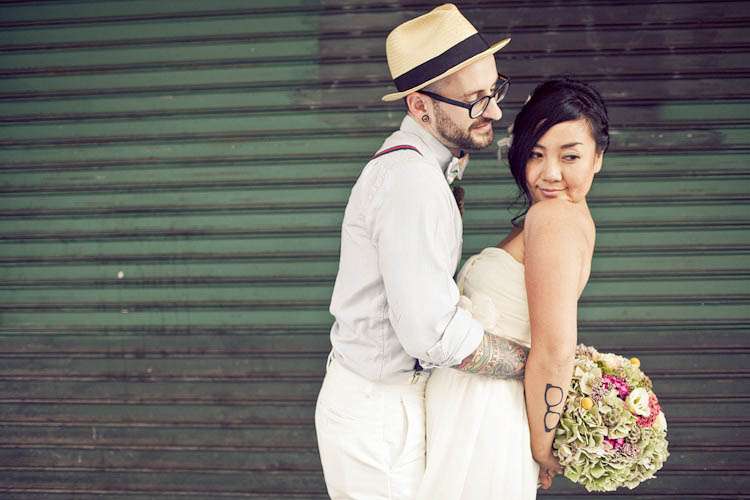 Have a Wedding that is Perfect for YOU – Greg & Michelle's Low Key, Homespun & Family-Focused Wedding
Greg & Michelle had their reception at Greg's Grandmother's house. There was no sit down meal, no dancing, no cake cutting…but it was perfect for them. THAT is what makes them one of my Rock n Roll weddings of the year.
Kaori & Alex's Multi-Cultural, DIY-Fabulous, Vintage Bohemian Wedding
Incredible fashion, style and awesome tattoos made Kaori & Alex's wedding an absolute joy to publish. (pictured above)
"We got married after spending just 12 days with each other…"
An inspiring story of love at first sight and an awesome Vegas wedding.
A Kitschy, Quirky, Vintage Wedding
Vintage weddings were everywhere in 2010, but Lindsey & Adriano's was the best of the bunch.
"Yes, You CAN have a Rock n Roll Wedding!"
A guest post written by The Bowie Bride addressing the issue, "Will my wedding be Rock n Roll enough?" Simple answer – YES!
October