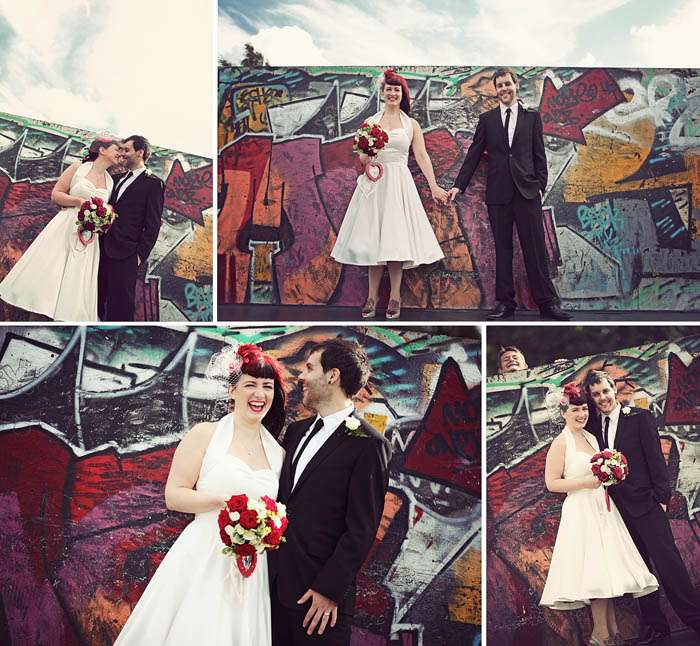 Photography Credit: John Day Photography (you can see the full wedding on this blog)
Hey Kat!
My name's Rachel & I just want to start by saying your wedding blog is awesome!
Also, I need your help! My fiance and I live in Australia and are planning to go to Vegas to get married in the little white chapel. I wanted your opinion and advice on wedding dresses. I wanted something stylish & Rockabilly but also not extravagant as it will be pretty low key.
Do you have any advice on what i should be taking into account when choosing a dress? Also could you recommend me any websites on where to find alternative wedding dresses?
Thanks so Much Kat!
Love Rach
xoxoxo
Dilemmas like Rachel's land in my inbox every day but sometimes I'm not always the best person to help out. However, luckily for you guys, I have a strong and willing force of wonderful wedding experts on board as regular Rock n Roll Bride guest writers, eager to swoop in and save you! For Rachel's question, I called upon the expert eye of newlywed Anna of Anna and the Ring fame, to see if she could offer some dress-hunt advice. And she did…in spades!
♥ ♥ ♥
Dear Rachel,
Congratulations! Firstly, how exciting getting married in Vegas. It just sounds like so much fun! I am assuming you want to buy your dress in Australia and take it with you to the US? Yet just in case you fancy buying your dress abroad I have a few other ideas. Yes your dress may only be ever worn once (although personally I shall be ignoring this rule!) but that does not mean you cannot wear something spectacular for a great price. It is all in the details. It is all in time you spend looking. Think about your body shape and what suits you. If your wardrobe is filled with halterneck tea length dresses there is a reason. You they make you look good but more importantly they you feel good. That's how you want to feel on your wedding day. Or if like mine yours is filled with sleeved v necked creations you know what will make you happy!
I remember when I first started to look for dresses. It felt like a uphill struggle. I knew I didn't want a super traditional wedding dress. Some girls are just not destined to wear a strapless meringue! You mention Rockabilly and for me that conjures up visions of glamour, tea length dresses with oodles of pearls and the sweetest little gloves. For me this is the archetypal Rockabilly Rock n Roll Bride. Fabulous hair, fabulous accessories, fabulous style.
So I guess we should start by looking at white dresses?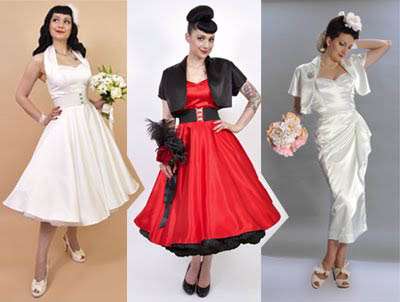 via Vivien of Holloway
The first dress is from the same maker as the dress at pictured at the top of this post . What do you think? They are London based but excitingly now have a finger in the Australian pie in Melbourne.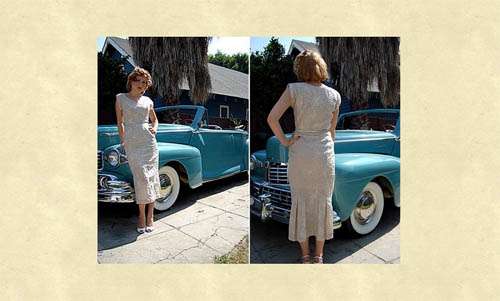 via Ozone Clothing
Perhaps my favourite white dress, I love this dress by Tarantula. It is just so glamorous but understated. Fabulous embroidery detailing for that extra vintagey feel.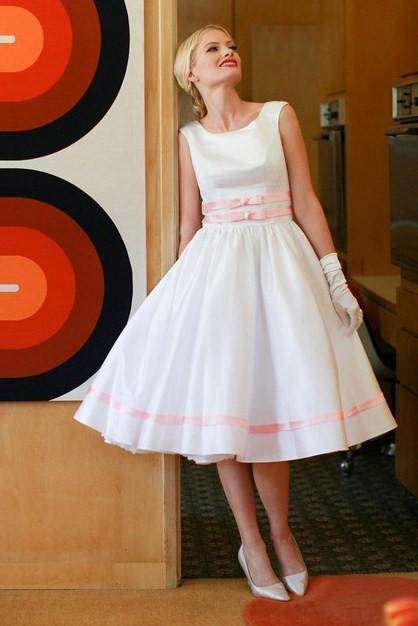 via Dolly Couture
Oooh Dolly Couture. Yummers. Based in LA but ship worldwide. Just look at the cuteness of the satin trim!