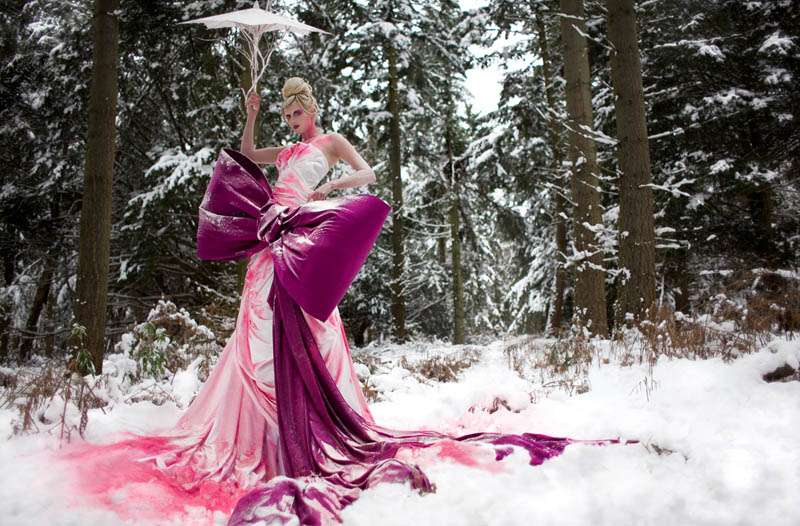 Credit: Kirsty Mitchell Photography
First of all I have to start by saying O.M.G how awesome is this image sent to me by Kirsty Mitchell (and yes the bow was really that big) If you haven't seen her work before then go check out her Flickr – amazing doesn't even cover it! The make up was done by Elbie Van Eeden and I just loooove it.
So what else has been going on? Well I've been frantically trying to get on top of all this bloggy goodness plus writing magazine articles (not that I'm complaining!) plus looking forward to the designer wedding show. On that note, thanks to everyone who entered the contest to win 2 free tickets. U used a random number generator to pick the winner and it is (dum dum duuuuuum)
"Oh my, now that my fiance and I have set a date it would be amazing to go to this and get some ideas!! Fabulous site by the way, thank you for providing something for those of us who want something different"
Woo. Send me an email with your address so I can get the tickets posted to you. Everybody else, if you still want to come tickets cost just £16 when bought in advance (and I think £18 on the door) so I hope to see some more of you there on the Friday.
Okey dokey, on with this show that we call Thursday Treats – hurrah!
♥ This week, the uber cool Dana of the Broke Ass Bride fame asked me to write a guest post for her, so I took the opportunity to contact some of my all time favourite wedded couples to ask them about their broke ass/rock n roll wedding days
♥ 20 minutes on a frozen pond among a field at sunset
♥ I'm loving these gorgeous shades of white
♥ Subtle hues & darling dresses
♥ Retro fabulous and awesome distressed paintwork
♥ Gothic ballet dancer
♥ Is getting more blog readers the right goal?
♥ Some favourite wedding elements
♥ Telling stories and creating fairytales
♥ This dress is a little bit to die for
♥ Amazing bride and groom cake (scroll right down)
♥ Camp Wing wedding
♥ Flowers & fashion – coat shoes, dress. I love it all!