Do you watch the BBC Three show Don't Tell the Bride? When I was engaged I was pretty obsessed. Gareth and I would sit together to watch it every week and my favourite game was quizzing him over what he'd do if he had to plan our whole wedding himself.
Like many of you, I always wondered what everyone got up to behind the scenes – Did the bride really not have anything to do with it? (SURELY you'd be dropping hints like mad before you signed the contract?!) How much influence do the production crew have? And why do the boys always pick the wrong dress?!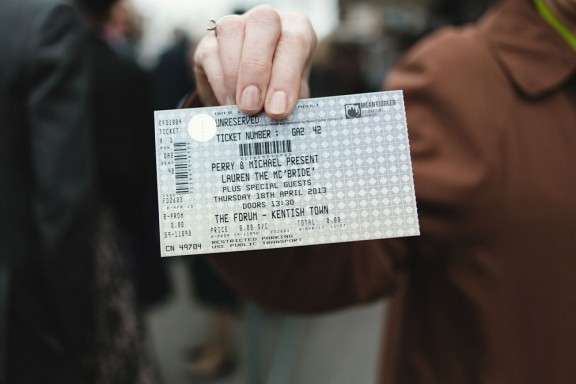 This is not the first time I've featured a DTTB wedding. Mike and Becky's wrestling wedding has graced these pages previously but by their own admission they didn't really enjoy the process. However when I saw Lauren and Perry's big day, and read that they really did enjoy doing it, I was keen to speak to them about it. Plus what could be more Rock n Roll than a gig themed wedding at one of the most iconic music venues in London!?
"We knew that we wanted to get married but that after having a baby and buying a flat there was never going to be a time when it was financially possible", Perry began when I asked what made them want to go on the show. "Lauren was going to apply for The Great British Bake Off but saw the application for Don't Tell The Bride and decided to do that instead. I didn't think we had much chance of being picked but when she read me her entry email I started to get really nervous. It was GOOD!"