So Roo's been a busy bee for the past few months. Not only has she been planning her wedding but she's been up to her cute little eyeballs (can eyeballs be cute? I think hers can!) studying for Uni exams and turning in coursework. So she's had a little break from writing for the blog recently but I'm pleased to report that she's back! And as she's now on her summer break, wedding planning is ramping up full throttle as will be the blog posts. HURRAH.
Over to you sweet cheeks…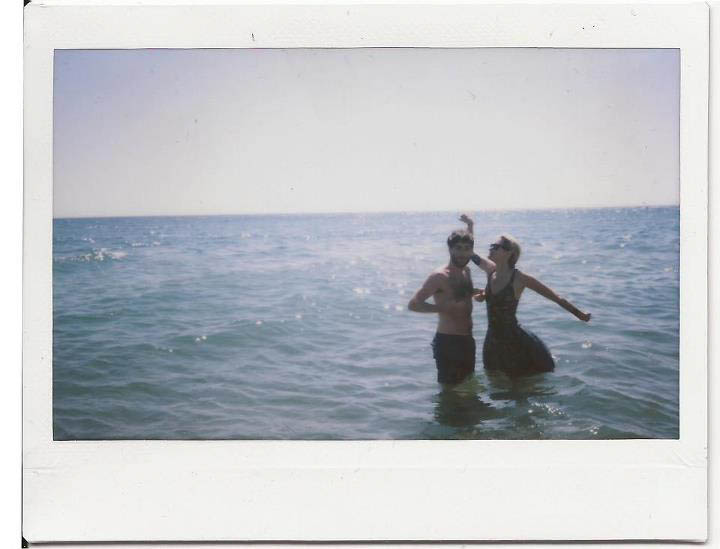 Oh yeah this photo of her and Lamb in the sea has nothing to do with the article but I stole it from her facebook because it's ace
One thing that's struck me as quite unexpected since getting engaged was the dismay I felt at choosing a wedding ring. Despite owning and wearing quite a bit of costume jewellery, I've never really worn anything expensive or precious before, and the notion of having to choose and buy something that I would wear for the rest of my life was daunting, to say the least. Couple someone like me – indecisive, picky, a bit scatty – with someone like Lamb, who'd never even worn any kind of ring before; we were quite the pair. Over the past six months we've gone on a few meanders around Brighton's South Lanes (home to dozens of jewellers) and tentatively looked at the window displays, pricing up metals, shapes, and stones. I tried to explain that the best thing to do was to go in and enquire first about ring sizing services (since Lamb doesn't know his size) and ask to maybe try on a few and see what suited and fitted. Lamb's primary concern was that of the 'hard sell'; that even after we stipulated to a shop assistant that we were only trying, not buying, we'd be expected to make some kind of purchase. Having next to no experience with jewellers, I couldn't correct him nor agree with him. As silly as it sounds, it was actually a little bit scary.
Besides our shyness, there was also a matter of taste. I for one am all about statement over status – that is, that I'm not so keen on 'bling' or expense, I'd much rather have something unusual. This idea was further cemented during a conversation last September with Feather Love's Noa, when I commented on how gorgeous her wedding ring is. She told me that it cost something like $20 from a market (correct me if I'm wrong Noa), and that when she saw it she just knew it was "the one". I hoped and expected that the story of my wedding ring was going to be the same.
My engagement ring, vintage from A Second Time. Photo taken the morning after we got engaged on June 22nd, 2011, in Berlin.
This was, after all, how I'd felt about my engagement ring. The moment that I saw it on my finger I knew no other ring could have been mine. My engagement ring was relatively inexpensive, but in my mind I've never seen a more precious and priceless ring in comparison. Ergo, it didn't ever cross my mind that our wedding rings should cost a fortune – I just wanted them to be ours. Besides, it's not like we have a fortune to hand anyway…