I think a lot of you will know Sassy already. She is an amazing wedding photographer and I'm really lucky because I get to share her incredible weddings all the time. A few years ago she also wrote an article for me about her own wedding photography experience which went kinda viral (read: it was one of my most popular articles of all time!)
So, when she told me that she and her gorgeous husband, Ian, were renewing their vows in Thailand I was really, really excited. Excited for them because they'd finally have the epic photographs they deserved, but extra excited for me and you because I knew she'd let me blog it!
Not only are these photos (by Emma Lucy and Neil Douglas), and the accompanying video (Chris Koch), some of the most incredible I've seen in a long time, but the love, emotion and THAT RAINBOW DRESS by The Couture Company (who else?) have completely blown me away!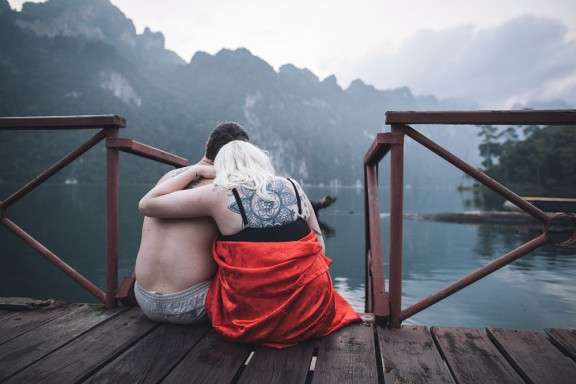 "I'm not going to dwell on the reason we first considered a vow renewal on our 5th wedding anniversary", began Sassy. "Yes, people did raise an eyebrow as if to say 'It's only 5 years!!' but hell, you know what, why shouldn't we celebrate every year!?"
"We decide to renew our vows at the one place we both love equally. Ian and I are quite different people (as chalk and cheese!) and don't often have the same opinions on anything, so when we both totally fell for Chieow Laan lake and Koh Sok national park I knew this was the perfect place for the renewal… after all it's paradise! It's hard to explain how this place gets in to your soul but when I haven't been in a while I start feeling homesick. Its special and magical!"