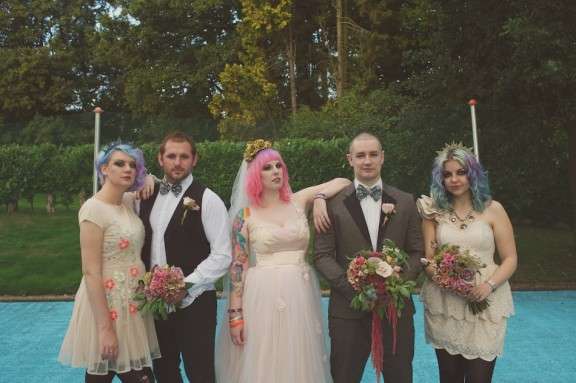 If you are a newlywed, a photographer or a wedding supplier and you would like to be featured on rocknrollbride.com or in the print magazine, we would love to hear from you… don't be shy! It is at the editor's discretion whether a successful submission is featured online or in print, however if you have a preference, please make it known when you email us!
We favour real weddings over engagement shoots and styled shoots, but we do feature all three. Boudoir is generally not our bag but if you have something really amazing and unique then try us. We like to be proven wrong as often as possible!
For bonus points, please take the time to read this post for more tips on how to get your submission really noticed before you send it our way.
Things we really love:
Happy, smiley couples in love.
Creative and beautiful portraits.
Colour!
Brides with attitude and a rockin' sense of style.
Wicked, unique wedding details (cakes, centrepieces, flowers etc).
Pets at weddings. The more the better.
Things we don't really love:
Selective colour. Never ever ever do it. EVER.
Dutch tilt. It makes us feel seasick.
Over-processed, inconsistently edited photos.
HUGE high res image files embedded into emails.
Super traditional, uncreative weddings.
Rudeness.
You will hear back, usually within two-three working days if your submission has been accepted or not. If it isn't please don't take it to heart! We receive a huge amount of submissions everyday so unfortunately we are unable to feature every single one.
Please send your submission via email to kat@rocknrollbride.com.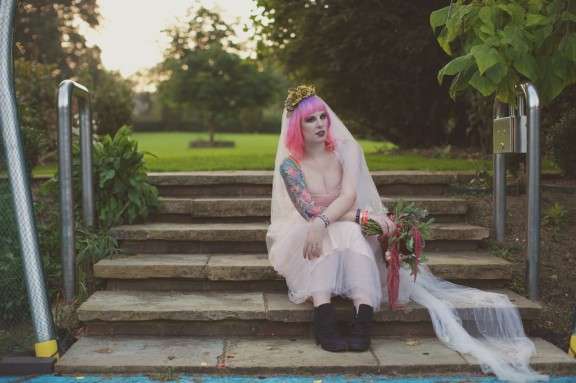 Image specifications
♥ Please send anywhere between 10 and 25 images for your initial submission. If the wedding or photo shoot is accepted I will then ask you to send me the full gallery.
♥ No watermarks please.
♥ Images should be low res for your initial submission and either embedded into the email or attached one by one. You can also send a link to an online gallery. No zip files please. If you would like submit via Dropbox please email us a direct link to the folder itself rather than just inviting us to a folder within Dropbox (as these can often be missed).
♥ Colour is generally preferred over black and white.
♥ Please include as many detail shots as possible (flowers, cake, centrepieces etc) and plenty of photos of the happy couple!
Information
Please include the following:
♥ The couple's names, wedding date and location
♥ A short paragraph or a few bullet points laying out why you think this wedding/shoot is perfect for Rock n Roll Bride and anything that makes it particularly stand out.
If your wedding or photo shoot is accepted you will be sent a questionnaire. Weddings can not be featured without this being filled in by the couple.
Exclusivity
Rock n Roll Bride will only publish weddings and shoots that have not been previously featured on any other wedding blogs or magazines. Please do not submit anything that is currently pending with another publication.
If your submission is successful and published, we are am happy for you to submit it elsewhere afterwards. We only require to be the first to feature something. We do not expect the images to be held back for any specified period of time after my feature. You are very welcome to publish the images on your own blog or website.
Permission to be featured from the photographer and the couple is imperative. Please get permission from all parties before submitting a wedding or shoot.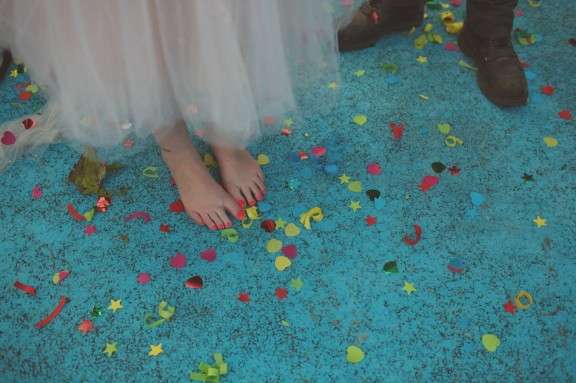 Wedding supplier featured posts
If you are a wedding supplier and you'd like a featured post, we'd love to hear from you. Please note these posts are paid. Further info on blog advertising can be found here.
Please include the following information in your email.
♥ Your name(s)/company name, your location and website address
♥ What is it that you do and why you feel you are perfect for couples planning an alternative wedding
If we do not feel the product or service you offer is suitable for Rock n Roll Bride we reserve the right to decline your request for advertising. On occasion we do accept products and gifts, however this does not guarantee a blog feature. We are unable to return any products once they have been sent.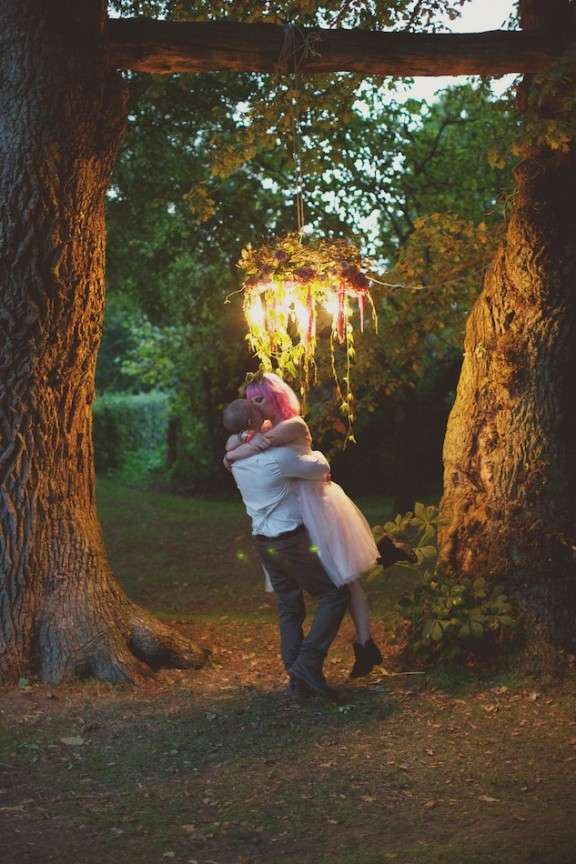 Guest Posts
We do not publish guest posts unless we are already BFFs or they are sponsored, however we are always looking for article submissions for the print magazine. If you have an idea for a print magazine article, we'd love to hear from you!
And finally…
Any wedding supplier featured on Rock n Roll Bride is entitled to an Approved Rockstar Vendor badge to proudly display on their own website. If you'd like one, just drop me an email!