Hi Kat,
I absolutely love your blog, I luckily came across it when I was looking unique wedding dress ideas. I really love all the vintage and short dresses your brides wear and I'd love to get something like that for myself. It's been quite a relief to see that not everyone wants the whole traditional wedding!
However, living in quite a remote location, all the wedding dress shops around my area only stock boring, traditional wedding dresses. Argh! My thought is that I wanted to try and buy a vintage style dress online. I've found a few great online shops through your site (Vivien of Holloway, Unique Vintage, Fur Coat No Knickers) but I'm a little scared of ordering such a big purchase online. I don't suppose you have some tips on how to make sure I order correctly? Style, sizing etc?
Thanks so much in advance and I really do love your site!!
Love Toni
A few weeks ago I received this email from reader Toni, so I asked my friends at Vivien of Holloway if that had any insider knowledge they could share…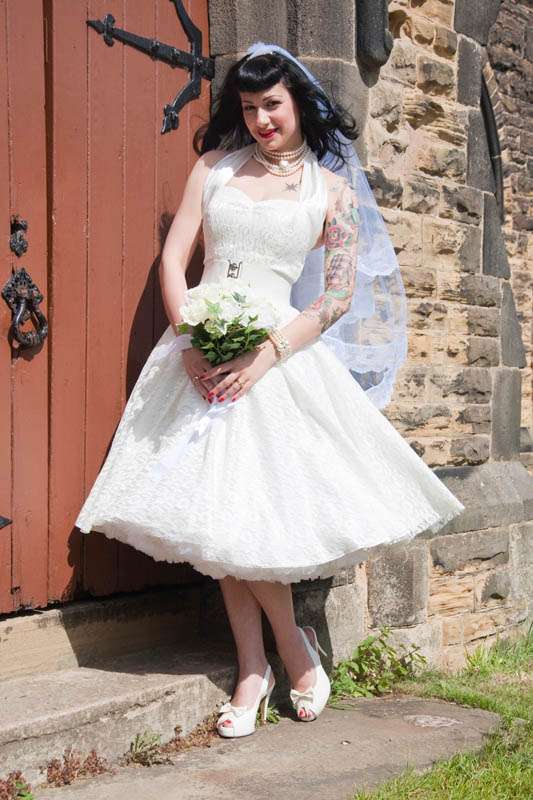 Photography Credit: Jazz Hans Photography
Model: Anna Fur Laxis
Buying your perfect wedding dress online can be a little bit tricky. But knowing a few tips and tricks for a perfect fit can make it a little easier. Here at Vivien of Holloway, we have sold countless brides their perfect gown, some from as far away as America and Australia, and we're always safe in the knowledge that they will look as good as they feel on their big day. So hopefully a bit of advice from us will prove useful!