Hi Kat,
My name is Sara and I just found your website. Wow I was so relieved I wasn't the only one who hated the idea of a cookie cutter poofy foofy wedding! Amazing site! I have always dreamed of a 50's style tea length wedding dress. I found one I love on unique vintage thanks to you, but here's my problem. I'm plus sized. Like say a size 26  plus sized.
I've been really ill for the last year and between taking care of my Mom (she had a stroke on my sixteenth birthday) and my illness, weight loss has been on the back burner. I'm set to be married November 5th of this year. I'm on a tight budget, but I just can't stand the idea of not having a wedding dress. Please please help me find one!
Thanks,

Sara, loosing hope in Georgia.
♥  ♥  ♥
I have been alarmed recently by the number of emails like Sara's that I've received from my readers asking for advice on where to look for plus sized wedding dresses. I've had so many in fact that I thought this was certainly a topic worth covering on the blog. I also read this article on Businessweek and was pleasantly surprised that there does seem to be the beginnings of a shift in the 'ideal' bridal look and size. So today I indulged my inner shopaholic and have done some fantasy dress shopping for all you curvacous ladies.
You know this already but I'm going to say it anyway, you do not have to be a size 0 to look like a supermodel on your wedding day. Your fiance is the luckiest man in the world to be marrying you – he knows that and so should you. So don't go feeling rubbish about yourself just because you don't fit into the dress shop sample sizes!
As someone that's be everything from a size 6 to a size 16, I know all too well what it's like to feel pants about the way you look…and to feel like you don't fit in with the rest of the world. But you know what, I'm hear to help and I've found some pretty damn awesome dress suppliers on my travels, all of whom want to make you feel fierce!
OK pep talk over. I spoke to some of my favourite designers to ask what they offered for plus sized brides and I'm pleased to report that I was inundated with responses! OK on with the shopping…
"Here at Vivien of Holloway we are renowned for our 1940's and 50's reproduction ladieswear, but we also a great place to head for Fifties style bridalwear. The Vivien of Holloway sizing is based on original 1950's sizes. Customers are recommended to come along the shop to ensure they get fitted correctly.  If you're ordering from home you're advised to measure yourself before ordering anything! Our sizes range from a 10 (which is about the equivalent of a high street 6-8) to a size 24 (available in circle dresses only)."
"For gorgeous plus-sized brides, we have white or ivory Halterneck Circle Dresses available, either in plain satin or covered in our luxurious lace. These all have a boned bodice with a satin halterneck strap and a full-circular skirt. This style is also available in a fabulous range of florals and polka dots, for the sassy bride in all of us! The dresses look exquisite when worn with one of our fluffy petticoats, giving you a glamorous 50's look!"
"Our largest size is our 24, which measure a 46″ bust, 38″ waist and 50″ hips."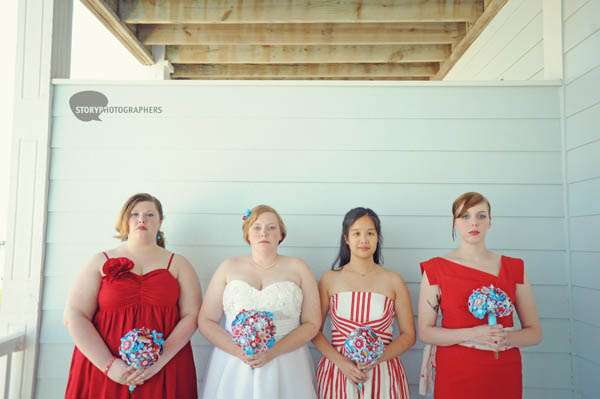 Photography Credit: Story Photographer
"We cater to plus sizes since all of our dresses are made to order! One of our recent brides sent us photos of her wearing the dress and you can see them here. We can make any of our gowns in any size, or we can replicate any style dress to the bride's exact measurements."