This contest is now closed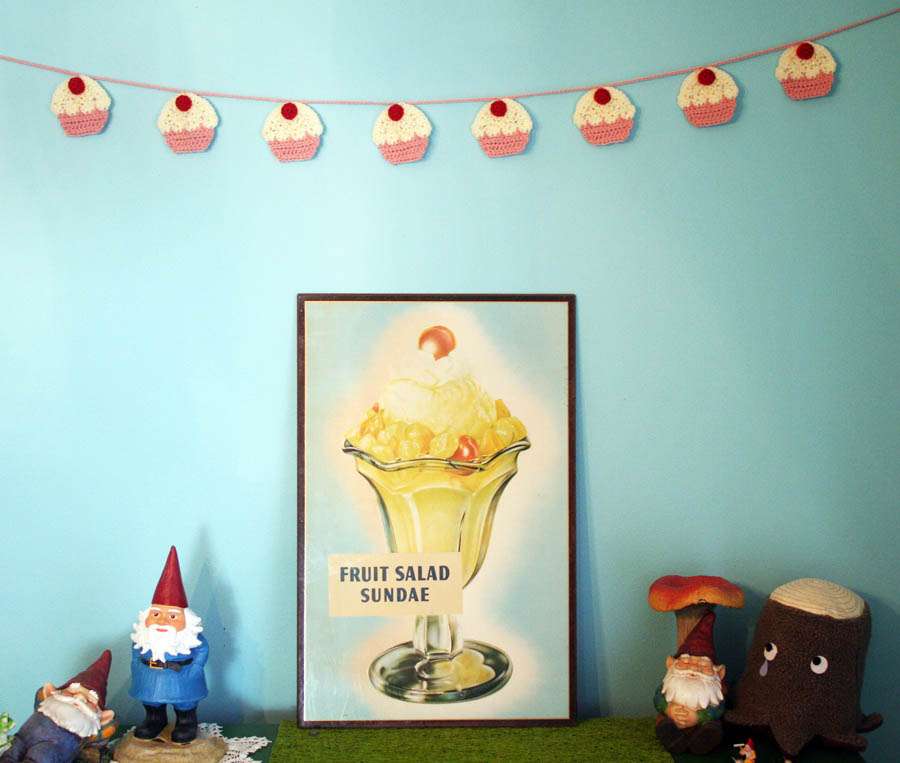 I have adored Twinkie Chan from afar for a long time. Her "Eat your cake… and wear it too!" motto kind of speaks to my sweet tooth-loving self you see! Her colourful and super kawaii blog has brought daily rays of sunshine into my life for quite a while now ad I'm pretty much jumping over rainbows with the excitement of sharing our little collaboration with you all today!
For those of you not familiar with Twinkie Chan, she is a crocheting marvel from San Francisco who has risen to fame with her cute and food inspired creations. She has made everything from scarf's, hair accessories and other wearable goodies from wool and her designs literally fly off the shelves as soon as she posts them to her etsy store. In short, she makes crocheting cool again! She's even released a tutorial book of some of her adorable creations, which got me thinking…
At the end of the year I was brainstorming some new ideas for the blog and, after seeing these adorable coffee cup cozies that she's just relased (and yes I did get one!) I knew I had to get this lady on Rock n Roll Bride…somehow.
So I emailed the multi-coloured marvel (we are also pink hair twins…another reason to love her) to see if she'd be interested in creating a DIY tutorial for my readers. I assured her that even though my blog was a wedding-related one, that my readers like anything BUT the usual wedding fluff, and that one of her awesome crochet creations would certainly fit in over here.
Behold…the created-especially-for-Rock n Roll Bride – cute as hell, crochet cupcake garland tutorial!
♥  ♥  ♥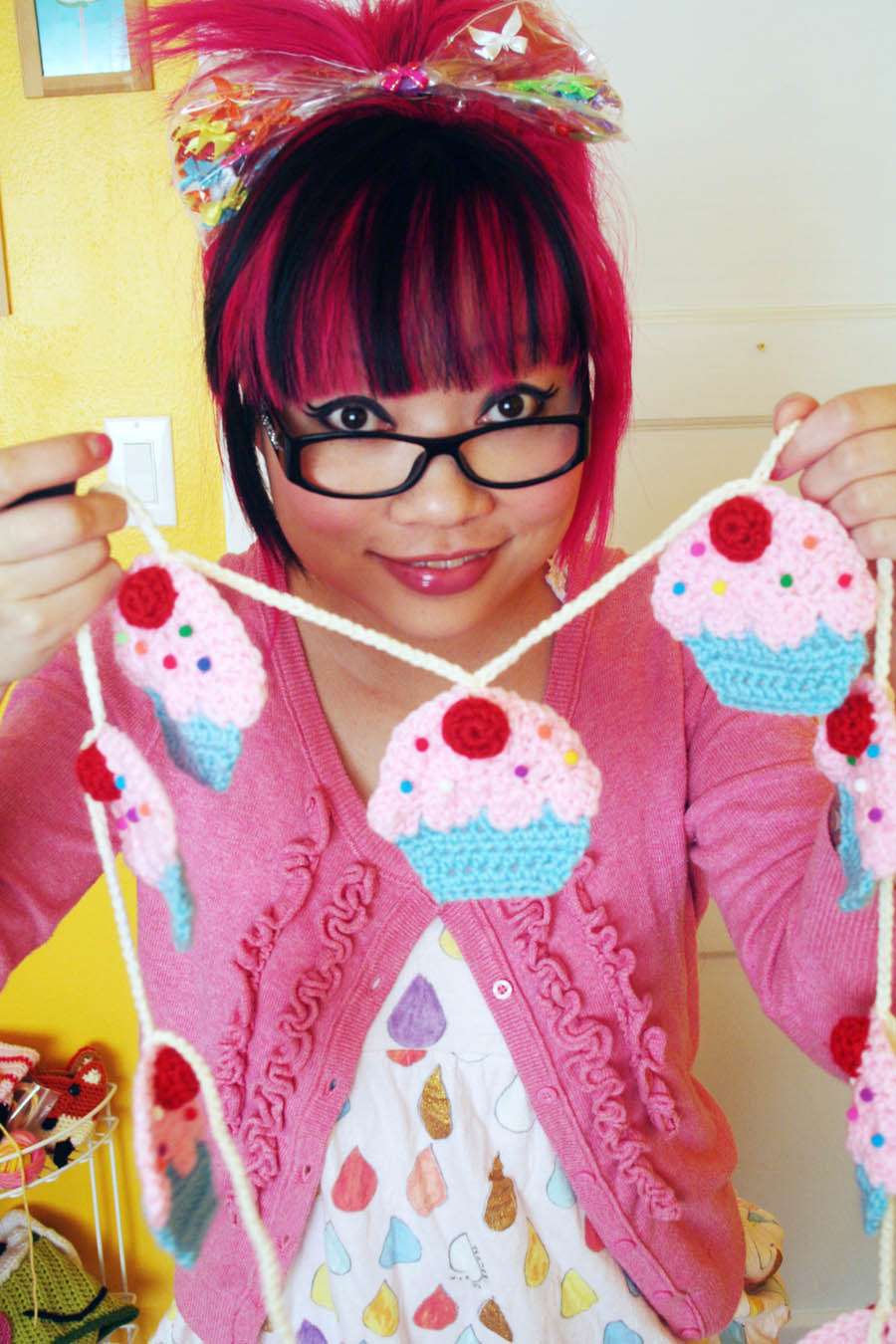 When Kat approached me to contribute a tutorial to Rock n Roll Bride, I was so honored, but also a bit confused about how I might translate a Twinkie Chan project into something fun for your wedding! With some brainstorming from the brilliant Kat, we decided to inspire you with some super cute cupcake garlands! Whether your special day is indoor or outdoor, these sweet little strings of sugar are sure to add a magical and personal touch to your wedding decorations. There are so many possibilities as far as color combinations and cupcake toppings that your garlands can range from quirky and goofy to charming and sweet. If you and your pals all know how to crochet, these garlands are a terrific way to meet up while creating something together for your wedding!
For the most part, you can crochet your cupcake garland using the same basic techniques in the Cupcake Scarf pattern in my book "Twinkie Chan's Crochet Goodies for Fashion Foodies: 20 Yummy Treats to Wear." However, we will be making a small change to the cake-bottom portion of the cupcakes in our garlands, not only to make them more light weight, but to also minimize any potential curling.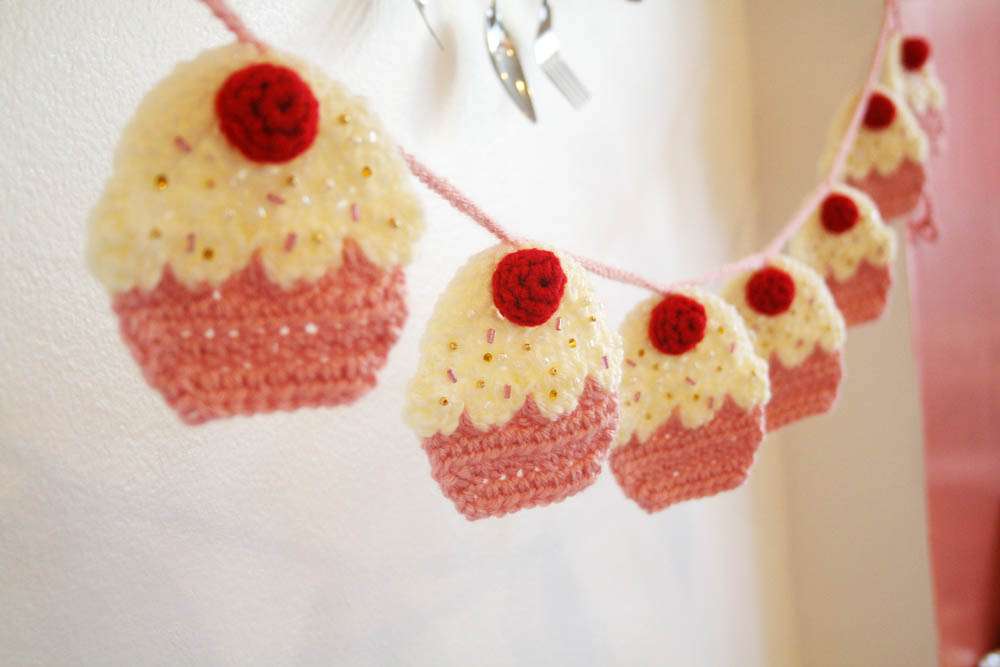 Pattern
You will need:
-An I hook (5.5mm)
-A ball of worsted weight yarn in your Frosting Color (FC)
-A ball of worsted weight yarn in your Cake Color (CC)
-A small amount of worsted weight yarn in Red for your cherries
-Optional: twine in roughly the same gauge as your yarn, for stringing your cupcakes
-An assortment of pom poms, beads, small bows, or cabochons, to decorate your cupcakes
In my sample garlands, I used Lion Brand Vanna's Choice yarns as well as Red Heart Super Saver.
Abbreviations:
Ch(s): chain(s)
Dc: double crochet
Dec: decrease
Hdc: half double crochet
Sc: single crochet
Sl st: slip stitch
St(s): stitch(es)