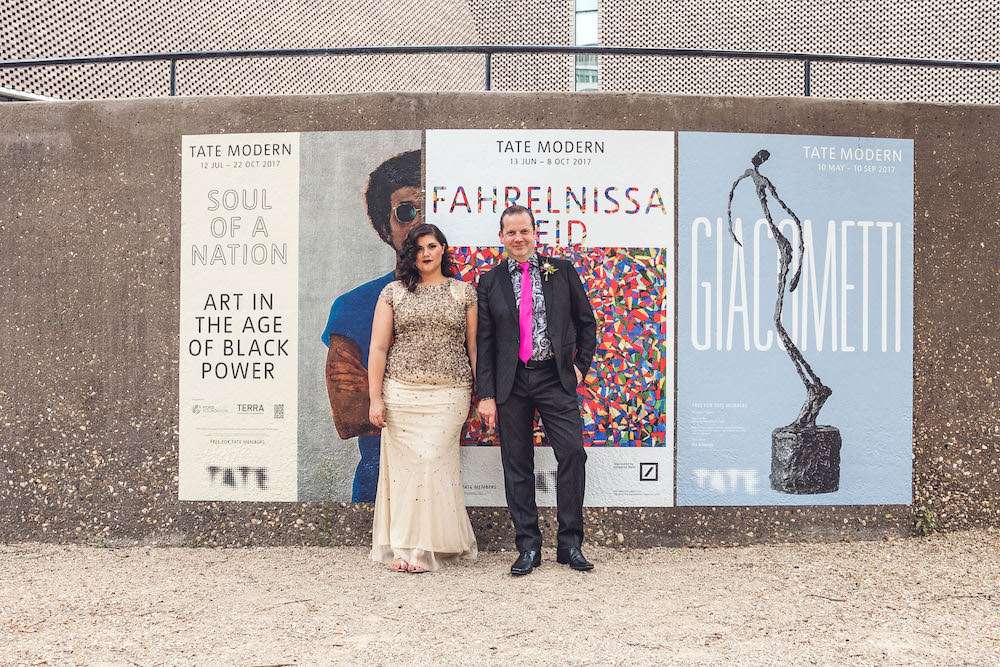 Taryn and Mark's day was a masterclass in urban cool with retro beginnings. As they're from different sides of the Atlantic, the location was super important to them and refined elegance shone through at their venue, the achingly impressive Refinery Bar, Bankside, London. They wanted their wedding to reflect the fab location as well as harking to some retro styling – and just look at Taryn shining like a film starlet in that metallic Badgley Mischka number and perfect berry lip. Be still, our beating hearts!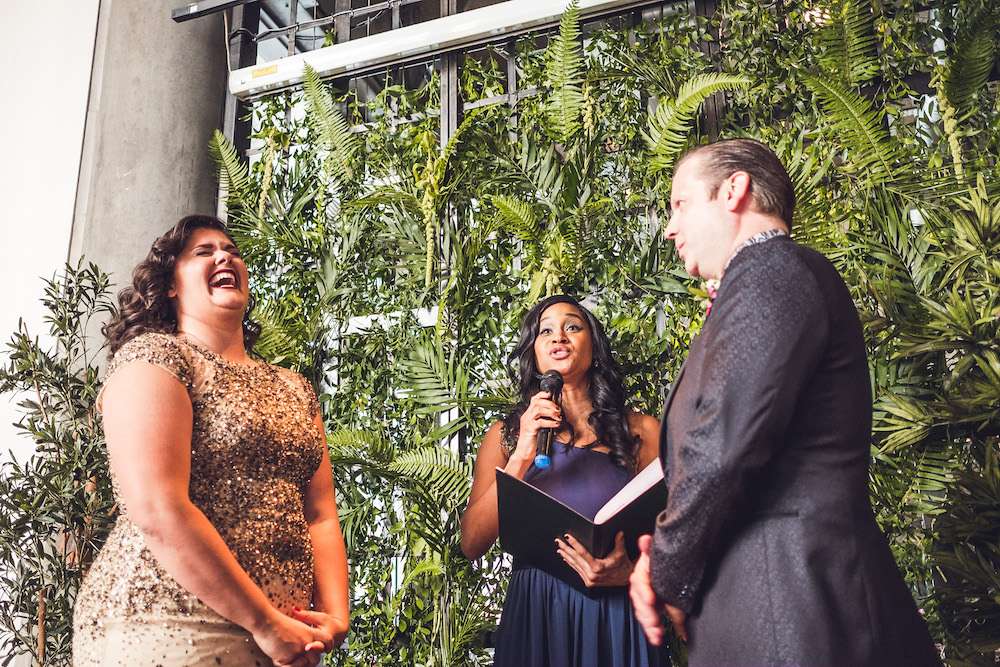 Taryn and Mark met for impressive rooftop views of London before making their way into their ceremony together. "We went for a ceremony that was brief, but very meaningful," Taryn explained. "It was officiated by my oldest friend Tessa, and featured readings by Mark's ten-year-old daughter, Astrid, and eight-year-old nephew, Digby." They said their vows in front of a lush foliage wall bursting with fronds of greenery which stood out amongst the slick industrial vibes of the restaurant's interior.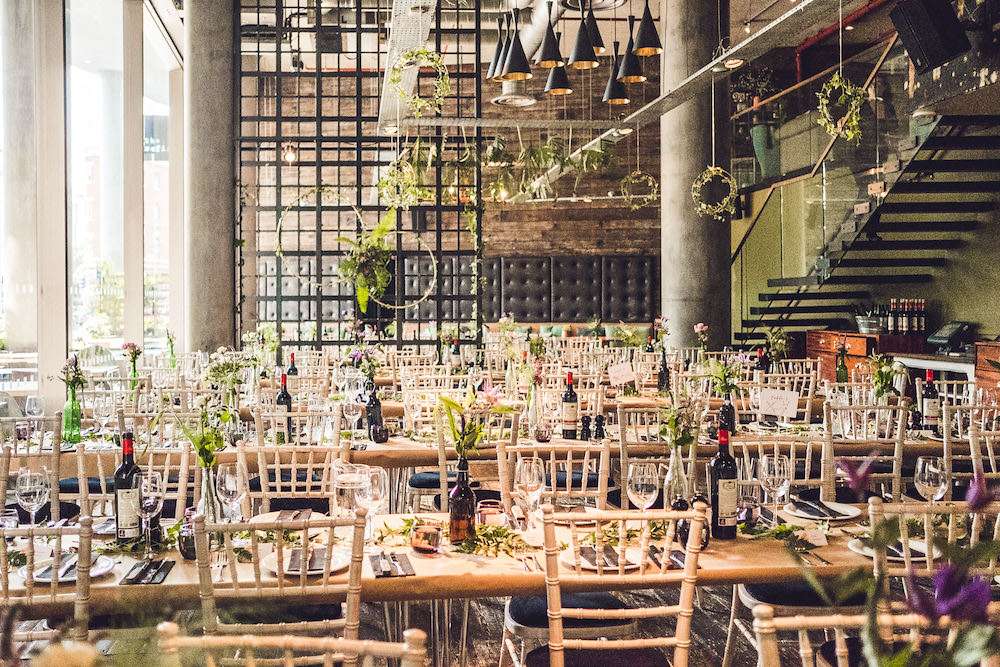 "Mainly, we wanted it to feel like a huge party in a cool bar with our nearest and dearest!" Taryn continued. "As I'm from the US and Mark is from the UK, we wanted to incorporate elements of both UK and US weddings; irreverent and humorous speeches (a UK tradition) and a fully open bar (a US tradition) it was! It also turns out that Americans aren't aware that the term 'wedding breakfast' isn't actually about a breakfast, which caused some amusing confusion…" Taryn and Mark made up for this with a sweet table besides the dance floor, comprising a mix of retro sweets from both the US and the UK courtesy of Mark's sister-in-law.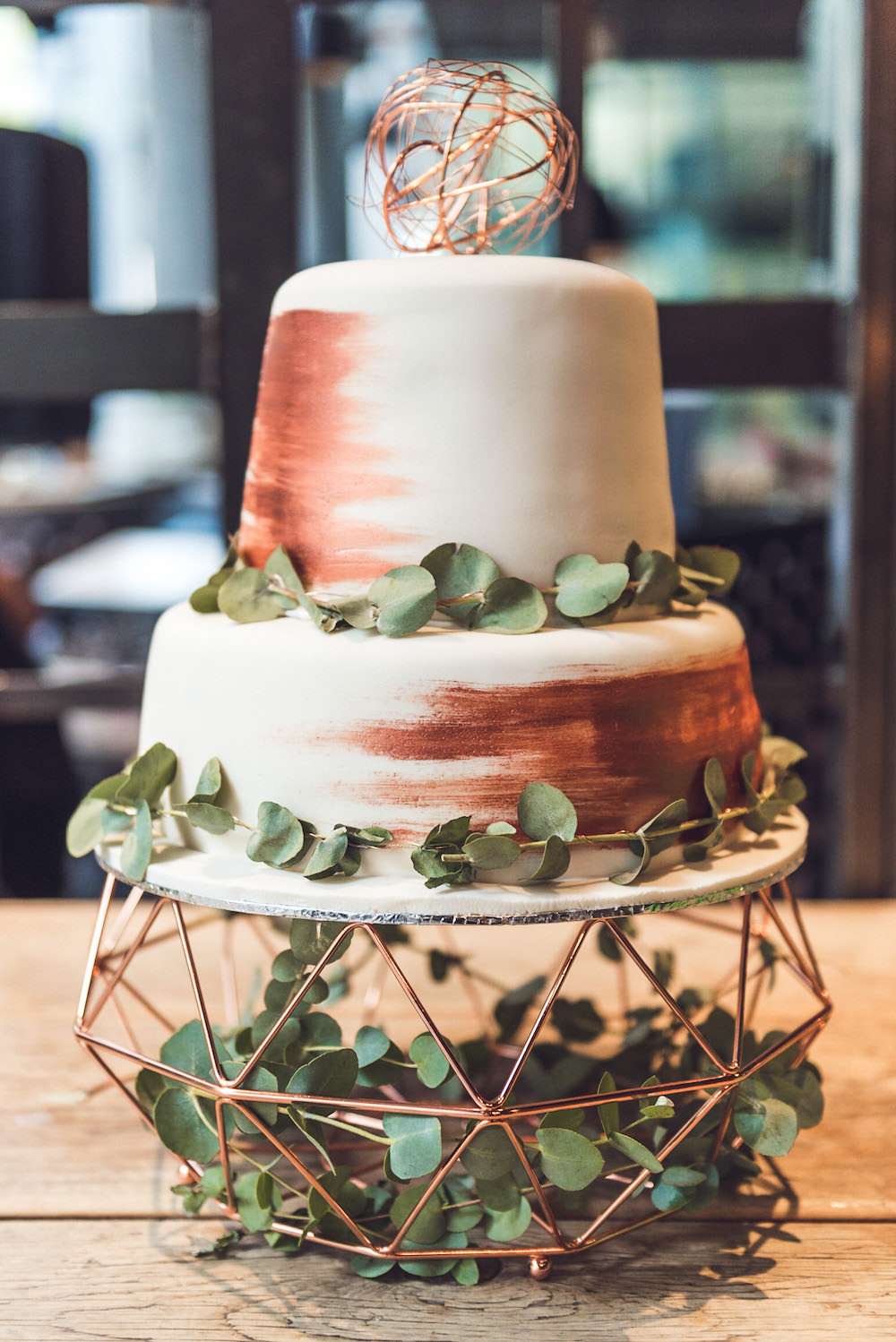 "Seeing our very culturally and geographically diverse family and friends mixing and having a great time together was our favourite part of the wedding. We were both DREADING doing the seating plan, but it turned out to be a lot of fun as we tried to profile the personality types of each of our guests to make sure each table was balanced." Taryn recalls.
Once they'd decided on this, the seating plan was illustrated with recognisable pop culture items and their transatlantic counterparts, including ketchup and HP sauce, hot dogs and sausage rolls, yellow NYC cabs and black London taxis, and Elvis and Bowie.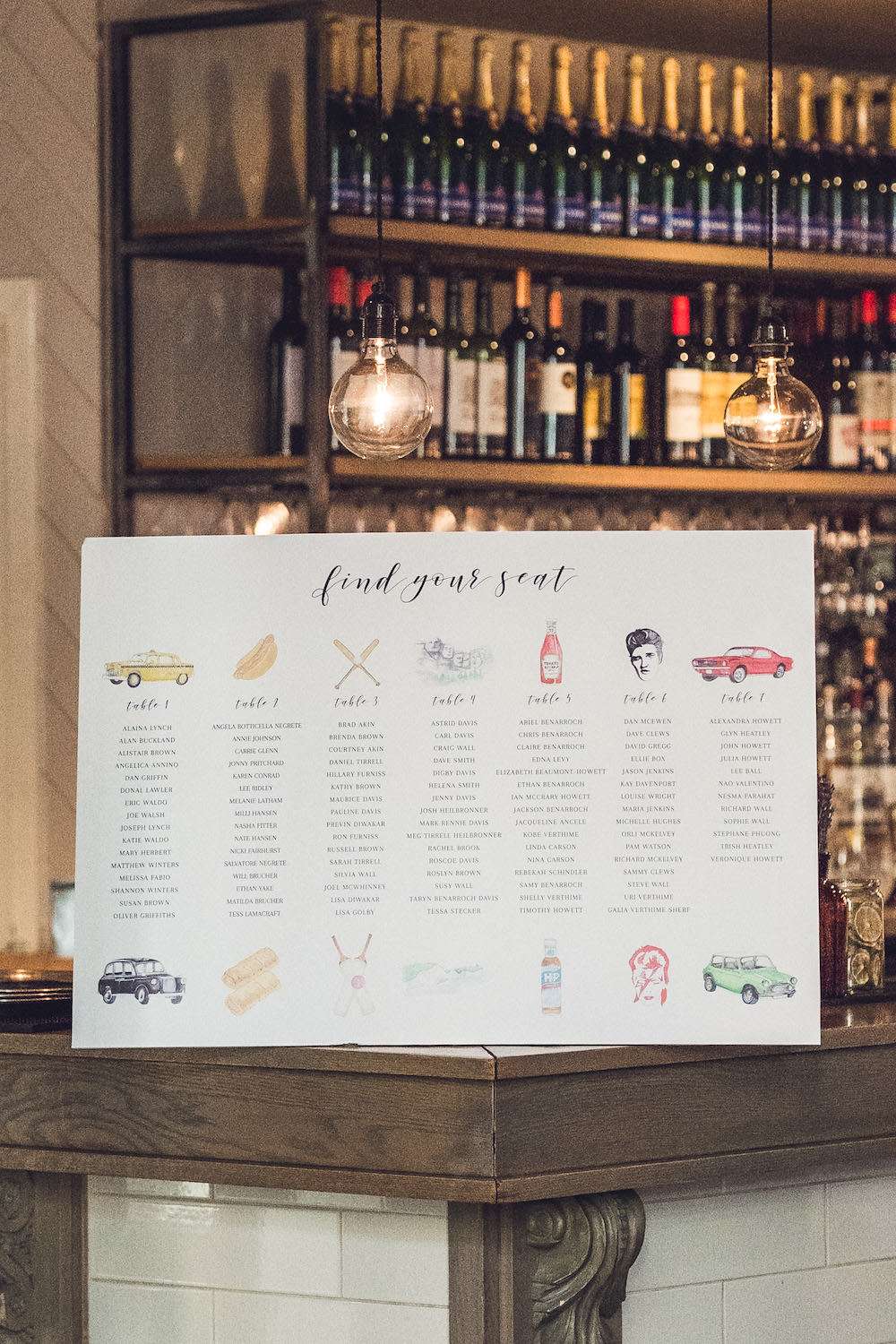 Taryn and Mark also asked to the DJs to intersperse the evening's music with karaoke performances from their friends, which worked really well. "We HIGHLY recommend this for inter-friend bonding!" Their open bar went on until 1.30am, which with 110 guests wasn't cheap, but totally worth it. "We knew it would be a major expense, but we really wanted to show our gratitude to our guests, especially as so many of them had taken a transatlantic flight to be there."
She adds, "The worst thing about planning our wedding was realising the size of the carbon footprint created by the 700 hours of airline flight time our guests would be taking…"