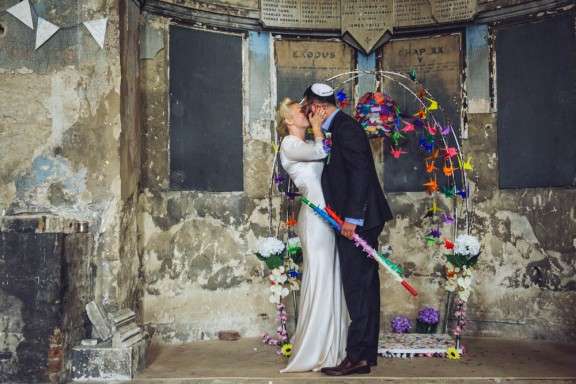 I've featured a few weddings at Asylum Arts in Peckham before, but I couldn't resist sharing another with you today. Melissa and Yoni took that crumbling chapel and made it come alive with colour! They used the de-consecrated church as the venue for their ceremony and wedding breakfast, and moved to The Big Red Pizza Bus in Deptford for their after party.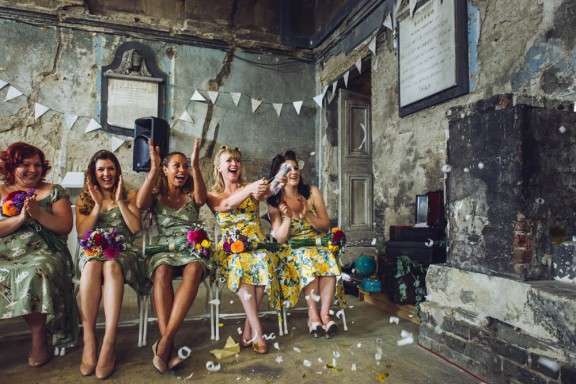 "We moved to Mexico for a year to teach English ten days after the wedding so we tried to tie in travel and Mexico", Melissa replied when I asked about their theme. "Our cake was Day of the Dead themed, the place names were glider planes, the orders of service were paper planes, and each table placename was a scene of a place we've travelled to so far.  Yoni's family also surprised us with a mariachi band performance during the speeches which was fantastic!"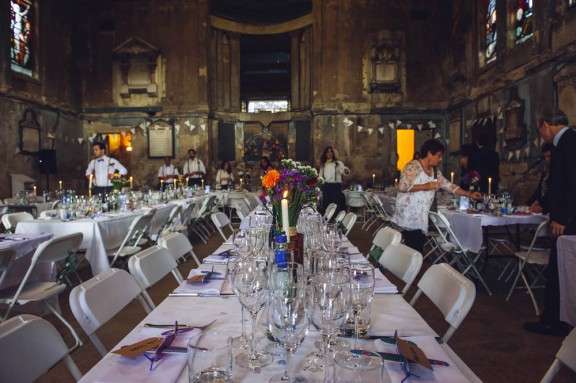 The couple added personal touches throughout their wedding, starting with their ceremony. "The ceremony was absolutely brilliant", she explained. "We put a lot into making it unique and reflecting both of our cultures and families. Our Rabbi, the singers, the readings and blessing were all incredible. It was a mix of Jewish and secular tradition. We decided to do 'breaking of the glass with a twist' by breaking a piñata instead followed by a lot of confetti cannons. It really added a lot of fun to the ceremony after our teary personal vows."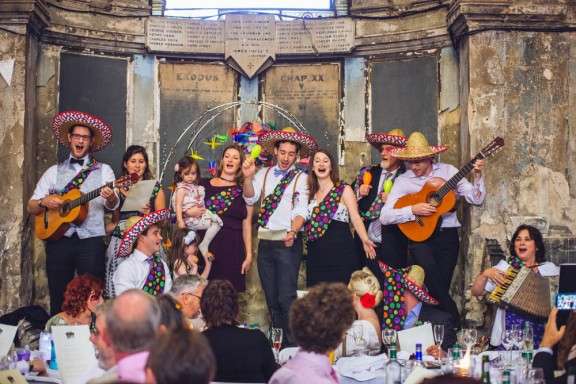 Melissa and Yoni saved money by DIYing the flowers (they bought them from Columbia Road Market and the bridesmaid's put them together the morning of the wedding) and getting Melissa's dress from the high street. "We saved money on the flowers and my dress which we bought with lots of kindly gifted John Lewis vouchers", the bride concluded.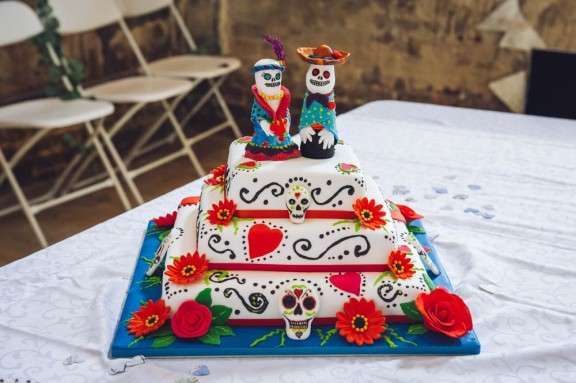 "A family friend helped us out with the rings as did one of my bridesmaids with a lot of cost-price wine and homemade lavender infused gin for the cocktail hour. We had a lot of help from family and friends in terms of making table decorations and setting up the venues, we had no idea about the many disasters that occurred and were fixed by our wonderful bridesmaids and ushers until a week or two afterwards, including the chairs and and tables not turning up!"
"Mixed culture weddings can look like quite a challenge, but we found that if you try to stay true to your values and vision, and communicate, then you can create something that everyone can celebrate."