I am a firm believer that the best brands are constantly evolving. As business owners things flux and change over time and so its really important to regularly check the way you're presenting yourself to see if you still feel on the right track. In July 2010, we launched the new look Rock n Roll Bride. Before that my 'brand' was a slightly chaotic mix of things I'd made myself in Photoshop and a header image that a friend had kindly created for me.

It was adequate and many of my readers had great affection for the look I had created, but I wanted to take my blog to the next level. I wanted to make this my full time career and a more professional image was needed. I called upon the skills of Shauna Haider of nubbytwiget.com. I'd admired her designs for a while and knew that her aesthetic would work perfectly with the clean and modern style I had in mind. Honestly, she was the best money I've ever spent – and continue to spend – on my business! She took my jumbled ideas and created something cohesive and beautiful – something that was so 'me' but something that we could continue to adapt and evolve as my business grew.

And adapt and grow it has. When we decided to publish a print magazine in 2011, Shauna designed the first issue to compliment the look of the website. However when issue two went into production, we felt a cleaner, more high-end and editorial look would really make it stand out. Inspired by magazines like ELLE, W and O, Shauna's vision was that if we wanted to do this properly, we should be inspired by only the very best. She created something truly beautiful. Fresh, modern, clean and inspirational but still with flashes of my personality, style… and signature pink of course!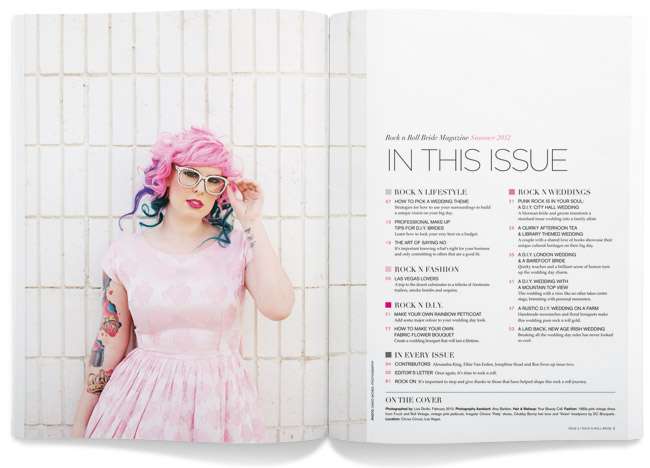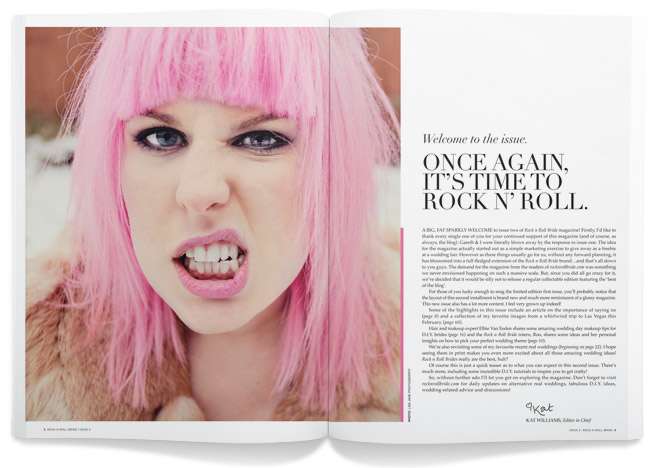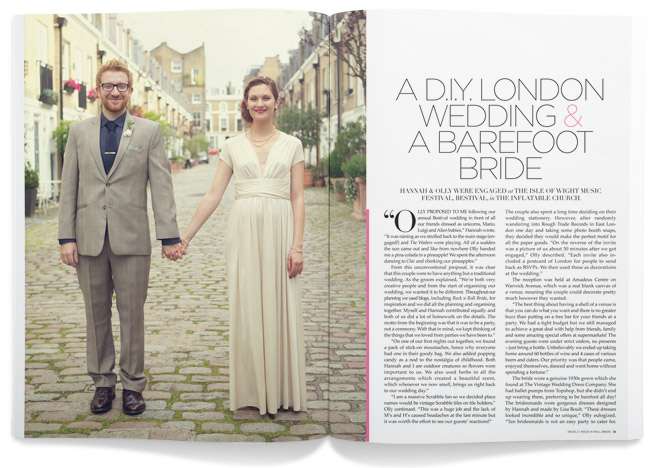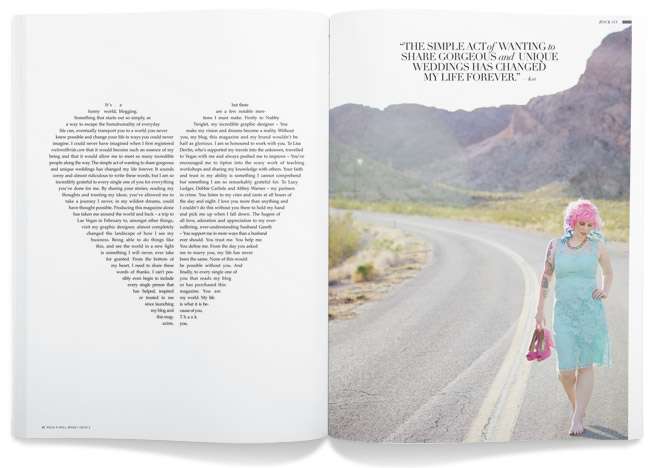 But the website was starting to look dated. It had served Rock n Roll Bride well for a solid two years and had seen it grow from a small sideline hobby to a full time career for both Gareth & myself. We decided we needed a new look, a fresher perspective and one much more in line with the high end editorial vibe of the magazine.
But sometimes things that look amazing in print just don't work online. Certain fonts, layouts and colours can look skewed and odd. We weren't sure if it would work, or if it was even possible to code our ideas, but we were going to give it a damn good try anyway. Shauna started the design work over the Summer and Gareth was finally able to start the backend coding over the Christmas break.
He finally finished at 7.43 this morning, and we went live at 8 am.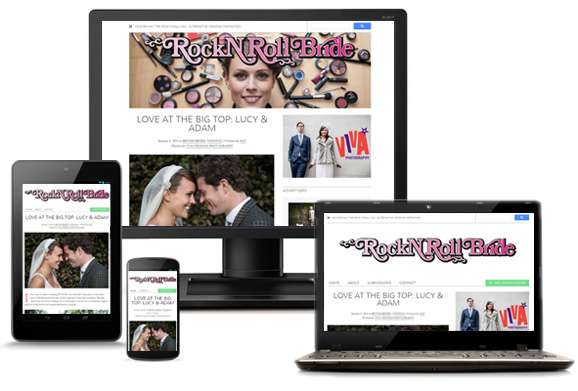 And here we have it. On first look you might think it's a pretty simple design and wonder what the big fuss is about. And in a way you are totally right. It is remarkably simple but with some seriously modern techy things working away in the background. We wanted to strip the design back, focussing on only a few key elements. But ultimately, and just like the high end magazines that were our inspiration, to really let the content do the talking. Our ultimate aim is for the design was for it to enhance this content rather than distract from it.
There are a few elements that I don't think I've seen on another wedding blog and I'm pretty excited about them. Firstly we've opted for a completely responsive layout. Try looking at the website on a number of different sized screens (desktop computer, laptop, mobile phone, tablet) and see how awesome – if I do say so myself – it looks! The site also adapts beautifully as you resize your browser window, so you need never see another horizontal scroll bar!
We've stripped back the sidebar to just the adverts and a link to the magazine store. We wanted no distractions from these two vital elements. We've moved pretty much everything else to the website footer.
And finally, one of my favourite features is the interactive header. We wanted to change the header from an image of me to just the Rock n Roll Bride logo for a cleaner, more editorial look when you first land on the site. However the real magic happens when you click into a wedding feature. The clean header is replaced with a magazine-like cover image and logo (check out this morning's real wedding post to see this in all it's glory). In a nutshell it's my way of making every couple a cover star! I love, love, love this feature and I really hope you guys do to.

Strong brands are rarely built overnight. They're a constant evolution and they take hard work and dedication. I'm a workaholic, a perfectionist and I'm never satisfied – I'm always looking for the 'next big thing' and the next step to staying ahead of the competition. But with today's refresh I can hand on my heart say that I'm completely thrilled with the way it looks (for now anyway!) I can't stop staring at it and I can't wait to publish all my content in such a beautiful setting. Thank you, thank you a million times, thank you to Shauna & Gareth for all their hard work and whip-crack-taking over the past few months. Take a break (and get some sleep!) you guys… well, until the next crazy idea anyway!