Being a wedding photographer herself, and seeing so many amazing weddings in her working life, newlywed Hannah Millard had a lot of people asking her what she was going to do for her own wedding. She actually found it quite difficult making the initial decisions – inspiration overload and all that! But once they realised what was really important – the fact that they were getting married and that they loved each other more than anything – the rest of the decisions came pretty easily! The couple spent just £3500 on their wedding and it was perfect.
"Oh my Goodness! I can't believe that after reading Rock n Roll Bride for so long, and having some of my work up on these awesome pages, I am finally writing about my own day. Being a wedding photographer, when I told people I was engaged they always said things like 'You must have seen so many ideas' and 'You'll know what to do for your day'… and those things were only half true. I've shot some amazing and varied weddings and seen some great ideas, but when it came to our day I felt like I couldn't see the wood for the trees. I knew that we would be financing it all ourselves and couldn't afford much. In fact our wedding was very nearly an elopement. We were within moments of booking an intimate ceremony with just us and two witnesses, prepared to sacrifice having a party and just wanting to be married. It might sound strange but I think that deciding that we would have been content to do it in such a low-key way helped us come to the decision to make more of it. Every extra thing would be a bonus and we would get to share it with our friends and family."
Hannah wore a dress from Coast which she found in the sale for less than £100! She accessoried with gold tights, red shoes and a sparkly gold bolero. "I found my dress by accident in the Coast sale as I went with my bridesmaids for a trying on session. It fit perfectly. It wasn't strapless. It had pockets. For me, it was just right. Iwan found his pixel tie after we saw them in a wedding on Rock n Roll Bride actually – thanks Kat! And we let our son William choose the lego buttonholes, which I then made. Our 'bouquets' were broken vintage cameras inspired by the Japanese decoden trend, and I spent more hours than I care to remember with rhinestones stuck to my fingers as I added more and more beads and cabochons."
The wedding was held at The Bookcafe in Derby. "The moment when it all felt like it was really going to happen was, completely by chance, walking into our venue", Hannah continued. "I'd never stepped foot in there before and had no idea they did weddings, but the second I discovered the place my stomach was buzzing with excitement. I was instantly emotionally invested in it. The Bookcafe offered us the perfect venue… homemade delicious food, a cosy atmosphere and an unexpectedly beautiful space (one that I knew I would have loved to shoot in!) Even better it was incredibly budget friendly and the staff were excellent. They were so accommodating when it came to talking about our ideas."
"And that brings me nicely to those ideas. I knew I didn't want a seating plan. This meant that it cut down what I had to do – no table plan, no set places, no name cards… and it also meant that people weren't restricted. I wanted to be able to invite people and for them to be able to come and go as they wanted. Planning a wedding on a Wednesday meant that some people could only come for part of the day and so that, rather than have set day guests and set evening guests we had a come-and-go-as-you-please policy. The food was a mega-delicious buffet that was replenished throughout the evening so that no one went without."
The theme of the wedding was kind of a pixel, gamer, geeky one. Something that evolved throughout the planning and perfectly reflected both Hannah & Iwan. "Decoration-wise I didn't want to have anything there that didn't feel like it suited both of us. One thing we love doing together when we get the time is playing video games (saddo geeks, I know!) So this gradually turned into a theme, from the playable video game invitation, to the homemade pixel confetti (throw square shapes!) to the pacman bunting (made by my mum!) to the games console we had set up with classics like Super Mario Kart and Street Fighter 2. I actually had a lot more that I had planned to do for the decor, but unfortunately I had some serious health issues in the weeks leading up to the wedding so a lot of the things we'd planned were pushed to the wayside. At the time I remember being really upset and frustrated that it wouldn't look as I had imagined but on the day itself I really didn't care. I didn't even notice. I think that's definitely something I learned… when you're planning it's nice to have projects and intentions and ideas but on the day it's all about letting go and enjoying the people and the emotion and making the best of if for what it is."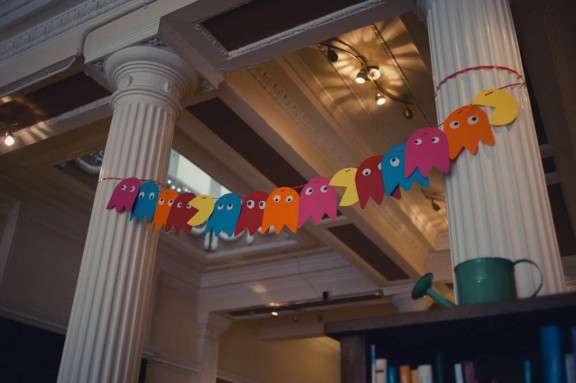 With a bride who is a wedding photographer, it was obvious that booking someone amazing to capture their day was vital. Hannah & Iwan went for Laura of Babb Photos and they had Lee & Dawn of Shutterbox Films to film the video.  "We decided to have a first look, and have our portraits taken before the ceremony. This was partly because I wanted to stay with our guests after the ceremony and partly because I knew I wouldn't be nervous if I could see Iwan before. It was a really, incredibly emotional part of the day. A favourite for both of us."
"I am really lucky in my job to have met a lot of brilliant photographers… and our photographer Laura has a very special place in my heart. Starting out, I felt like we both related to each other. We'd email each other when we were down or worried and I count her as a friend. She was married last year and I was totally honoured to be able to shoot her wedding and thrilled when she returned the favour. She fit in so well with everyone and I can't imagine the day without her."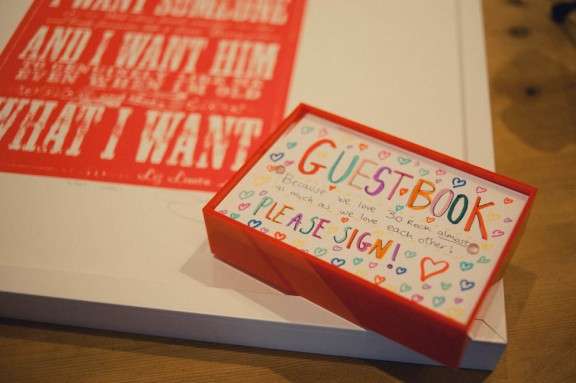 "Lee & Dawn are friends that I made when we were all starting out, I remember striking up a friendship over Belle & Sebastian and Nintendo and so many other things. We've worked together before and they made me a little promo video for my website. They're amazing people. They work so quietly and carefully, I found myself forgetting that they were there. Their work is just stunning. After playing just the little trailer they sent (about a million times!) I felt like, even if that was all we saw of the footage, I would be delighted. That it's just a teaser of the full thing is wonderful. Despite the fact that we had so little to spend on our day, I knew that every penny spent on Shutterbox would be worth it and I had no reservations about spending something around a third of the budget on them recording the day."
The evening entertainment was kicked off by the bride & groom performing a song, their own rewritten version of Anyone Else But You by Moldy Peaches, instead of a first dance. "After our performance, came an evening full of photos and dancing". Hannah continued. "I collected together my vintage and film cameras and set them up with instructions for everyone to play with. The photos vary wildly in quality but are so much fun. The dancing was supplied by our awesome DJ, Ryan. I don't think anyone expected us to have a cheesy wedding disco, but Iwan is a metal fan and I like twee indie pop… any representation of our proper taste would have been bewildering and terrifying."
"Despite our very modest budget, I can't think of much that I would change", Hannah concluded. "I am just so pleased we didn't elope and we found a way to afford to share it with our friends and family."
Aww you guys, what a wedding! I love the pixel/gamer/geeky theme, but more than that I love the fact that you realised what was really important, and that you had an awesome wedding that was the perfect reflection of the two of you. Huge congrats!