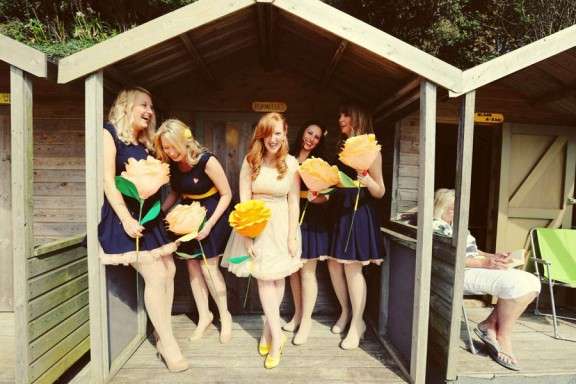 Sarah & Tzevai chose to marry in Cornwall as it's where the bride grew up. Their wedding was a chilled, beachy, DIY wedding with yellow touches throughout.
"We knew from the start that we didn't want a 'traditional' wedding", explained Sarah. "Neither of us are religious in the slightest so a church wedding didn't appeal. Most of the venues in Falmouth are hotels or a really expensive castle, but as soon as we saw the Maritime Museum we knew that it was the one for us. My shoes were yellow, my dress was short, Tzevai didn't even wear a full suit! Everything about it was casual, fun, and very, very us."
"Our main thought that was that our wedding would be an amazing day, but that it was just a day and that we really wanted to concentrate on having a happy marriage, which we seem to be managing so far! We picked the traditions that we wanted and left out the ones that didn't feel like they'd represent us very well."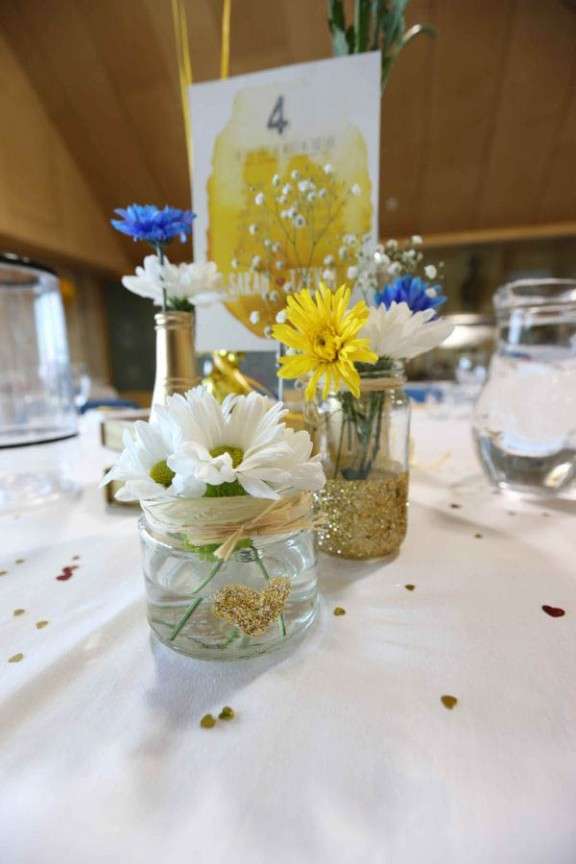 As for the DIY, Sarah called upon some very talented friends to help where they could! "We decided to make everything ourselves as I'm a bit controlling, we hoped it would be a bit cheaper and also hoped it would be fun! We also spent an afternoon on my hen do making a lot of the decorations so thanks hens, you were amazing! I am forever indebted to my bridesmaid Amy for finding a tutorial online to make the giant paper flowers. They were much more stressful than I ever envisioned, requiring special crepe paper and patience that I did not have. In the end Tzevai ended up making them for me, to stop me from tearing my hair out! I think he did a grand job and mine managed to survive so we now have it gracing our living room."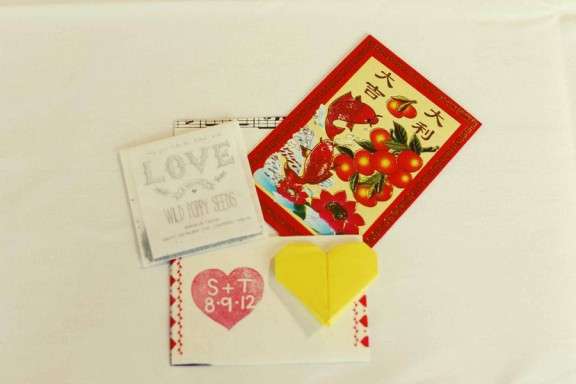 "We made all of our decorations, from the gold spray painted bottles and covered books for the centre pieces to the giant crepe paper pom poms, menu stands, library card seating chart, origami hearts in several sizes and word banners. I think the only thing we bought was the LOVE sign for the cake table!"
Sarah wore a short dress which cost her just £90 with a peach petticoat underneath. Her yellow shoes were from Reiss and her hair clips were from Crown & Glory. "The only thing I would really have changed about our wedding was buying this beautiful veil that I'd found on Etsy but it cost more than my entire outfit. I'm not even sure it would have gone with my dress but I sort of wish I'd bought it anyway!"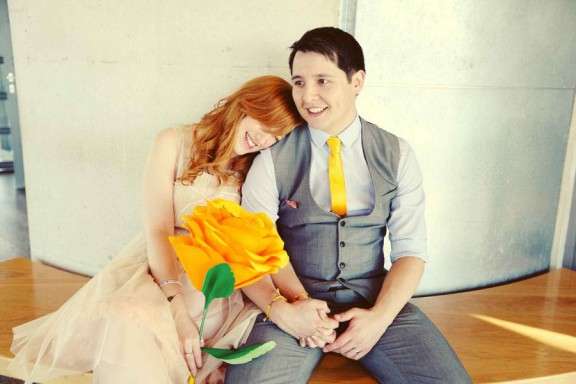 Well Sarah you looked stunning and I LOVE LOVE LOVE the giant paper rose – it was worth the stress! Thank you to you both, and to photographer Maria Farrelly for sharing with us today.
Supporting Cast
Photography Credit: Maria Farrelly Photography 
Venue: The Maritime Museum, Cornwall
Bride's Dress: Toki & Nabi
Bride's Shoes: Reiss
Bride's Hair Clips: Crown & Glory
Bride & Groom's Pins: Love and Lovelier
Bridesmaid's Dresses: ASOS
Stationery: Leni Kauffman & Adam Fellows