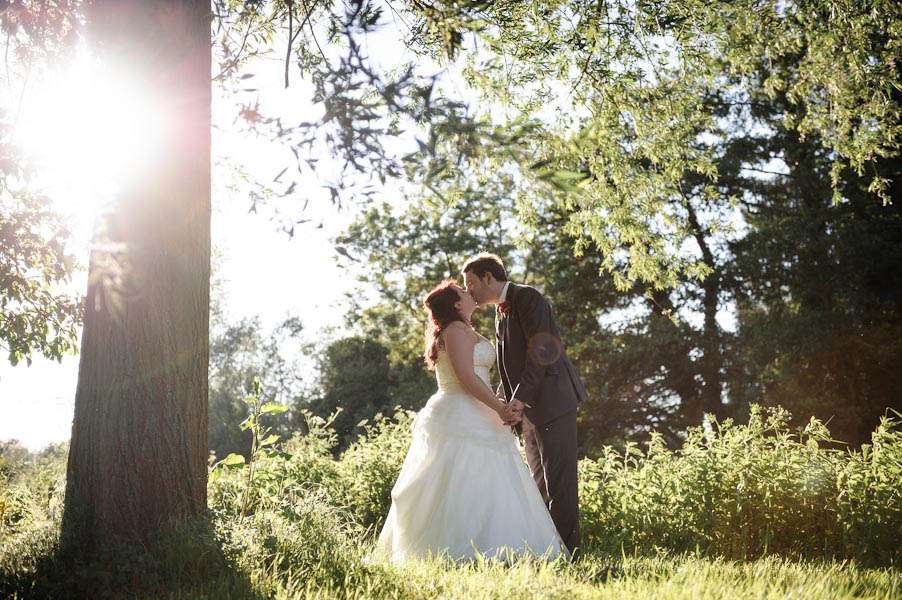 Ren & Tim pulled off their amazing colourful and alternative wedding with a £9000 budget. They spent on the things they felt were important and saved by DIYing the elements they knew they could do themselves (reception decor, stationery, cake). Although these things didn't always go to plan, in the end it all turned out alright and the things that didn't work really didn't matter on the day! I particularly love this wedding because it took place in Reading (where I live!). In fact the bride moved to this little town of ours from London to be with her boy. Awww!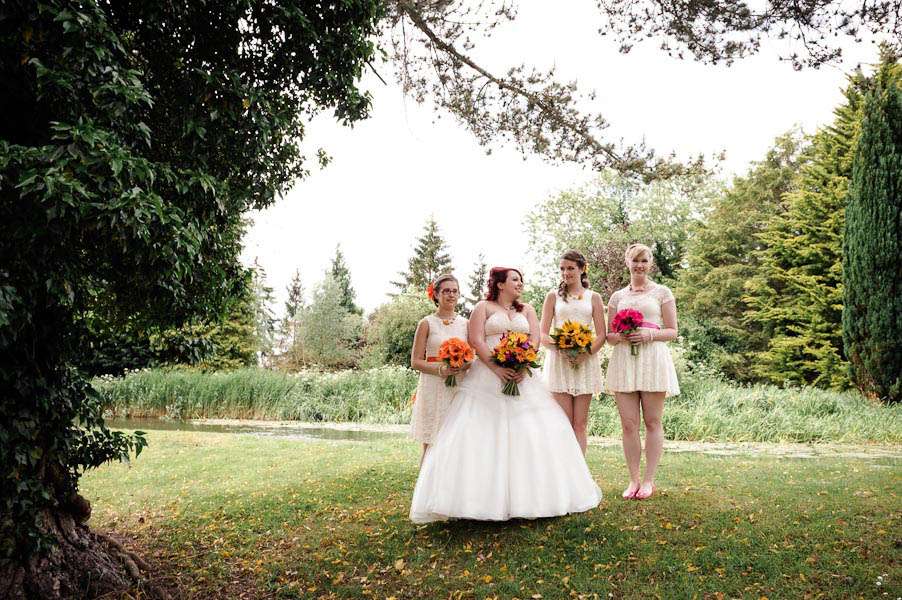 "We didn't really want a big family wedding," Ren began. "We originally wanted a small and intimate destination wedding but after talking to our families we accepted the fact that a big UK wedding was on the cards. We tried to find things that we liked but we also wanted to make our families happy. We didn't really care what happened or where it was as long as we got married so most of the big decisions were made with family in mind. We realised that it wasn't just our wedding – it was both our families as well so by giving them the bigger battles we could do what we wanted with the smaller details."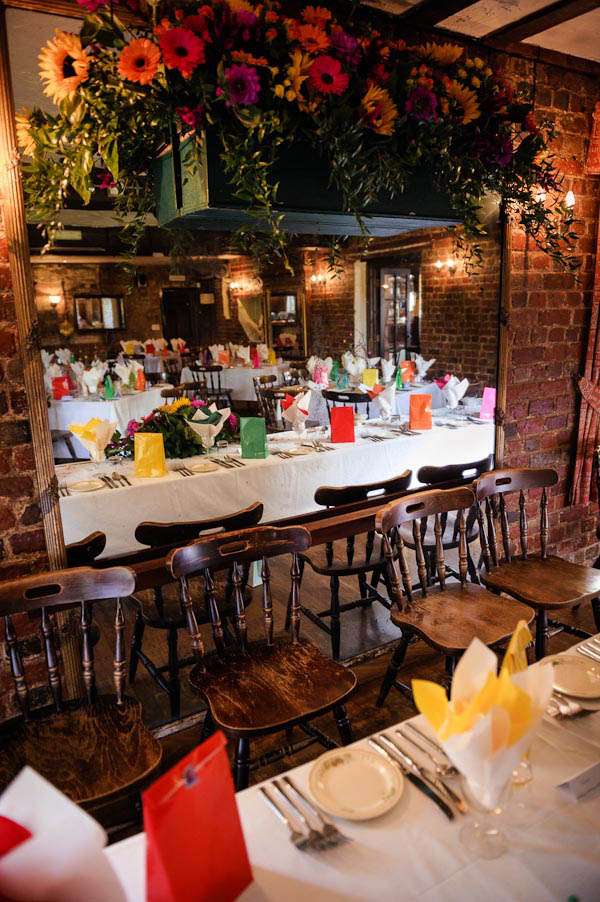 "We are both very colourful people so we knew the wedding needed to be bright. I loved the idea of party bags and when we looked into them they were cheaper and much more fun than some soap or some sugared almonds. We filled them with toys, costume jewellery and temporary tattoos and they went down a treat with everyone – of all ages."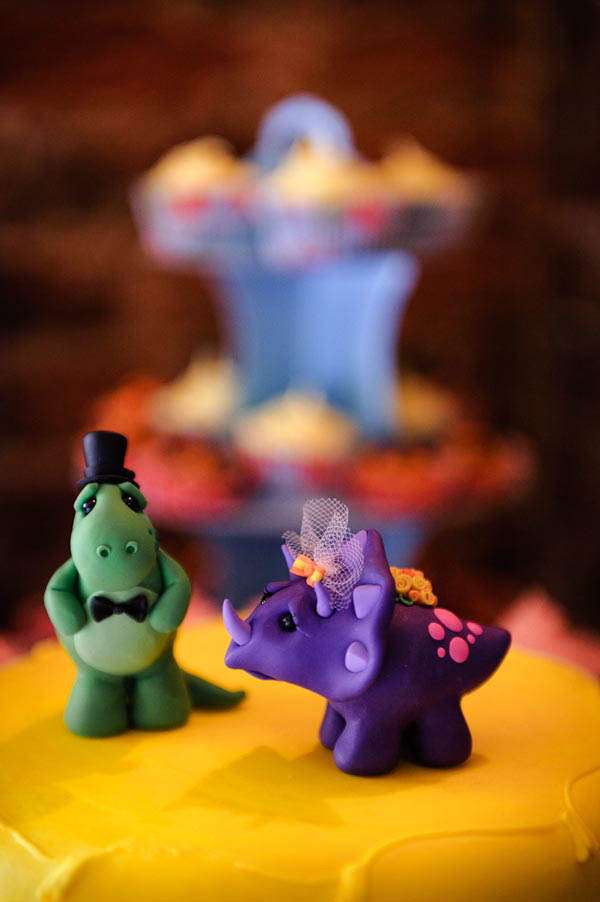 "When we first started planning I fell in love with Choccywoccydoodah but when we saw the prices we knew it just wasn't going to happen", Ren continued. "We had a look around at a few other cake shops but and none on them really came close so I decided to make my own. We found plain fruit cakes in Tesco for dirt cheap (you get three tiers for £32) and decorated it myself. How hard could it be? The main issue was that I assumed it would be easy so I didn't practice. Idiot Alert. My plan was to paint each tier a different colour (yellow, orange and pink) then add my flowers and skulls. The week before the wedding I started painting them and it was a total disaster. The yellow was fine but the other two were blotchy and runny and the icing started peeling off. My mother sat me down 2 days before the wedding and confronted the truth, we needed another plan. I found it all very stressful to say the least so I burst into tears! In the end my little sister and maid of honour went into superhero mode and came up with the idea of cupcakes. She sent my dad out to buy massive ones from Costco and we started making some as well. My advice to any bride would be that if you are going to DIY, no matter how easy it looks, practice!"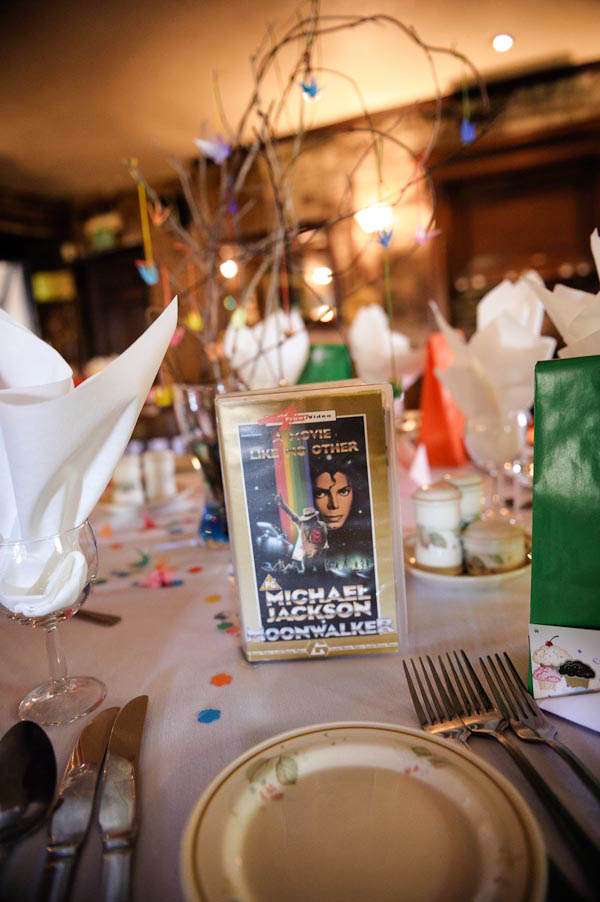 "I think the most Rock n Roll thing I personally did on the day was to not conform by covering my back tattoo or hiding my nose ring. Throughout my wedding journey I was judged by so many wedding suppliers – particularly in dress shops. There was always a mention of how I was going to cover it up or what I could do to make it less obvious. EUGH. In the end I decided to get more tattoo work done before the wedding. No one in my family (apart from my sister and my parents) even knew I had tattoos so it was a nice surprise to everyone on the day. Even my mega conservative family complimented it which left me astounded. It took guts to stand there in front of all the people I loved and bare all to them but it was the right decision. My mother even said it looked nice which is the biggest compliment I could ever receive from her."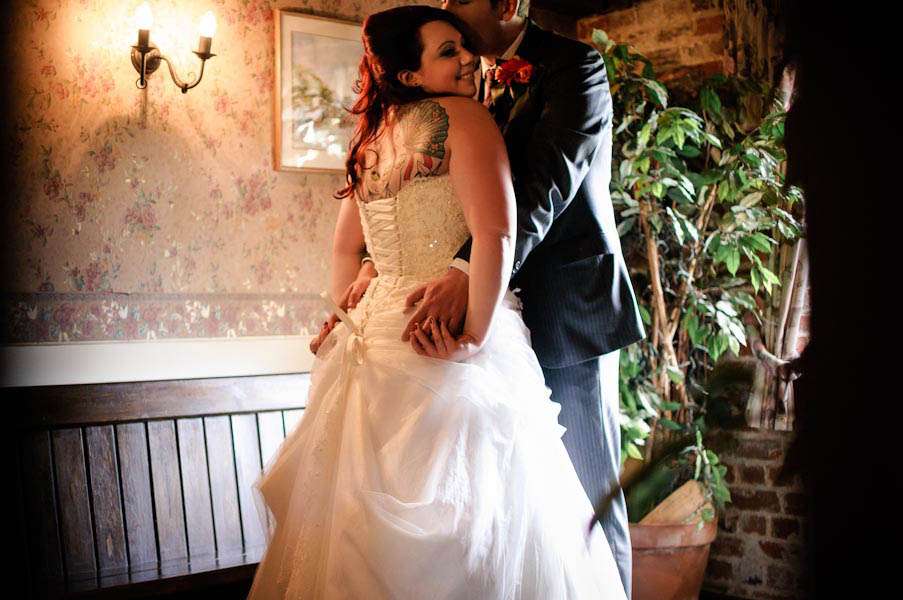 Fabulous! Ren & Tim I'm glad you did your own thing in the end but also kept in mind your families wishes. I think a lot of time alternative brides know in their hearts they should be planning their wedding or themselves but they still want to keep their families happy. You've proved that it's possible to achieve both!
Thank you to you both, and your photographers Tino & Pip for sharing today.
Supporting Cast:
Photography Credit: Tino & Pip Photography
Venue: The Old Mill, Aldermaston
Bride's Dress: Trudy Lee from Bliss Bridal
Bride's Shoes: New Look & Iron Fist
Groom's Suit: Young's Tailor
Bridesmaid's Dresses: Various – Apricot, River Island and House of Fraser
Bridesmaid's Necklaces: Smoke Tabby on etsy
Cake: DIY
Cake Toppers: The Air Castle on etsy
Flowers: Bloom2
Make Up: Joyce of Brides and Beauty
Stationery: DIY
Paper Cranes: Cranes from Sun on eBay